#365: Stay With Me Tonight by Jeffrey Osborne
Peak Month: February 1984
10 weeks on CFUN's Vancouver Chart
Peak Position ~ #4
Peak Position on Billboard Hot 100 ~ #30
YouTube: "Stay With Me Tonight"
Lyrics: "Stay With Me Tonight"
Jeffrey Linton Osborne was born in Providence, Rhode Island, in 1948. He was the youngest of twelve children. His dad was Clarence "Legs" Osborne who was a trumpeter with Lionel Hampton, Count Basie and Duke Ellington. When he was 13-years-old, Jeffrey's dad died in 1961. At the age of fifteen, in 1963, young Jeffrey was a drummer with the O'Jays for two weeks (when the group's drummer took ill). In 1970 Osborne joined the group L.T.D. (standing for Love, Togetherness, and Devotion). In 1977 they had a Top Ten hit on the Billboard Hot 100 and R&B charts with "(Every Time I Turn Around) Back in Love Again". Two other singles, "Love Ballad" (1976) and "Holding On (When Love Is Gone)" (1978), also topped the R&B chart. Jeffrey Osborne sang lead vocals on all three of the groups' number-one R&B singles.
In 1982 Osborne released a self-titled album, from which the song "On The Wings Of Love" climbed to #11 in the UK and #15 in Ireland. Another single from the album, "I Really Don't Need No Light", peaked at #3 on the Billboard R&B chart in 1982.
His next trip to the recording studio resulted in the 1983 release of his album Stay With Me Tonight. The debut single, "Don't You Get So Mad", became his second #3 hit on the Billboard R&B chart. His second release from the album was the title track.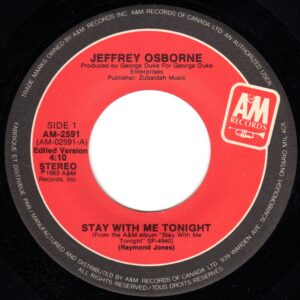 "Stay With Me Tonight" was written by Raymond Jones, who was born in New York City in 1958. He learned to play keyboards, and was producing records and writing songs by the late 70s. His songs have been recorded by Patti LaBelle, Whitney Houston, Deniece Williams, Stephanie Mills and others.
"Stay With Me Tonight" describes how a guy is consumed with thoughts about his female lover. He tries to control the images of her that he sees in his mind. But it's no use. She gives him a "fever," a "fire uncontained." The lyrics offer up rather innocent elaborations on what this fever and fire are all about: "…you give me special joy. Oh, make me feel just like a schoolboy…" In addition, he is filled with loving affections: "I wanna run my fingers through your hair, whisper sweet things in your ear." When she comes to his door at four o'clock in the afternoon, he quickly gets aroused and wants her to stay with him overnight.
"Stay With Me Tonight" peaked at #1 in Atlanta and Washington D.C., #3 in Boston, #4 in Vancouver (BC), #5 in Los Angeles, #7 in Philadelphia and Sacramento (CA), #8 in San Francisco and Pittsburgh, #9 in Tampa and San Diego, and #10 in Baltimore and Cincinnati. Another single from Stay With Me Tonight, "Plane Love", became Osborne's fourth Top Ten hit on the Billboard R&B chart.
In 1984 Jeffrey Osborne released his third solo album in three consecutive years titled Don't Stop. Both the title track and "The Borderlines" became Top Ten hits on the Billboard R&B chart in 1984. In addition, Osborne recorded a duet with Joyce Kennedy titled "The Last Time I Made Love", which shot to #2 on the R&B chart in 1984.
In 1985 Jeffrey Osborne was part of the USA for Africa chorus that backed a roster of soloists on "We Are The World".
In 1986 Osborne was back at #2 on the Billboard R&B chart with "You Should Be Mine (The Woo Woo Song)", peaking at #13 on the Hot 100. The single was a track from his 1986 album Emotional. In 1987 Osborne teamed up with Dionne Warwick to record "Love Power", a #12 hit on the Billboard Hot 100.
In 1988 he released One Love – One Dream. Jeffrey Osborne's final appearance on the Billboard Hot 100 was with a track from the album titled "She's On The Left". Though the single stalled at #48, it topped the R&B chart. He had his final Top Ten hit on the Billboard R&B chart in 1990 with "Only Human". In 1988 and 1990 Jeffrey Osborne sang the American national anthem during the World Series.
In 1992 Jeffrey Osborne contributed vocals to the theme song of the soap opera, Loving. He also sang the first season theme song for the Kristie Alley comedy Veronica's Closet in 1997.
In 2008, 2009 and 2010, Jeffrey Osborne sang the national anthem at the NBA (National Basketball Association) finals. In 2017 he became vegan. Jeffrey Osborne released his ninth studio album, Worth It All, at the age of 70 in 2018.
January 6, 2021
Ray McGinnis
References:
"Jeffrey Osborne Biography," Jeffrey Osborne.com.
"An Interview with Jeffrey Osborne…," Rnbjunkieofficial.com, June 15, 2018.
Jeff Clark, "Jeffrey Osborne talks 'We are the World,' The King of Pop, Prince before Gulfport Show," Biloxi Sun Herald, Biloxi, Mississippi, June 16, 2016.
Gina Hankerson, "An interview with Jeffrey Osborne," Westside Gazette, Fort Lauderdale, FL, September 17, 2015.
"C-FUN Top 30," CFUN 1410 AM, Vancouver, BC, February 11, 1984.
For more song reviews visit the Countdown.