#576: Still Got This Thing by Alannah Myles
Peak Month: January 1990
11 weeks on Vancouver's CKLG chart
Peak Position #11
Peak Position on Billboard Hot 100 ~ did not chart
YouTube.com: "Still Got This Thing"
Lyrics: "Still Got This Thing"
Alannah Byles was born in Toronto in 1958. She rode horses in the Royal Winter Fair by the age of twelve. At age nine she began to play musical instruments and write songs. She performed some songs at a Kiwanis Music Festival in Toronto when she was twelve. Later, in her teens, she formed a band and began to perform in concert by her late teens. At the age of 19, she changed her surname from Byles to Myles. In 1984, she made a guest appearance in the Canadian TV show, "The Kids of Degrassi Street." Her role was a single mom who wanted to become a singer. In 1989, Alannah Myles released her self-titled debut album with the single, "Black Velvet," a power ballad that became an international hit. For that performance she would win a Grammy Award in 1991 for Best Female Rock Vocal Performance. Another single, "Love Is," was a prior single release in Canada, but was released after "Black Velvet" in America.

Her third single from Alannah Myles was "Still Got This Thing."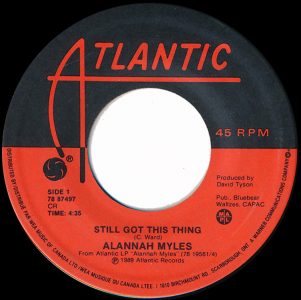 "Still Got This Thing" is an open declaration that the flame that started kindling romantic feelings still burns bright. The singer has a conflict between wanting to do something "untamed" with the one she's got the hots for, and feeling too proud to let her desires burst forth. She may feel embarrassed by her feelings of desire that are "driving her insane." And the object of her desire wants their love to "shout out loud.," wanting a sign that this is for real. Instead, their chances to really connect get passed by. So the couple in "Still Got This Thing" are at a place where they're going to find out, aside from the raging, burning desire for each other, if they can stand the heat.
In the 1979 movie directed by Peter Yates, Breaking Away, competitive cyclist Dave Stoller stands outside the girls' dormitory. A friend plays guitar while Dave serenades, in a cracking voice, an Italian love song to Katherine, the girl he wants to date. She listens to Dave sing Friedrich von Flotow's aria "M' Apparì Tutt' Amor." Initially, her friends laugh. Katherine gets embarrassed. However, Dave keeps on singing the aria. By the time he's done, her feelings shift from embarrassment to flattery. His bold gesture moves her and she decides to go out with him.
"Still Got This Thing" only peaked at #28 on the Canadian RPM singles chart. It made it to #29 in Hamilton, while its best chart run was in Vancouver where it peaked at #10.
Myles next single release from her debut album was "Lover Of Mine." It climbed to #2 on the Canadian RPM singles chart. However, it missed the Billboard Hot 100. Her next album, Rockinghorse, produced her biggest hit in Canada, "Song Instead of a Kiss". Between 1989 and 1997 Alannah Myles released four studio albums. Her recording career went dormant until she released two more albums in 2009 and 2014. In America she is thought of as a one-hit-wonder. But in Canada, Alannah Myles managed to chart nine Top 40 hits on the Canadian RPM charts in six years. She still is available to appear in concert, though she has no current dates scheduled.
February 26, 2019
Ray McGinnis
References:
Robert Evans Wilson Jr., It's Your Pride and Vanity, Stupid, Psychology Today, November 13, 2012.
Peter Yates, Breaking Away, 20th Century Fox, 1979.
Alannah Myles bio, Alannah Myles.com
Where Are They Now? Pop's Class of 1990, Rolling Stone, July 10, 2012.
"CKLG Top 40," CKLG 730 AM, Vancouver, BC, January 10, 1990.
For more song reviews visit the Countdown.