#197: Substitute by Clout
Peak Month: November 1978
9 weeks on Vancouver's CKLG chart
Peak Position #2
1 week Playlist
Peak Position on Billboard Hot 100 ~ #67
YouTube: "Substitute"
Lyrics: "Substitute"
Clout was a rock band from South Africa. It was comprised of lead vocalist and guitar player Cindy Alter, who was born in Johannesburg, South Africa (1977–1981), bass player and backing vocalist Ilene "Lee" Tomlinson (1977–1980), backing vocalist and drummer Ingrid "Ingi" Herbst (1977–1981), guitar player and backing vocalist Jenni Garson (1977–1981), keyboard player and backing vocalist Ron "Bones" Brettell (1978–1981), and guitar player and backing vocalist Sandy Robbie (1978–1981).
In 1978 Clout released their debut self-titled album. It included their debut single, "Substitute".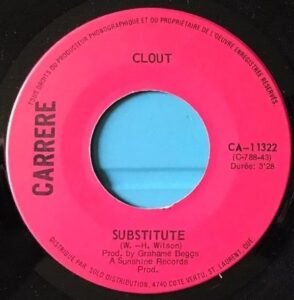 "Substitute" was recorded in 1975 by the Righteous Brothers, a year after they had their last Top Ten hit with "Rock and Roll Heaven". The track from their 1975 album Sons of Mrs. Righteous was one of two non-charting singles from the album. The song concerns a guy named Sam who has been "faithful, loyal and true" to his woman. However, it seems "she's not coming home." Meanwhile, there is someone else who adores Sam, and is willing to be the substitute while he waits for his woman. But, it seems the wannabe-substitute imagines that things could become more permanent: "Each day by your window. You sit and sigh, hoping to see her face. Oh, you might as well forget about her and find someone to take her place." Should Sam decide to "forget about her," anyone who steps up to the plate to be a substitute would find themselves the new woman in his life.
However, the song doesn't tell us that Sam is getting over the woman he waits for every day by the window. Unless he shifts his focus and allows someone to be a substitute, the narrator of the song will keep on longing for Sam and building castles in the air.
"Substitute" peaked at #2 in Vancouver (BC), #5 in Hamilton (ON), #7 in Phoenix, #8 in Wichita (KS), #9 in Flagstaff (AZ), #15 in Philadelphia, and #17 in Buffalo. Internationally, "Substitute" peaked at #1 in South Africa, Ireland, New Zealand, West Germany, and Zimbabwe, #2 in Belgium, the Netherlands, Switzerland, and the UK, #9 in Denmark, #10 in Austria, #12 in Australia, #13 in Sweden, and #16 in France.
Subsequently, Clout released nine more singles between 1978 and 1981. Of these, in 1979 "Save Me" charted to #1 in Zimbabwe, #4 in Switzerland and West Germany, #5 in Belgium and Denmark, #6 in the Netherlands, #7 in South Africa, and #14 in Austria. As well, "Under Fire" made the Top Ten in Denmark and Switzerland in 1979, while "Oowatanite" also cracked the Top Ten in Denmark in 1979.
Clout split up in 1981, shortly after the release of their last major single, a re-arrangement of the Hall and Oates song "Portable Radio". That last single peaked at #7 in Denmark in 1980. A minor hit, "The Best Of Me", landed on the pop chart in West Germany late in 1980. Though Clout were from South Africa, it was in Denmark where they were most commercially successful, with five of their singles climbing into the Top Ten.
According to Dave Malherbe, writing for South Africa's Rock Legends website, "it came out that none of the members of Clout had actually played instruments on the single ('Substitute') and their places were secretly taken by an all male session band (Circus), helped lead to the 'downfall of the group'."
February 2022
Ray McGinnis
References:
Dave Malherbe, "Clout," South Africa's Rock Legends, October 1989.
"World Singles Charts and Sales TOP 50 in 58 Countries: CLOUT," November 8, 2016.
"Classic South African Pop And Rock Songs: 1976-1989," South Africas' Rock Legends.
"CKLG Top 20," CKLG 730 AM, Vancouver, BC, November 30, 1978.