#1079: Suddenly You Love Me by The Tremeloes
Peak Month: April 1968
6 weeks on CKLG chart
Peak Position #8
1 week Hitbound
Peak Position on Billboard Hot 100 ~ #44
YouTube.com: "Suddenly You Love Me"
Lyrics: "Suddenly You Love Me"
In 1956 at Park Modern Secondary School in Barking, Essex, two school mates, Brian Poole and Alan Blakley, started a band. On family holidays together, they'd tell their parents about their dreams of being on TV. They learned a couple of tunes by Buddy Holly and Everly Brothers, got two acoustic Hofner guitars, and asked their saxophone and bass playing school mate, Alan Howard to join them. Once they started performing at local parties, they met drummer Dave Munden, who soon joined them. Soon Alan Blakley, Dave Munden and Brian Poole found that they could harmonise any song they wanted to and developed a style of their own, with all of them singing and playing and Alan Howard on bass guitar. At this time they did not have a name but soon opted for Tremilos after the sound on the new amplifiers which they could not yet afford. In time, the lead guitarist from Joe & The Teems, Ricky West, was added to the band in 1960. They began touring and got a BBC spot on Saturday Club. Dave Munden, Brian Poole and Alan Blakley were also being hired on as a backing vocalists for session work by Decca Records on numerous hit records for Tommy Steele, Delbert McClinton, US Bonds, Clyde McPhatter, Jet Harris & Tony Meehan and the Vernon Girls and others.
Soon Decca signed a contract with the band in 1962 after auditioning The Tremeloes and The Beatles. Decca chose to sign The Tremeloes since they were geographically closer to Decca's studios. By this time their name had changed from Tremilos to Tremeloes. This was after an East London newspaper had misspelled the bands name. Now billed as Brian Poole and the Tremeloes, their first UK hit was in the summer of 1963 with "Twist And Shout", a cover of the Isley Brothers US hit the previous year. In October '63, they had a #1 hit cover of the Contours' US million-seller "Do You Love Me". In 1964 they climbed back into the Top Ten in the UK with a cover of Roy Orbison's "Candy Man", and a B-side by The Crickets called "Someone, Someone". Then the band began to slide off the radar as other recording artists were increasingly singer-songwriters like Lennon-McCartney of The Beatles. The band was the first to appear on the British pop music variety show Ready Steady Go. They were also the first British band to tour both Australia and Ireland.
During this time Chip Hawkes joined The Tremeloes in 1965 and replaced Alan Howard. Hawkes started his professional music career in 1962 with a band called The Horizons. The band featured Chip on bass & Rod Evans on vocals. Evans later became the original lead singer for Deep Purple. Chip & Alan Blakely found the song "Here Comes My Baby" written by Cat Stevens, which proved to be their first international hit. It went to # 13 on the Billboard Hot 100 in the USA, #4 in the UK and #1 in Vancouver for two weeks in May 1967. Their next single was a cover of the Four Seasons' hit, "Silence Is Golden." The Tremeloes version climbed to #1 in the UK in May 1967, and #1 in Vancouver in September '67. It peaked at #11 on the Billboard Hot 100. in The Tremeloes also recorded an Italian version, "E in silenzio". During this time Brian Poole was attempting a solo career and he officially left the band in 1968.
Next, building on their appeal in Italy with their Italian translation, "E in silenzio", The Tremeloes (minus Brian Poole) recorded three songs in English that were originally written and recorded in Italian. These were "Suddenly You Love Me", from Riccardo Del Turco's "Uno Tranquillo" ("One quiet man"), "I'm Gonna Try", from Riccardo Del Turco's #1 hit in Italy in 1968 "Luglio" ("July"), and "My Little Lady", based on Orietta Berti's "Non illuderti mai" ("Never deceive yourself").
Riccardo Del Turco's song inspired the Tremeloes:
Riccardo Del Turca was born in 1939 and by the age of fifteen was singing on TV in Italy. Throughout the 60's Del Turca was a successful pop star and in 1968 was featured in his second film, this one about a professor trying to understand hippies. The Tremeloes were hoping that if Riccardo Del Turca could have a smash hit in Italy, it would work as translated into English in the UK and North American markets.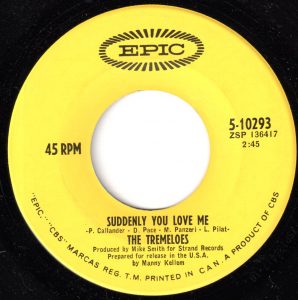 Joe Kraynak, in his article, What Happens to Love in a Bipolar Relationship?, writes, "When you're in a loving relationship with someone who has bipolar disorder, it's common to feel frustrated and unappreciated at times. No matter how much you do to show your love, your loved one may not be in a condition to return that love or respond to it in any positive way. The more you do without receiving anything positive in return, the greater the frustration and resentment. You might start to wonder, "What about me? How long should I have to put up with this?" What I've learned from living with and loving someone with bipolar disorder is that expressions of love change, at least temporarily, in the midst of major mood episodes. Come to think of it, they change in the midst of any major illness that incapacitates a loved one physically, emotionally, or mentally. In the case of bipolar disorder, these periods of illness may be only temporary and, we hope, short lived. During these times, the normal things you do and say to please your loved one no longer work. You can speak all five "love languages" fluently, and nothing you say or do is powerful enough to break through the barriers or trigger any sort of positive response. Reason doesn't work, either."
It isn't necessarily the case that the person described in "Suddenly You Love Me", has bipolar disorder. However, the dynamics in this relationship are quite dysfunctional. The woman cheats, lies, tramples on his pride, takes her man for granted, destroys trust in the relationship and has numerous flirtations and affairs "in the arms of other guys." Clearly, the guy in the relationship is being jerked around. The only thing that brings his lover back to her senses is when he says he's leaving the relationship. However, it's hard to sustain a relationship when the only thing that can bring attention to the extent it's not working is by announcing "I'm leaving you." One the one hand the woman in this song is careless with the relationship, while the man in the song wavers about his decision to leave each time he puts his foot down and says I'm leaving. It is clear that her taking off in a hurry anytime it pleases her is not pleasing him. And this is not a couple has reached an understanding that they want an "open relationship."
In his article, How to Stop the Cycle of Break-up and Reconciliation, Mika Lo makes these three points:
1) Make a definitive choice on what's best for you. Mixed emotions are often part of dealing with the pattern of breakup-to-makeup relationships. While staving these emotions can be difficult, you must press forward in doing so in order to make a choice that will stop the cycle. Asking yourself if you really want to work things out, if you believe you have a future with the individual in question, or if differences are surmountable can really help push the process forward. You can also present these questions to your partner to gain insight on their feelings.
2) Overcome your own fears. Fear of being alone or the realization that you and your partner are bored of each other should not hold you back from making a solid choice on whether to stay. Giving each other space is often healthy in the process of facing fears and loneliness head on. This will also give you more time to gather yourself and make a decision that is not influenced.
3) Stick to your choice in the future. Once you have made a choice to stay within the relationship or to leave, make it as absolute as possible. Choosing to stay in a relationship should only be done when both parties are committed to giving their full effort in the future. Upon deciding to leave a relationship, cut ties with the person that will cause you to waver on your decision.
"Suddenly You Love Me" was the bands last hit in North America. Their two follow-up singles from the Italian pop music scene did manage to chart in both the UK and Australia. The Tremeloes had two more Top Ten hits in the UK in 1969 and 1970, "(Call Me) Number One" and "Me And My Life", before they became identified with the previous decade and passed over for newer recording acts.
Through the years their recorded and released singles and albums, no one besides The Tremeloes sang or played on their studio recordings. Though it was not their hit record, "Yellow River", by Christie, was produced by The Tremeloes and Dave, Brian and Alan Blakley sang backing vocals for the recording. Alan's brother, Michael Blakley, was the drummer for Christie.
As of 2017, The Tremeloes continue to tour with varying line-ups and Brian Poole and Chris Hawkes perform in 60's revival shows.
May 31, 2017
Ray McGinnis
References:
Tony Padman, Where Are They Now: Brian Poole of the Tremeloes, Express, October 1, 2016
Joe Kraynak, What Happens to Love in a Bipolar Relationship?, Psych Central.com
Mika Lo, How to Stop the Cycle of Break-up and Reconciliation, Match.com
Ricardo Del Turco bio, Wikipedia.org.
"Boss 30," CKLG 730 AM, Vancouver, BC, April 13, 1968.
For more song reviews visit the Countdown.