#1127: Sugar Mountain/When You Dance I Can Really Love – Neil Young
Peak Month: April 1971
6 weeks on Vancouver's CKVN chart
Peak Position #7
Peak Position on Billboard Hot 100 ~ #93
YouTube.com: "Sugar Mountain"
Lyrics: "Sugar Mountain"
YouTube.com: "When You Dance I Can Really Love"
Lyrics: "When You Dance I Can Really Love"
Neil Young was born in Toronto in 1945. His family moved to Omemee, Ontario, and he contracted polio in 1951, two years before the polio vaccine was introduced. He learned guitar and dropped out of high school. He played in the Winnipeg based band called The Squires, who toured parts of Manitoba and northern Ontario. They played instrumental covers of Cliff Richard's backup band, The Shadows. Young moved to California in 1966 where he was a founding member of the Buffalo Springfield. In 1968 he released his self-titled debut studio album. And in 1969 he became the fourth member of Crosby, Stills, Nash & Young. Since then he has released 35 studio albums and more live and compilation albums.
In an article by TIDAL, it's pointed out that "Neil's dad, journalist, sportswriter and author Scott Young, is considered to be a national icon in Canada. He wrote over 30 books in his career, amongst others the 1952 schoolboy favorite, Scrubs on Skates. The book was dedicated to his sons: "To Neil and Bob, whose greatest games are still ahead of them." Neil's mother, Edna Blow Ragland "Rassy" Young, divorced Scott Young in 1960. She took Neil with her to Winnipeg. That year, Neil Young formed a band called The Jades. In order to get around to performances, Neil purchased a 1948 Buick Roadmaster hearse. He nicknamed his hearse Mortimer Hearseburg, or Mort, for short.
On the day he turned nineteen, Neil Young composed "Sugar Mountain" on November 12, 1964. He was in Fort William, Ontario, at the Victoria Hotel. After his band the Squires had packed it in Young sat down to write 126 verses for"Sugar Mountain." It would be a four year wait before he would record a few of the verses to "Sugar Mountain" on November 10, 1968. This was as part of a concert in the college town of Ann Arbor, Michigan, at Canterbury House.
Two years later on October 29, 1970, at a concert at The Paris Theatre in London, Ontario, Joni Mitchell referenced "Sugar Mountain". Mitchell had already established a friendship with Young before he wrote "Sugar Mountain." She opened her song "Circle Game" providing this back story: "In 1965 I was up in Canada, and there was a friend of mine up there who had just left a rock'n'roll band (…) he had just newly turned 21, and that meant he was no longer allowed into his favourite haunt, which was kind of a teeny-bopper club and once you're over 21 you couldn't get back in there anymore; so he was really feeling terrible because his girlfriends and everybody that he wanted to hang out with, his band could still go there, you know, but it's one of the things that drove him to become a folk singer was that he couldn't play in this club anymore. 'Cause he was over the hill. (…) So he wrote this song that was called "Oh to live on sugar mountain" which was a lament for his lost youth. (…) And I thought, God, you know, if we get to 21 and there's nothing after that, that's a pretty bleak future, so I wrote a song for him, and for myself just to give me some hope. It's called The Circle Game." Though Joni Mitchell adds two years to Young's age when he wrote the song, the sentiment that you're all washed up when "you can't be twenty on Sugar Mountain" inspired her to write "Circle Game" as an answer song to Young's bleak assessment of life after the teen years.
Aside from Joni Mitchell's take on the song, there were radio listeners who were not yet twenty who sensed that the modern life was hurtling them through their teen years with pressures of school exams, summer jobs, part-time jobs and family expectations for what they were going to be when they grew up. Some of them shared Young's longing to let youth linger a little while longer "with the barkers and the colored balloons."
On a bootleg live album of his February 1, 1971, concert at the Dorothy Chandler Pavilion in Los Angeles, Young told the audience as an introduction to "Sugar Mountain" that he "wrote 126 verses to it. Now, you can imagine that I had a lot of trouble figuring out what four verses to use… I was underneath the stairs… Anyway, this verse that I wrote… It was the worst verse of the 126 that I wrote. So, I decided to put it in the song, to just to give everybody a frame of reference as to, you know, what can happen. What I'm trying to say here, by stopping in the middle of the song, and explaining this to you, is that… I think it's one of the lamest verses I ever wrote. And it takes a lotta nerve for me to get up here and sing it in front of you people. But, if when I'm finished singing, you sing the chorus 'Sugar Mountain' super loud, I'll just forget about it right away and we can continue."
When the Squires were at the club in Fort William, in 1965, they met an American band named The Company. A guitarist in the band, Stephen Still, became friends with Neil Young.
"Sugar Mountain" was the B-side to "Cinnamon Girl" in 1970, "When You Dance I Can Really Love" in 1971 and "Heart of Gold" in 1972.
"When You Dance I Can Really Love" was a track composed by Young on his third studio album After The Gold Rush, released in 1970. It was released as a single in 1971, reaching #93 in the Billboard Hot 100. Together, "When You Dance I Can Really Love" and "Sugar Mountain" peaked as a double-sided hit on Vancouver's CKVN pop charts at #7. "When You Dance I Can Really Love" made it to #4 in Winnipeg, #12 in Boise, Idaho, and #14 in San Jose. Otherwise, it didn't have any significant chart action. It was a double-sided hit with "Sugar Mountain" in San Jose and Winnipeg, while "Sugar Mountain" made it into the Top 40 on its own in Chicago.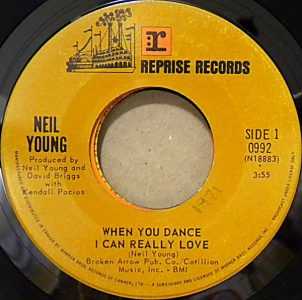 "When You Dance I Can Really Love" is about physical and emotional responses generated when we see someone we're attracted to move their body on the dance floor. Young knows that not everyone is in touch with their body and so he asks "when you dance, do your senses tingle, then take a chance?" For many the answer was yes, but for others out of touch with their own bodies cues there was no movement toward another on the dance floor. In the song, Young celebrates the gift of desire and arousal as natural and important information to share. Otherwise, how is someone else supposed to know we desire them unless we have "something to tell" them?
In the late 60s and early 70s, a lot of the dancing a school and college dances was free form. The same was true of concert goers who were dancing to the band on stage. For a few years people dancing weren't doing The Twist, The Mashed Potato, The Loco-Motion or the Swim. Those dance fads were no longer considered groovy or happening. And it would be a few years before people were doing The Hustle or The Bump. In the late 60's and early 70's hippies moved on the dance floor with ecstatic, spontaneous moves. This was a way of protesting the conformity of prescribed dance moves of an earlier era, a breaking away from the values of the Cold War era. Rock critics described some of the hippie dancing as "hallucinated wondering" while kaleidoscopic and psychedelic watercolor images were flashed on a screen behind the performers. In his book, The Hippies: A 1960s History, John Anthony Moretta, comments, "in the new dances individuals didn't touch; they "communed;" they dug each other by occupying the same space. Tom Wolfe described the dancing as "ecstatic, a nice macaroni of braless breasts jiggling and cupcake bottoms wiggling and multiple arms leaping and writhing about…"
Neil Young didn't release "Sugar Mountain" until 1968. Meanwhile, he drove to Los Angeles in his second hearse, a 1953 Pontiac, after Mort broke down. It happened that Stephen Stills was in a car in and spotted Neil Young stuck in traffic on Sunset Boulevard. The two got together and formed Buffalo Springfield.
Buffalo Springfield consisted of Stephen Stills (guitar, keyboards, vocals), Dewey Martin (drums, vocals), Bruce Palmer (electric bass), Richie Furay (guitar, vocals), and Neil Young (guitar, harmonica, piano, vocals). Like the Byrds, Buffalo Springfield's debut album blended musical strains of folk and country music with British invasion. However, their second album, Buffalo Springfield Again, showcased their shift into psychedelic rock. The name of the group was inspired after the Buffalo-Springfield steamroller made by the Buffalo-Springfield Roadroller Company in Springfield, Ohio.
The roller was near the house of Stephen Stills music industry friend, Frazier Mohawk, whose home was on Fountain Avenue in Los Angeles. This is where the band would often rehearse. Frazier pried off a Buffalo-Springfield cast-iron nameplate and nailed it to the wall of his Fountain Avenue home. The nameplate is pictured on the front of their Buffalo Springfield Box Set album.
Buffalo Springfield released their self-titled debut album in December 1966. Their first two single releases from the album got little attention. But their third single, "For What It's Worth" caught on spending 15 weeks on the Billboard Hot 100 and peaking at #7 in the USA and #1 in Vancouver. The song was about an incident during August 1966 on the Sunset Strip in Hollywood. Residents of the area had attempted to get rid of the hippies near the Pandora's Box club, who they saw as a threat to local tourism, by having the police enforce curfew laws. A riot ensued and police began to wield night-sticks on the long-haired youth.
Stephen Stills had seen the riot after returning from a trip to Nicaragua. Stills was inspired: "All the kids on one side of the street, all the cops on the other side – in Latin America that meant there'd be a new government in about a week. " The song became an anthem for a generation wary of the status quo who began wearing buttons that read "question authority." Near the peak of its chart run of "For What It's Worth" Buffalo Springfield had an appearance on The Smothers Brothers Comedy Hour was taped on February 26, 1967.
Their second album, Buffalo Springfield Again, was released in November 18, 1967. It was not an easy album to record due to tensions between band members. Neil Young, who had his first epileptic fit while performing with the band in 1966, was often absent. Bass guitarist, Bruce Palmer, was detained on drug charges and was sent back to Canada on several occasions delaying the deadlines for the albums release.
Among the notable tracks are Young's minor hit, "Mr. Soul", which was the B-side to the Buffalo Springfield's debut single from the album, "Bluebird". Stephen Stills contributed four tunes, among them "Rock and Roll Woman". Simultaneous tension in Buffalo Springfield, The Byrds, and The Hollies would eventually result in the formation of Crosby, Stills & Nash." In 2003, Buffalo Springfield Again was ranked number 188 on Rolling Stone magazine's list of the "500 greatest albums of all time." A final album, Last Time Around, was released in 1968. It included the single, "On The Way Home".
Neil Young recalls of the time of the breakup of Buffalo Springfield, "I just couldn't handle it towards the end. It wasn't me scheming on a solo career, it wasn`t anything but my nerves. Everything started to go too fucking fast. I was going crazy, joining and quitting, joining and quitting again. I began to feel like I didn't have to answer or obey anyone. I needed more space. That was the big problem in my head. So I'd quit, then I`d come back 'cos it sounded so good. It was a constant problem. I just wasn't mature enough to deal with it. I was very young. We were getting the shaft from every angle, and it seemed like we were trying to make it so bad and getting nowhere."
Young went onto be part of the supergroup, Crosby, Stills, Nash and Young. But again, Neil Young found himself at odds with members of the band. He focused on his solo career.
In 1972, Neil Young had his most successful hit, "Heart Of Gold". It climbed to #1 in both Canada and the USA in 1972. Since 1975 Neil Young has received 28 Juno Award nominations and won seven of these. He has also won a Grammy Award for Best Boxed or Special Limited Edition Package for his compilation album Neil Young Archives Vol. 1 (1963–1972). Young has had a number of regional hits over the years. His cover of "Four Strong Winds" spent 17 weeks on the CFGO charts in Ottawa in 1978-79, peaking at #7.
In 1993 his single, "Harvest Moon" climbed to #5 on the Canadian RPM singles chart, but missed the Billboard Hot 100. In 2003, Young had a biography penned by James McDonough titled Shakey. Over the decades, Neil Young has expressed his politics in song. A critic of the Bush family in America, Young's 1989 hit "Rockin' in the Free World" criticized the policies of George H.W. Bush and the epidemic of drug use and homelessness. Young's 2006 album, Living With War had one track after the other lambasting President George W. Bush and his administration. Some of the song titles included "Looking for a Leader" and "Let's Impeach the President".
March 31, 2017
Ray McGinnis
References:
Neil Young bio, Rolling Stone, New York
70 Facts You Might Not Know About Neil Young, TIDAL, June 17, 2016
McDonough, James. Shakey: Neil Young's Biography. Vintage, New York, 2003
Moretta, John Anthony. The Hippies: A 1960s History. McFarland & Company, Jefferson, NC, 2017.
"Your Average Rock and Roll Radio Survey," CKVN 1410 AM, Vancouver, BC, April 9, 1971 (CKVN's Survey #52 in error was printed as "1970" and not "1971").
For more song reviews visit the Countdown.