#804: Summer Holiday by Cliff Richard
Peak Month: May 1963
8 weeks on Vancouver's CFUN chart
Peak Position #7
Twin Pick Hit of the Week: April 6, 1963
Peak Position on Billboard Hot 100 ~ did not chart
YouTube.com: "Summer Holiday"
Lyrics: "Summer Holiday"
Cliff Richard was born Harry Roger Webb on October 14, 1940, in the city of Lucknow in Uttar Pradesh, India. In 1940 Lucknow was part of the British Raj, as India was not yet an independent country. Webb's father worked on as a catering manager for the Indian Railways. His mother raised Harry and his three sisters. In 1948, when India had become independent, the Webb family took a boat to Essex, England, and began a new chapter. At the age of 16 Harry Webb was given a guitar by his father. Harry then formed a vocal group called the Quintones. Webb was interested in skiffle music, a type of jug band music, popularized by "The King of Skiffle," Scottish singer Lonnie Donegan who had an international hit in 1955 called "Rock Island Line".

In 1958 Webb became the lead singer of a British rock group named the Drifters. It was during this time that Harry Greatorex, who was promoting the band, gave Harry Webb the stage name, "Cliff Richard."As rock and roll made some people think of rocks, Greatorex reasoned that "Cliff" would be a rock solid name for the young 18 year old Harry Webb. Cliff Richard would go on to record nearly 150 singles that made it onto the UK charts. While his popularity in the USA was erratic, he was a big seller in Vancouver. On this survey of 1,410 songs he appears on 22 occasions.
Cliff Richard had his first single on the Vancouver charts peak at number one in the fall of 1959. "Living Doll" became an auspicious beginning for a recording artist. Fans in Vancouver were wild about Richards. He had a string of hits between 1959 and 1966, and again in the late 70s onward. Of 26 singles that charted on the Vancouver pop charts, only two didn't climb into the Top 20. His sixth Top Ten charting song was "Summer Holiday", in the spring of 1963.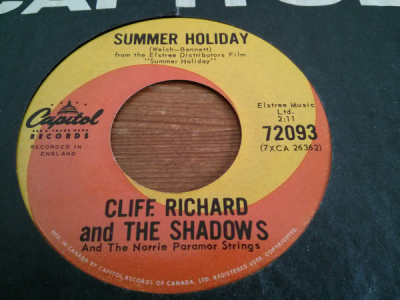 Brian Lawrence Bennett was a drummer for Cliff Richard's backing band, The Shadows. Bennett co-wrote "Summer Holiday" with Bennett wrote many instrumentals and songs for The Shadows, including "The Rise And Fall Of Flingle Bunt". Bennett was born in London in 1940 and joined The Shadows in 1961. By the mid-70's, Bennett became an arranger, conductor and record producer, composer for film and TV. Some of his scores include for the TV shows Dallas and Knotts Landing. In 2004, Brian Bennett was awarded an OBE at Buckingham Palace from Queen Elizabeth II. The other co-writer for "Summer Holiday" was Bruce Welch (born Bruce Cripps in London in 1941). Welch was a guitarist with The Shadows. Over his career he has written and arranged over 900 songs. These include "If Not For You" by Olivia Newton-John and Roger Whitaker's 1986 album, The Genius Of Love. In 2004, Welch also received an OBE (Order of the British Empire). "Summer Holiday" was one of several #1 hits in the UK from the 1963 film of the same name. The first hit from the movie, "The Next Time", also went to #1 in Vancouver. However, CFUN play-listed Summer Holiday in April of '63 and "The Next Time" in August '63. The later was a #1 hit in Vancouver. In the UK Summer Holiday had a b-side called "Dancing Shoes". In Vancouver "Dancing Shoes" was released as a separate single debuting on CFUN in October and peaking at #1.
Summer holidays in Britain have evolved over the centuries. From mid-17th century into the 18th century upper-class young men in Britain went on what was called the Grand Tour. This was a luxurious gap year following public school graduation, or after college. It involved extensive travels in Europe, led by a guide called a Cicerone. A typical tour included time spent in France, Italy and Germany. Some more adventurous travelers went to Greece and even Turkey. The Grand Tour often lasted several months, though some young men stretched out their Grand Tour for several years.
In an Oxford Royale Academy article in August 2016, the introduction of steam trains and steamships began to establish a tradition of the British seaside holiday. This was not only for the very wealthy, but for all of the upper classes. And with the introduction of Bank Holidays, even workers in the cities could afford to take the time for a holiday by the seaside. "Workers had increasingly moved to the cities, where their hours were dictated not by the cycle of the seasons and what was required on a farm, but imposed by managers in factories. That meant the structured allocation of time off, which in combination with significantly cheaper travel, led to the creation of what became the traditional British seaside holiday. The Bank Holidays Act of 1871, providing nationwide statutory days off, made this even easier. Wealthier people went on holiday for a week and stayed in hotels, but a day ticket to the seaside was affordable for the majority of people." Into the 20th Century, British citizens explored a variety of seaside resorts. With the increase of train, boat and plane transport, even the middle class was able to afford a summer holiday to a seaside in one of many towns and cities across Europe, especially in the Mediterranean.
From March 1963 to May 1966 Cliff Richard had 15 hit singles in the Top 20 on CFUN. Of these 12 made the Top Ten and three peaked at #1. In 1963 Richard won the Best UK Male Singer in the NME (New Musical Express) Reader Poll.
The movie, from which this title track was made, is about four buddies who are bus mechanics who are tired of a very rainy London summer. They persuade London Transport to lend them a double-decker bus which they end up driving all the way to Athens, Greece. On route they meet a girl trio and one other girl (pretending to be a male). The film popularized the notion that it was possible to plan a holiday in the United Kingdom and consider a drive across continental Europe as an alternative to staying in the UK. The song evoked serene optimism with vacationers "going where the sun shines brightly…going where the sea is blue/we've seen it in the movies/now let's see if it's true."
The chorus was adapted for the 1986 hit, "Holiday Rap", by Dutch duo MC Miker G and DJ Sven.
In the UK Cliff Richard had 26 of his first 28 singles, from 1958 reach the Top Ten, which included a record of 23 Top Ten singles in a row, ending in the middle of 1965. Of these 15 singles were non-album singles. It would seem with the coming of the British Invasion that Cliff Richard would be discovered by the American record-buying public. However, it was not to be. He remained almost completely off the radar in the USA until his Top Ten hit in 1976 on the Billboard Hot 100 called "Devil Woman".
In the 1980's he scored again with "We Don't Talk Anymore" and "Dreamin'". Cliff Richard was among the performers at the Diamond Jubilee concert held outside Buckingham Palace in June 2012. Then, on June 30, 2012, he helped to carry the Olympic torch from Derby to Birmingham as part of the torch relay for the 2012 Summer Olympics in London. Cliff Richard has also been active as a philanthropist. In October 2015 he went on tour at the age of 75. Over the course of his recording career, Cliff Richard has had 68 singles reach the Top Ten on the UK singles chart between 1958 and 2008.
June 20, 2018
Ray McGinnis
References:
Cliff's Career, Cliff Richard.org.
Brian Bennett biography, Brian Bennett Music.co.uk
Bruce Welch bio, Wikipedia.org
Peter Yates – director, Summer Holiday, Warner-Pathe, 1963.
A Brief History Of The British Summer Holiday, Oxford Royale Academy, August 12, 2016.
"C-FUNTASTIC FIFTY," CFUN 1410 AM, Vancouver, BC, May 4, 1963.
For more song reviews visit the Countdown.