#798: Summer Wine by Nancy Sinatra
Peak Month: January 1967
6 weeks on Vancouver's CFUN chart
Peak Position #3
Peak Position on Billboard Hot 100 ~ #49
YouTube.com link: "Summer Wine"
Lyrics: "Summer Wine"
Nancy Sinatra is the daughter of crooner Frank Sinatra and was born in New Jersey in 1940. When she was 5 years old he recorded a song about her titled "Nancy, With the Laughing Face". At the age of twenty she began her career appearing on The Frank Sinatra Timex Show: Welcome Home Elvis. This was a television special on the occasion of Elvis Presley's discharge from the U.S. Army after being drafted to into the services in 1958. Nancy was sent by her father to meet Elvis at the airport in front of a pack of photographers. In 1960, she also got married to singer and actor, Tommy Sands.

Nancy's father, Frank, has his own record label called Reprise. In 1961 she began making records for the label. Initially she was only a hit in Japan and Britain. She released eleven singles between 1961 and 1965 that were commercial failures, including a cover of "To Know Him Is To Love Him" and "The Cruel War". Her fame in North America came with the #1 single, "These Boots Are Made For Walking," in February 1966. Lee Hazelwood wrote the song and he went on to write numbers of Nancy Sinatra's other hit singles. When Nancy performed "These Boots Are Made For Walking", she appeared in a mini-skirt and go-go boots. Fans loved it, and that style of dress became her professional outfit for the rest of the decade. In 1966 she also appeared in a number of movies, including The Wild Angels with Peter Fonda, and The Ghost in the Invisible Bikini.
Sinatra had three more Top Ten hits in 1966-67. Two of these, "Something Stupid" and "Summer Wine", were duets.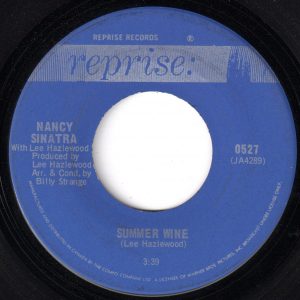 "Summer Wine" was the first of several hit singles where she sang a duet with Lee Hazelwood. It is a psychedelic country-pop song is about a man with some silver spurs and a woman with some wine. She invites him for a drink of her wine made with "strawberries, cherries and an angel's kiss in spring." He has so much to drink that he cannot think. After she seduces him, he wakes to find her gone with his "silver spurs, a dollar and a dime." Some critics suggest that the phrase "she reassured me with an unfamiliar line," is a reference to doing a "line" of cocaine. But it could also mean she was saying mysterious things to him with words he didn't recognize. Or simply that he was too intoxicated to make sense of the conversation. At times rock critics were searching to read drug references to lyrics of every song they reviewed. What is clear is the mysterious woman keeps on giving him more and more of her "summer wine." Afterwards his belongings and cash are all gone.
In 2018, Food and Wine.com recommends a number of wines to enjoy at social occasions over the summer. These include NV Tío Pepe Palomino Fino Sherry, with its refreshing tones of apple and strawberry, with a hint of saltiness. They suggest a 2009 Layer Cake Cabernet Sauvignon with "blackberry flavors and a gentle note of cedar." They rave about the 2010 Commanderie de la Bargemone Coteaux d'Aix-en-Provence Rosé with its " juicy melon, berry and orange-zest notes." And for red wine lovers Food & Wine is wild about a 2007 Bodega Norton Reserva Malbec with its "rich berry, herb and vanilla flavors." And don't forget to try the 2010 Leitz Dragonstone Riesling, they add. Its "slightly sweet lemon chiffon and cherry flavors" are not to be passed up.
But if almost all the wine in the world is made of grapes, why would Nancy Sinatra be singing about a summer wine with strawberries and cherries, never mind an angel's kiss in spring? And why, in 2018, do wineries promote their wines with descriptors like "brims with lemon, lime and green pear?" In addition to the wine itself, there are aroma compounds blended into the wine. Wine flavors come in three primary groups: 1) fruit/floral/herbal, 2) spice and 3) earth. One of the aroma compounds found in wine are called wine esters. Wine esters come from acids. Esters are used extensively in the flavor industry for everything from essential oils to candy. In wine, esters provide the building blocks of fruit flavors. The primary wine esters variously produce these aromas: strawberry, raspberry, apple, banana and a range of white flowers. A different aroma compound is pyrazine. This is an aromatic organic compound that has vegetable-like smells. Pyrazine is also one of the fundamental aroma compounds in chocolate and coffee. The aroma compound, lactones, are found in honey, peaches and butter. Some of the aromas lactones evoke in a wine include hazelnut, coconut, vanilla and caramel. An organosulfur compound found in wine is named thiols. Thiols smells fruity in tiny amounts evoking aromas such as grapefruit, passion fruit, gooseberry and black currant. But in too large amounts, thiols smell like garlic and this considered a wine fault. So be careful. It's hard to get your man drunk in order to take off with his "silver spurs, a dollar and a dime," if the first sip of wine tastes like garlic. He'll likely stay quite sober and leave with everything he brought to your home.
"Summer Wine" was the b-side of "Sugar Town". On the Billboard Hot 100 "Summer Wine" only reached #49. In individual radio markets it charted best at #1 in Sacramento (CA), Oklahoma City and Hamilton (ON), Troy and Albany (NY). It peaked at #2 in Seattle, Phoenix, Denver, Houston, Edmonton (AB), San Bernardino and Fresno (CA). It soared to #3 in San Diego, Vancouver (BC), Regina (SK) and Montreal. And it climbed up to #5 in Buffalo, Tucson (AZ), Los Angeles and San Francisco.
Later in 1967 she had a #1 single in a duet with her father called "Something Stupid." It would also be a year where she was given the nod to record the theme song for that year's James Bond film, You Only Live Twice. She also had Lee Hazelwood, her father, Frank Sinatra Jr., Dean Martin and Sammy Davis Jr. appear on a TV special called Movin' With Nancy. During the TV show Nancy Sinatra and Sammy Davis Jr. had a spontaneous unplanned kiss. It was one of the first interracial kisses on TV and caused a controversy at the time. In 1968, she also starred opposite Elvis Presley in Speedway.
In 1967, Nancy Sinatra managed to chart another five singles into the Top 30 of the Billboard Hot 100. But her chart making days were over as she released over forty more singles between 1968 and 2017. Nancy Sinatra has had members of the legendary Wrecking Crew as a backing band.
Karen Schoemer, contributor to the book, The Rolling Stone Book of Women in Rock, wrote, "Nancy's combination of pristine innocence and vamp-o-rama sex appeal was a perfect expression for the ('60s)." In May 1995, Nancy Sinatra was featured in a Playboy Magazine pictorial. She also re-launched her music career releasing an album. Since 2007, she has hosted a show on Sirius Satellite Radio titled Siriusly Sinatra.
May 30, 2018
Ray McGinnis
References:
Nancy Sinatra bio, Nancy Sinatra.com
Barbara O'Dair, The Rolling Stone Book of Women in Rock, (Rolling Stone, 1997).
Best Wines for Summer, Food and Wine.com, June 2018.
Where Wine Flavors Come From: The Science of Wine Aromas, Wine Folly.com, January 7, 2015.
"C-FUNTASTIC FIFTY," CFUN 1410 AM, Vancouver, BC, January 14, 1967.
For more song reviews visit the Countdown.