#644: Summertime by Billy Stewart
Peak Month: August 1966
7 weeks on CKLG's Vancouver Charts
Peak Position ~ #2
1 week CKLG Up 'N Comers ~ July 16, 1966
Peak Position on Billboard Hot 100 ~ #10
YouTube.com: "Summertime"
Lyrics: "Summertime"
William Larry Stewart II was born in Washington D.C. in 1937. In 1949, at the age of 12 Stewart he and his three younger brothers began singing under the billing The Four Stewart Brothers. Singing gospel music, they were given a weekly spot on Sundays from 1949 to 1954 on WUST-AM in Washington D.C. In his teens he also won a talent singing contest performing George Gershwin's "Summertime". In 1955 Bo Diddley encountered Billy Stewart playing piano. Diddley was impressed and invited Stewart to become one of his backing musicians. During his time with Bo Diddley, Billy Stewart was able to expand his musical repertoire to include playing organ, bass and drums. In 1956 Bo Diddley played guitar on Stewart's first single titled "Billy's Blues" recorded on the Chess label. In 1957, Stewart released "Billy's Heartache" which featured backing vocals from 18-year-old Marvin Gaye. In 1962, Stewart recorded a tune based on his nickname called "Fat Boy". The song climbed to #18 on the Billboard R&B charts.
From 1962 to 1963 Billy Stewart was an R&B counterpoint to Bobby Vinton, casting himself in song after song as a lonely guy in search of the perfect "girl." His lonely guy songs include "Reap What You Sow", "Strange Feeling" and "Count Me Out". He got more popular in 1965 when he crossed over to the Billboard Hot 100 with two singles that made the Top 30. These were "I Do Love You" (#6 R&B/#26 Hot 100) and "Sitting In The Park" (#4 R&B/#24 Hot 100). In 1966 Billy Stewart recorded an improvisational cover of the standard "Summertime" from George Gershwin's 1935 English-language opera Porgy and Bess. The drummer for Stewart's recording, Maurice White, went on to form a band called Earth, Wind & Fire.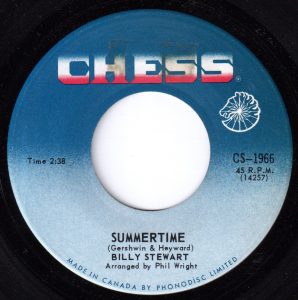 "Summertime" is a song from Porgy and Bess. The 1935 opera featured a cast of classically trained African-American singers, which was a risky artistic decision at the time. The opera was based on the 1925 play Porgy: A Play in Four Acts by Dorthy Heyward and DuBose Heyward, which was adapted from DuBose Heywards' short novel. Since Porgy is a folktale, Gershwin made a choice to write his own folk songs and spirituals to fit the narrative for the opera Porgy and Bess. Porgy and Bess is the story of a disabled black street-beggar named Porgy who lives in the slums of Charleston. Porgy tries to rescue Bess from the her violent and possessive lover named Crown. Porgy also tries to save Bess from her drug dealer, Sportin' Life. Porgy and Bess opens with a summer evening on Catfish Row. A young mother named Clara sings a lullaby to her baby. The lullaby is "Summertime". Other notable songs from the opera are "I Got Plenty o' Nuttin'" and "It Ain't Necessarily So". When Porgy and Bess opened in 1935 there were criticisms by African-American commentators that the opera played to stereotypes that African Americans lived in poverty, took drugs and resolved conflict by fighting.
In 20 states in the USA "Summertime" got next to no airplay. However in Canada "Summertime" climbed to #2 in Vancouver, and #7 in Winnipeg, though it had limited success in most other radio markets. In the USA its best chart runs were at #2 in Denver and Detroit, #3 in San Jose, #4 in Buffalo, #5 in Boston, #6 in Chicago, Los Angeles and San Diego, #7 in Pittsburgh, Indianapolis, Wilmington (DL) and Dayton (OH), and #8 in Atlanta and Hartford (CT).
In 1936 Billie Holliday took "Summertime" to #12 on the Billboard Pop charts. The song has also been recorded by Sam Cooke (1957), Al Martino (1960), The Marcels (1961), Rick Nelson (1962) and the Chris Columbo Quintet (1963). All covers of the song from the late 50's and early 60's failed to crack the Top 40. However, Billy Stewart's version became the most successful recording of "Summertime" in the 20th Century, climbing to #10 on the Billboard Hot 100 and selling 700,000 records. Despite this, the song didn't make the Year-End Top 100 for 1966 in the USA. Though in Vancouver on CKLG the song was ranked at #34 for The Top 73 for 1966. Although not released as a single, Janis Joplin's version of "Summertime" from the 1968 album, Cheap Thrills, credited to Big Brother and the Holding Company is regarded as one of the most popular and critically acclaimed versions.
Jacob Gershowitz was born in 1898 in Brooklyn, the son of Russian-Jewish immigrants. He began playing piano at the age of eleven. At fifteen he dropped out of school and started to get paid for playing piano at clubs billed as George Gershwin, and as a song-plugger on Tin Pan Alley. In addition, he also played on Broadway as a rehearsal pianist for singers on stage getting ready for their performances. In 1924 he was asked to compose a song for bandleader Paul Whiteman. The result was "Rhapsody In Blue". Within a few years Paul Whiteman's recording of the tune sold over a million records. Gershwin wrote tunes for over thirty Broadway musicals between 1919 and 1935. He also wrote many classical pieces. Among his most notable songs are "Nice Work If You Can Get It", "I Got Rhythm", "Strike Up The Band", "I've Got A Crush On You", "Someone To Watch Over Me", "But Not For Me", "They Can't Take That Away From Me" and "Let's Call The Whole Thing Off". In 1937 George Gershwin began to sense strange odors and frequent headaches. He was diagnosed with a malignant brain tumor and died that year at the age of 38.
In Vancouver, one year after Billy Stewart's "Summertime" was on the charts, it was still a very popular song. Based on listener requests on Flashback Weekends and continued to receive a lot of airplay on C-FUN the year after its release. The song was listed at #11 on the C-FUN Final Top 40 Soundathon for March 1960 to April 1967 as C-FUN DJ's counted down on C-FUN's final broadcast at the time on September 17, 1967. Soundathon was C-FUN's twice annual extravaganza of hits from the past. Listeners voted for their favorite "flashbacks" and these were tallied and played in countdown order near the year's end or in mid-summer.
After the success of "Summertime" Billy Stewart went to the recording studio to make an album of classic pop tunes. The album was titled Billy Stewart Teaches Old Standards New Tricks. Stewart's next single, a track from the new album, was a cover of the #1 hit for Doris Day in February 1954 titled "Secret Love". The cover featured Stewart's trills and scat singing. The song stalled on the Billboard Hot 100 at #29, but peaked at #8 in Vancouver on 29 October 1966. In January 1967, Billy Stewart entered the CKLG record charts with "Every Day I Have The Blues", another track from his album of standards. It was a cover of a song popularized in 1955 by Count Basie with Joe Williams, as well as B. B. King. Stewart's rendition cracked the Top 40 of the 'LG's Boss 40. Other standards from Billy Stewart's album included "Temptation", "When I Fall In Love", "Moonlight In Vermont", the Harold Arlen classic "Let's Fall In Love" and Bart Howard's "Fly Me To The Moon". But the novelty of Billy Stewart scatting his words and trilling his lips began to wear off during the summer of love with the release of The Beatles Sgt. Pepper's Lonely Hearts Club Band album, and new recording acts like The Doors and Jefferson Airplane, Procul Harem and the Fifth Dimension. As well, Aretha Franklin was having her breakthrough onto the pop charts with "Respect". Although he released five more singles in the late 60's, Billy Stewart fell off the radar. In 1969, Billy Stewart had a motorcycle accident and suffered minor injuries. He also developed diabetes due to his increasing weight.
Married with three children, 32-year-old Billy Stewart was on his way with his band to a nightclub engagement in Columbia, South Carolina. On January 16, 1970, Stewart and his band performed late into the evening and quit at 2:00 a.m. on January 17th. They went to bed around 2:45 a.m. and woke up that morning around 7:30 a.m. It was clear and sunny on January 17 when the new Ford Thunderbird he's purchased 12 days earlier drove south on the I-95 through Smithfield, North Carolina, three hours northeast of their destination. Suddenly, at 9:15 a.m. his car left the highway and crashed through a bridge on the I-95, plunging Stewart and his three bandmates into the Neuse River. All four drowned. The Ford Thunderbird odometer read 1,400 miles.
His widow, Sarah Stewart sued the Ford Motor Company due to the crash resulting from a mechanical failure. The plaintiff's trial brief stated that their experts would "testify that the front end of the 1970 Ford Thunderbird was delivered to their laboratory for examination, and after having conducted an exhaustive examination, reached the conclusion that the cause of the incident was a dislocated or cracked thread of the left adjusting sleeve in the steering control area, creating a point of incipient failure, their opinion that the proximate cause of the accident was failure of the sleeve resulting in lack of control of the left wheel, the vehicle pulling to the left. . . . The experts will testify that these tests established that the failure in the Thunderbird was caused by fatigue and no other type of force." The conclusion of the trial was May 16, 1977, which led to an out-of-court settlement for Sarah Stewart.
January 16, 2019
Ray McGinnis
References:
"Singer Billy Stewart Dies in Car Crash-Plunge," Jet Magazine, February 5, 1970.
553 F. 2d – 130 Stewart V Ford Motor Company Rich, Open Jurist.org, May 16, 1977.
Chris Haire, "The Top 10 versions of Gershwin's 'Summertime' …And the Listening is Easy," Charleston City Paper, Charleston, SC, May 27, 2016.
George Gershwin biography, Biography.com.
Mike Boone, "If I Could Sing I Would Want My Voice To Sound Like Billy Stewart," Soul Patrol.com.
"The Top 73 for 1966," CKLG ~ AM 730, Vancouver, BC, January 14, 1967.
"Silver Dollar Survey," CKLG 730 AM, Vancouver, BC, August 13, 1966.
For more song reviews visit the Countdown.