#1057: Sun Goes By by Doctor Music
Peak Month: August 1972
9 weeks on Vancouver's CKVN chart
Peak Position #12
Peak Position on Billboard Hot 100 ~ did not chart
YouTube.com: "Sun Goes By"
Lyrics: "Sun Goes By"
Instrumental in bringing jazz to the pop world, Dr Music was the brainchild of Toronto native and Doug Riley, who first took piano lessons as a child as a means of coping through polio. Born in Toronto in 1945, he took lessons in classical piano at the Royal Conservatory of Music in Toronto beginning at the age of four. In 1969, Doug Riley became the music director for the television show "The Ray Stevens Show". He was asked to put together a group of musicians to play for the 1969-1970 season of the show when Ray Stevens was continuing his string of hits including "Mr. Businessman", "Guitarzan" and "Everything Is Beautiful". Riley's 16-piece vocal and instrumental band became known as Dr. Music.
When the show was cancelled in 1970, Dr. Music remained together to record and tour Western Canada. Riley became partners with producer Terry Brown to form the Toronto Sound Recording Studio where Dr. Music recorded from several singles in 1970 and 1971. At this point, Dr. Music joined forces with the Canadian duo Terry Black and Laurel Ward, which led to a more vocal-driven sound for the band. Their debut single in 1971 off of their self-titled album was "One More Mountain To Climb", a song written by Neil Sedaka and Howard Greenfield. Their second single from the album was "Sun Goes By".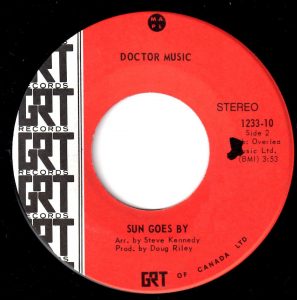 "Sun Goes By" was written by Dr. Music bandmate Steve Kennedy. As a member of Dr. Music, Kennedy played flute, saxophone and contributed vocals. In the mid-60's Steve Kennedy was part of a band for Toronto based soul singer Diane Brooks. He also was a studio musician for recordings by Terry Black. In 1967 Kennedy joined E.G. Smith & The Power who recorded a cover of the Spencer Davis Group hit from the UK, "Keep On Running". By the spring of 1969, interpersonal dynamics in E.G. Smith & The Power spiraled out of control. Steve Kennedy, drummer Wayne Stone, keyboard player William Smith and guitar player Kenny Marco split from the band to form Motherlode. That band had a hit in the Top 20 on the Billboard Hot 100 in 1969 titled "When I Die". By 1970, Steve Kennedy left Motherlode to join Dr. Music.
"Sun Goes By" is a song contrasting the repetition of the sun and moon in their cycles with the habitual resort to warfare between nations and lies by politicians. In the constellations of Cancer and Orion reveal messages, if only "troopers" who ignorantly stare could perceive them. Recorded in the shadow of the Vietnam War, Doctor Music was penning an anti-war song about the seeming fruitlessness of each day being another day of war. The Vietnam War had begun in November 1955. With several escalations over the years the war in 1972 had been in the news now for seventeen years.
In 1968 there were news reports of American military abuses in what was called the My Lai Massacre on March 16, 1968, where 504 unarmed civilians were shot to death. This news story brought new attention and support to the anti-war movement. Some veterans joined Vietnam Veterans Against the War. The fatal shooting of four students at Kent State University on May 4, 1970, led to nationwide university protests. While both President Lyndon Johnson (1963-1968) and President Richard Nixon (1968-1974), along with key generals extolled the virtues of the Vietnam War and the progress being made, the American public increasingly felt they were being deceived. They no longer were satisfied with the assurances by politicians and military commanders to "just believe us."
In the song "chariots of death will be disguised," was a reminder that in order to sell a war to the general public war making will often be construed as peacemaking and military aggression will be called "defense" and "national security." The song's final verse begins by making a statement and asking the question: "Blood is red. Must it all be shed?" The song was written at a time when at least some listeners to pop music in Canada believed that military and political leaders needed to be held to account for their actions. While there were yearly solemn observances in Canada each November 11th on Remembrance Day, it was also understood that not all wars were just and that propaganda to advance the cause of war needed to be debated in any healthy democracy.
The group's debut album, Dr. Music, ended up having three hits "Sun Goes By", "One More Mountain to Climb" and "Try a Little Harder". The album was produced by Riley and co-arranged by Riley and Steve Kennedy. Because of the number of singers in the band, this album had a gospel-rock feel, although it still fit within the jazz rock genre.
Shortly after Dr. Music's album release, the group disbanded, despite the success of the single "Sun Goes By". This gave Riley an opportunity to concentrate on his studio position at Toronto Sound Recording. In 1973, Doug Riley assembled a second version of Dr. Music. This group, however, was only a seven-piece ensemble. This new version of Dr. Music toured Western and Eastern Canada and released a new album, Dr. Music II. The group split up in 1974.
Riley continued to produce and arrange for television shows. From 1973 to 1974, he worked as a music director on Keith Hampshire's television series Music Machine. In 1974, he formed the third version of Dr. Music which became the house band of the show. This group recorded the album Bedtime Story at Toronto Sound Studios during February and March 1974. Bedtime Story consisted of jazz compositions by Riley and his band members, Claude Ranger and Don Thompson and fell under the genre of progressive jazz rock.
Dr. Music continued to be a leading jazz band within Toronto throughout the 1970s but formally disbanded in 1977. In 1984, Riley resurrected the idea Dr. Music by creating a group composed of his musical friends. Together they recorded the album Dr. Music Circa 1984.
June 23, 2017
Ray McGinnis
References:
Dr. Music bio, Canadian Bands.com
Doug Riley, Canadian Jazz Archive Online.org, 2007.
"The Top 40 Hits," CKVN 1410 AM, Vancouver, BC, August 7, 1972.
For more song reviews visit the Countdown.