#33: Superman's Song by the Crash Test Dummies
Peak Month: September 1991
15 weeks on Vancouver's CKLG chart
Peak Position #1
Peak Position on Billboard Hot 100 ~ #56
YouTube.com: "Superman Song"
Lyrics: "Superman Song"
Bradley Kenneth Roberts was born in 1964 in Winnipeg, Manitoba. He studied music at the University of Winnipeg. While studying at university and working as a bartender at The Spectrum Cabaret, Roberts began writing his own songs. By 1989, Roberts began performing with his brother Dan in a house band for the Blue Note Cafe in Winnipeg under the moniker Bad Brad Roberts and the St. James Rhythm Pigs. Brad Roberts had a distinctive bass-baritone voice, and played guitar. Dan Roberts was born in Winnipeg in 1967. He joined his brother's band in 1989, playing bass guitar. Ellen Reid was born in Selkirk, Manitoba, in 1966. At an early age she studied piano. She joined the Brad Roberts band, playing piano and backing vocals in local taverns. Benjamin "Son of Dave" Darvill was born in Winnipeg in 1967. He learned to play mandolin, guitar and harmonica, joining the band in 1989.
The group, renamed themselves the Crash Test Dummies, and performed at the Winnipeg Folk Festival in 1989. After attending a songwriters' workshop with Lyle Lovett at the Winnipeg Folk Festival, Roberts wrote "Superman's Song".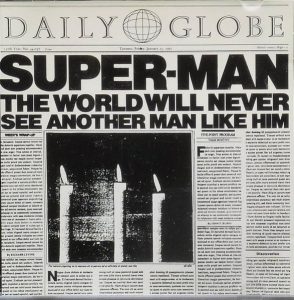 "Superman Song" CD single sleeve cover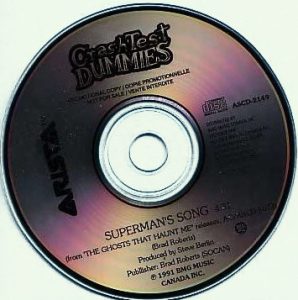 Brad Roberts has stated that "Superman's Song" is an "analysis of "political philosophy" and that the way the song was written alleviated some of the seriousness of the topic. He explained the meaning of the song in a 1992 interview:
"Superman as cast in "Superman's Song" is obviously a left-wing political figure. His activity in the community is intrinsic to his being. Superman is being juxtaposed against Tarzan, who is kind of a laissez-faire capitalist type who retreats to the forest, and rejects the idea of community. He wants to live in a so-called animal state, and he doesn't have to be bothered with any kind of political realities."
In the song, Superman is saving the world from Solomon Grundy. In the DC Comics Solomon Grundy appears as a supervillain-zombie who first squared off against the Green Lantern. Originally, a wealthy 19th-Century merchant named Cyrus Gold was murdered and dumped in a swamp near Gotham City. Fifty years later, the corpse is reanimated as a huge shambling figure (composed partly of the swamp matter that has accumulated around the body over the decades) with almost no memory of its past life. Gold murders two escaped criminals who are hiding out in the marsh and steals their clothes. He shows up in a hobo camp. When asked about his name, one of the few things he can recall is that he was "born on a Monday". One of the men at the camp mentions the nursery rhyme character Solomon Grundy (who was born on a Monday), and Gold adopts the moniker. Strong, vicious, and nearly mindless, Solomon Grundy falls into a life of crime. Grundy is a difficult opponent for the Green Lantern, as Grundy can't be killed since he's already dead. (Grundy had been injected with concentrated chlorophyll by a criminal scientist). In one of the cartoons Superman and Power Girl throw Solomon Grundy into a volcano.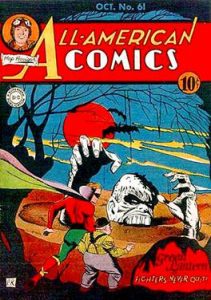 Solomon Grundy is tricked by Superman in one story, and Grundy ends up being stranded on the moon. In another face-off, Superman obtains a compound from S.T.A.R. Labs which causes the Grundys to become inert, in effect killing the seemingly unkillable man-thing. Though Grundy finds a way to return again to fight the Man of Steel one more time. Since his first appearance in D.C. Comics in 1944, Grundy's strength has varied greatly through the years. For example, in the 2021 animated film Long Halloween Batman beat Grundy. While in other stories, at various points, his strength is roughly on par with Superman's. Grundy can be weakened but not killed. The only hope is that he can be put in a prison on the moon, or enveloped in green plasma or some other way to contain him.
Superman first appeared in a 1938 D.C. Comic. He has X-Ray vision which gives him the ability to see through opaque physical objects. Superman has super-hearing, telescopic vision – allowing him to see objects at a great distance in a magnified state, and super-breath which allows him to blow massive gusts of air to extinguish fires or freeze objects. He first uses his super-breath to put out a fire in the mayor's office. Superman dedicates his life to fighting the forces of evil, including Solomon Grundy, and extraterrestrial android named Brainiac, mad scientist turned corporate megalomaniac Lex Luthor, a flawed clone named Bizarro, General Zod – a former Military Director of the Kryptonian Space Center, Jax-Ur – an amoral and criminally deviant scientist on the planet Krypton, an imp from the Fifth Dimension named Mr. Mxyzptlk who possesses nigh-limitless reality-bending powers, The Toyman (Winslow Percival Schott) who uses toy-based or toy-themed devices and gimmicks in his various crimes, and Ultraman, whose power source is through exposure to kryptonite, while the Earth's yellow sun weakens him. Ultraman is the leader of the Crime Syndicate of America.
If Superman came to your town or city today, what do you think he would he save you from? Who would be his adversaries?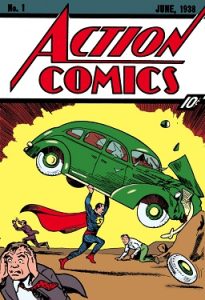 Edgar Rice Burroughs Tarzan (John Clayton II, Viscount Greystoke) is a fictional character. Tarzan is an archetypal feral child raised in the African jungle by the Mangani great apes; he later experiences civilization, only to reject it and return to the wild as a heroic adventurer. Tarzan is the son of a British lord and lady who were marooned on the coast of Africa by mutineers. When Tarzan was an infant, his mother died, and his father was killed by Kerchak, leader of the ape tribe by whom Tarzan was adopted. Tarzan's jungle upbringing gives him abilities far beyond those of ordinary humans. These include climbing, clinging, and leaping as well as any great ape. He uses branches, swings from vines to travel at great speed, and can use his feet like hands. He learns to wrestle rhinoceros, crocodiles, pythons, gorillas, tigers and jaguars. As an 18-year-old, Tarzan meets a young American woman named Jane Porter. She, her father, and others of their party are marooned on the same coastal jungle area where Tarzan's human parents were 20 years earlier. When Jane returns to the United States, Tarzan leaves the jungle in search of her, his one true love.
Tarzan and Jane live for awhile in England and she gives birth to a son. But Tarzan is quickly dismayed by the hypocrisy of modern civilization and the family goes back to Africa.
Tarzan of the Apes was published in 1912 as a pulp magazine series before its 1914 release as a novel. The novel was made into a silent film in 1918. The first novel spawned dozens more. There have been over sixty Tarzan films over the past century.

Miles O'Keefe played Tarzan opposite Bo Derek in The Ape Man in 1981. In 2016, Alexander Skarsgård played Tarzan in The Legend of Tarzan. In the film Tarzan, having acclimated to life in London, is called back to his former home in the jungle to investigate the activities at a mining encampment. The film depicts Tarzan as actually concerned with socio-political realities, unlike his characterization in the "Superman's Song". The Legend of Tarzan grossed $350 million at the box office.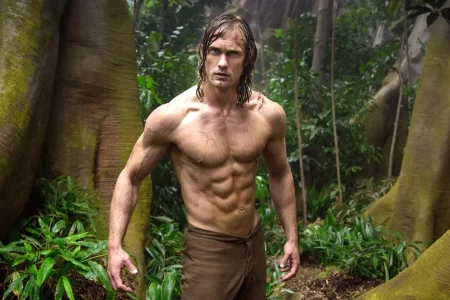 Alexander Skarsgård in The Legend of Tarzan
The "Superman Song" was released along with the debut album The Ghosts That Haunt Me. "Superman Song" peaked at #1 in Vancouver (BC), and Winnipeg (MB), and #3 in Hamilton (ON). In the USA it stalled on the Billboard Hot 100 at #56.
The title track from the debut album, "The Ghosts That Haunt Me" became a Top 30 hit in Canada.
Michel "Mitch" Dorge was born in 1960 in Winnipeg. He learned to play percussion and drums from the age of six, and joined the Crash Test Dummies in 1991. The Crash Test Dummies performed at the Thunderbird Stadium in Vancouver on July 1, 1992. The band released their second album in 1993 titled God Shuffled His Feet.
From their second album came "Mmm Mmm Mmm Mmm". In 1993-94, the single topped the pop charts in Australia, Belgium, Denmark, Germany, Iceland, Lithuania, Iceland, and Norway. It also climbed to #2 in the UK, #3 in Austria, Ireland and Scotland, #4 in the Netherlands, New Zealand, and the USA, #5 in France and #7 in Switzerland. While on the Canadian RPM Top Singles chart the song stalled at #14. A followup released, "Swimming in Your Ocean", peaked at #6 on the Canadian RPM Top Singles chart and ranked at #46 for the Year-End 1994 list. A third track from the album, "Afternoons & Coffeespoons", was released in the summer of 1994. It climbed to #2 in Iceland, #3 in the Netherlands, #7 in Canada, #16 in Finland and #17 in Scotland. The title track from the album also made the Top Ten pop charts in both Iceland and the Netherlands.
In 1994 a cover of the XTC song, "The Ballad of Peter Pumpkinhead", was featured in the film Dumb and Dumber. In 1995, the single peaked at #2 in Iceland and #4 in Canada. Then in 1996, the band released A Worm's Life. The single, "He Liked To Feel It", shot to #2 on the Canadian RPM Top Singles chart. In support of the album, the Crash Test Dummies appeared in concert at the Pacific Coliseum in Vancouver on August 27, 1996.
In 1999, "Keep A Lid On Things" peaked in Canada at #5. The single came from the album Give Yourself A Hand.

Over the years the Crash Test Dummies have released eight studio albums. The most recent is Oooh La La in 2010. However, their four album releases between 2001 and 2010 have been less commercially successful than their four releases in the 1990s. The band has had several hiatus while working on solo projects over the last decade. But, in 2017 pursued nostalgia tours. On August 15, 2019, the band gave a concert at East Beach in the city of White Rock, 45 minutes south of Vancouver.
And in 2022 they embarked on a 30-year reunion tour of their 1991 album release – a year late starting the tour due to the 'pandemic.' On August 21, 2022, the Crash Test Dummies performed at the Hollywood Theatre in Vancouver.
April 24, 2023
Ray McGinnis
References:
Larry Tye, Superman: the high-flying history of America's most enduring hero, Random House, 2012.
Mark Siefert, "All-American Comics #61 and the True Origin of Solomon Grundy," June 30, 2020.
Catherine van Reenen, "Winnipeg's One-Hit Wonders: They were supposed to be the next big thing. Where did they go?," Uniter, Winnipeg, March 31, 2011.
Gary Barnes, "Superman never made any money, but Crash Test Dummies will play Kelowna," Penticton Western News, Penticton, BC, May 24, 2022.
Scott Tady, "Crash Test Dummies singer talks tour that finishes in Greensburg," Beaver County Times, March 6, 2023.
"Crash Test Dummies – Canada – Concert dates," setlist.fm.
"CKLG Top 40," CKLG 730 AM, Vancouver, BC, September 23, 1991.
For more song reviews visit the Countdown.