#366: Surfer Joe by the Surfaris
Peak Month: August 1963
9 weeks on CFUN's Vancouver Chart
Peak Position ~ #3
Peak Position on Billboard Hot 100 ~ #62
YouTube: "Surfer Joe" (Dot Records recording)
YouTube: "Surfer Joe" (DFS Records original 3:40 minute recording)
Lyrics: "Surfer Joe"
Ronald Lee Wilson was born in 1944 in Los Angeles. At the age of 17 he was a drummer in a high school band in Covina, California, called the Charter Oak Lancers. Bob Berryhill was born in 1947 in Glendora, California. When he was eight years old his parents bought an acoustic guitar which his Dad played. Bob got interested in guitars, and when he was 13 his parents took the family to Hawaii. It was there he saw a performer play a ukulele. When Berryhill returned home he went with his Dad to a music store and asked the staff to show him a ukulele. They told him they didn't have any, but suggested he buy a guitar. Bob Berryhill soon began to play guitar and in eighth grade was entered in a talent contest. It was at the talent show that Berryhill heard the duo Pat Connolly and Jim Fuller. In fact, they borrowed Berryhill's music equipment.
Connelly and Fuller subsequently got together and jammed at Berryhill's house. Berryhill thought that was all that was going to happen, and thanked the pair for coming over to his house. But then, Jim Fuller asked Bob if he'd like to play with them at the concert they were doing at Pomona Catholic High School later that night. This was taking place after a football game, with the concert in the high school gym. In addition, Fuller and Connelly told Berryhill that they were going to be playing with a drummer they hadn't heard play before. The drummer was Ron Wilson, and he was setting up his drums underneath the basketball net. And that was how the Surfaris first formed as a band in Glendora, California, in the spring of 1962.
Fuller and Connelly told Berryhill that the band's manager was going to be Dale Smallin, who happened to have been Bob Berryhill's Boy Scout leader when he was 12-years-old. Smallin got the band to practice regularly through the fall of 1962. By November they were booked to play some 'Teen Centers" in Greater Los Angeles.
One night when the band was about to practice, Ron Wilson told Bob Berryhill that he had a dream about a song called Surfer Joe. Wilson had written five verses, and Berryhill helped with guitar accompaniment, as Wilson finished the song. They played it for Dale Smallin, who insisted that they record "Surfer Joe". On the day in December '62, when Smallin, Connolly, Fuller, Wilson and Berryhill met outside Berryhill's home, they needed money. Dale Smallin told the bandmates that unless they could come up with $150 they would not be able to pay for the recording studio time. So Bob Berryhill talked to his mother who wrote Dale Smallin a check for $150, and off the Surfaris went to the recording studio. Instead of driving west to Hollywood, Smallin drove the band 19 miles east of Glendora to Cucamonga.
The recording was done on monaural. Ron Wilson sang the verses to "Surfer Joe" and the band thought they were finished. But the recording engineer told them they needed to have a B-side for the record. The Surfaris told him "we don't have another song." The engineer said they could put "Surfer Joe" on both the A-side and the B-side, or they could write another song. With that invitation, Ron Wilson began to play an infectious drum solo, and Fuller on lead guitar, Berryhill on rhythm guitar and Connolly on bass guitar quickly improvised. As the recording began, before the music started, Bob Berryhill recalls "My dad went out in the alley and picked up an old cement soaked piece of plywood, came back in and we broke it over a microphone to sound like a busting surf board." This was followed by a maniacal laugh and the words "Wipe Out" spoken by band manager Dale Smallin.
The band played what they improvised through three times. Jim Fuller had gone to Tijuana the previous week and suggested they call it "Switchblade". Another suggested "Busting Surfboards", but there was already a song with that title. Dale Smallin offered up a maniacal laugh and then said "Wipe Out". Smallin's laugh and spoken word 'Wipe Out', ended up being on the beginning of the song. And "Wipe Out" became the title of the B-side.
The January 1963 recordings of "Surfer Joe" and "Wipe Out" on the DFS label were both about five minutes each in length. When the Surfaris were introduced to Princess Records in February '63, the A-side "Surfer Joe" was shortened to 2:20 (leaving out a number of verses), and the B-side "Wipe Out" was shortened to 2:12. Princess Records said the disc wouldn't get played on Top 40 AM radio unless the sides were edited.
However, when the Princess marketing and promotion team began to contact radio stations, they got nowhere. No one was interested in the Surfaris recording. One day two of the staff from Princess were at a diner in North Hollywood and the waitress asked the guys what they did for a living. They told her, and she said "have you got any good records I can send to a DJ I know named Johnny Hyde in Fresno, California." Hyde was at KYNO-AM in Fresno. And the Princess promotions man said "yeah," and he gave it to the waitress and she mailed "Surfer Joe"/"Wipe Out" to Johnny Hyde.
On KYNO, Johnny Hyde had a midnight show called Make It Or Break It, where they played new records. As Bob Berryhill tells it, "on midnight on a Tuesday night they [Hyde] played "Wipe Out". And it became the fifth most important Record of the Night. They played it Wednesday and "Wipe Out" became number one, the first most important Record of the Night." On the following day, "Thursday, a lawyer for Dot Records called Johnny Hyde and asked if he had any good records. And he [Hyde] said it got this one called "Wipe Out". He [the Dot Records lawyer] says send it to me. So [Johnny Hyde] sends it to [Dot Records] North Hollywood." The song got played "and Randy Woods, the president of Dot Records said that's a hit. Call them [the Surfaris] in and we'll sign them…. And then they came to my house in March of '63 and had us sign contracts."
At the time, Berryhill, Connolly and Fuller were 15-years-old, and Wilson was 17-years-old. As Dot was really good at promoting their records, both "Surfer Joe" and "Wipe Out" began to chart – separately and together – on various radio markets. The Dot Records release of "Surfer Joe" omitted the second and fifth verses of the song.
"Wipe Out" not only peaked at #2 in 1963, but returned to the Billboard Hot 100 in 1966 for another run up the chart to #16 in September. In 1963 "Wipe Out" was the number-fourteen song of the year, and in 1966 the number-fifty-five song of the year. In Vancouver (BC) "Wipe Out" appeared on the C-FUNTASTIC FIFTY on June 22, 1963. The single climbed to #6 in July and dropped to #8 on July 27, 1963. It likely would have continued to drop down the chart, except that the B-side, "Surfer Joe" started getting airplay. On August 3, 1963, both "Wipe Out" and "Surfer Joe" ranked #6 on the CFUN record survey. The following week the double-sided hit climbed to #3. But on August 17, "Surfer Joe" remained at #3, while "Wipe Out" – having enjoyed eight weeks on the chart, dropped off the record survey.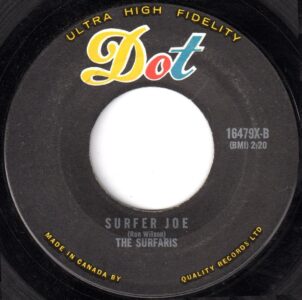 "Surfer Joe" was written by Ron Wilson. He also co-wrote their #2 hit "Wipe Out". Wilson also did the amazing drumming on "Wipe Out". The song begins by telling about "a big beach blondie named Surfer Joe" who has "a green surfboard and Woody to match." And Joe has a habit of driving well above the speed limit.
On the original version of "Surfer Joe" the 2nd verse had these lyrics:
"I saw him one day flying down the road,
with twenty-six surfboards and a hundred pound load.
I knew where he was headin', trying to reach,
the playground of the surfers: Doheny Beach."
Verse three tells how Surfer Joe goes to Huntingdon Beach for the surfers' annual convention meet. Surfer Joe expertly executes several surfing stunts, including "hangin' five and walkin' the nose." The outcome: "the trophy was Joe's."
Huntingdon Beach was originally a cattle route for the Rancho. In 1904 the Huntingdon Beach Pier was built. The city's nickname is "Surf City", (which Jan & Dean immortalized in their number-one hit in 1963 – with Huntingdon Beach in mind). If you go to Huntingdon Beach you can see the Surfing Walk of Fame, Surfers' Hall of Fame and the Huntington Beach International Surfing Museum. The city is also host to over 50 surfing competitions and the US Open of Surfing.
Verse four tells how Surfer Joe is drafted into the United States Marines and is stationed at Pendleton, a Marine Corps base in a forest spanning 125,000 acres, south of San Clemente and north of Oceanside, California. The Marines cut off Surfer Joe's "big blonde locks" and then "Joe caught [a] cold."
In the omitted verse five, on the original recording, the Surfaris tell more. Getting a haircut and a cold doesn't stop Surfer Joe:
Now that didn't stop him or keep him away,
when the surf was up, he still had his day.
They caught him at the trestle, down by the sea,
and now poor Joe is doing KP.
"KP" in the United States Marines is short for "Kitchen Patrol." It usually means a marine has been assigned dish washing and other chores. Wikipedia states "KP duties…can include any tedious chores in the military mess at an installation or in the field, such as food preparation, although not cooking, or the more obvious dish washing and pot scrubbing, sweeping and mopping floors, wiping tables, serving food on the chow line, or anything else the kitchen staff sees fit to assign to its KP crew. KP duty can be particularly onerous because it is on top of all regular duties, as institutional kitchens often open before and close after regular duty hours, and generate large volumes of unpleasant food wastes."
"Surfer Joe" actually had a longer chart run in Vancouver than "Wipe Out". It spent six weeks in the CFUN Top Ten, while "Wipe Out" spent five weeks in the CFUN Top Ten. "Wipe Out" began to chart on CFUN on June 22/63 and dropped off the C-FUNTASTIC FIFTY after August 10th. While "Surfer Joe" began to chart on CFUN on August 3rd, remaining on the chart until September 28th.
"Surfer Joe" first started to chart anywhere on April 20, 1963, on KFXM in San Bernardino, California. It remained on the "Fabulous '59: the Inland Empire's Official Top Tune Survey" until August 17, 1963, – for 18 weeks. In the same state, over in San Jose on KLIV-AM on their "20/20 Sound Survey," "Surfer Joe" began to chart on August 3, 1963, at number-one. It returned to #1 on KLIV on August 17th and again on October 5th, charting in San Jose for 16 weeks until November 16th. While in San Francisco, "Surfer Joe" charted between September 14th and December 7th, peaking at #1 on October 13th – and charting in the Top Ten on KYA from mid-September to mid-November. The staggered rotation of chart runs for "Surfer Joe" across various radio markets in the USA kept the song in the lower rungs of the Billboard Hot 100. The song peaked at #61 on the Cashbox Top 100 Singles chart on October 12, 1962. Importantly, the song lacked exposure on radio markets in about forty states.
In 1907, the eclectic interests of the land baron Henry E. Huntington brought the ancient art of surfing to the California coast. While on vacation, Huntington had seen Hawaiian boys surfing the island waves. Looking for a way to entice visitors to Redondo Beach, where he had heavily invested in real estate, Huntington hired a young Hawaiian to ride surfboards. George Freeth decided to revive the art of surfing, but had little success with the huge 16 foot hardwood boards that were popular at that time. When he cut them in half to make them more manageable, he created the original "Long board", which made him the talk of the islands. To the delight of visitors, Freeth exhibited his surfing skills twice a day in front of the Hotel Redondo. Another native Hawaiian, Duke Kahanamoku, spread surfing to both the U.S. and Australia, riding the waves after displaying the swimming prowess that won him Olympic gold medals in 1912 and 1920.
Surfing was gaining in popularity in the early '60s. There were teen films all featuring surfing scenes. These included Gidget in 1959 starring Sandra Dee and James Darren, Beach Party, Muscle Beach Party, and Beach Blanket Bingo, each starring Frankie Avalon and Annette Funicello; Ride The Wild Surf starring Fabian, Shelley Fabares, Tab Hunter and Barbara Eden; How To Stuff A Wild Bikini starring Annette Funicello and Mickey Rooney; And The Ghost In The Invisible Bikini.
In addition to peaking at #3 in Vancouver (BC), "Surfer Joe" climbed to #1 in Columbus (OH), Minneapolis/St. Paul, San Jose, San Francisco, San Diego and San Bernardino (CA), #2 in Boston and Phoenix, #4 in Los Angeles, Providence (RI) and Louisville (KY), #5 in Worcester (MA), Hartford (CT) and Johnstown (PA), #7 in Springfield (MA), #8 in Detroit, Orlando (FL) and Akron (OH). Internationally, the single peaked at #2 in Sydney, Australia, charting for 25 weeks from August 30th, 1963 to February 14th, 1964.
With their double-sided hit single, the Surfaris released the Wipe Out album. In November 1963, The Surfaris had a Top 50 hit with "Point Panic", which peaked at #12 in Montreal, #49 on the Billboard Hot 100, #52 on the Cashbox Top 100 Singles chart, and #43 on the C-FUNTASTIC FIFTY in Vancouver. The single was in reference to a surfing venue in Hawaii, about six miles from Waikiki, and was a track from their second album, Play – with Decca Records.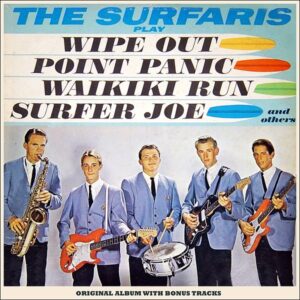 A single was released ahead of Christmas titled "A Surfer's Christmas List", which made the Top 30 in San Jose, California. And in January 1964, "Scatter Shield" made it to #12 on CHWK in Chilliwack (BC), while the B-side, "I Wanna Take A Trip To The Islands", climbed to #18 in Vancouver on CFUN. The single featured vocals by Ron Wilson. These tracks were from the band's third album Hit City '64.
The Surfaris were invited to perform on tour in Hawaii and across the United States. In January-February 1964, the Surfaris toured across Japan, Australia and New Zealand. While on various tours, The Surfaris shared the stage with The Beach Boys, Roy Orbison, Jan & Dean, The Righteous Brothers, The Turtles, Jay and The Americans, The Crystals, Bobby Vinton, Paul Revere and The Raiders, Dick Dale, and The Ventures. Later in 1964 the Surfaris recorded music for the film The Lively Set, starring James Darren and Joanie Sommers.
In 1965, as the British Invasion marched on, the Surfaris left surf music and recorded folk rock. In that vein, they and had a #2 hit in Japan with a song titled "Kareen". By 1965 Ron Wilson had developed into an accomplished lead singer and with Ken Forssi replacing Pat Connolly on bass guitar. The Surfaris completed a promising but ultimately failed recording of Boy Dylan's "It Ain't Me Babe". The Surfaris sixth studio album, It Ain't Me Babe, was released in 1965. Now the band was doing covers of Bob Dylan's "Like A Rolling Stone" and "All I Really Want To Do", the We Five folk song "You Were On My Mind", Billy Joe Royal's "Down In The Boondocks", the Beach Boys "California Girls", Ian Whitcomb's "You Turn Me On", the Rolling Stones "(I Can't Get No) Satisfaction" and the Johnny Kidd and the Pirates/Guess Who? cover of "Shakin' All Over".
"Wipe Out" enjoyed a resurgence in 1966 and the band remained together. "Wipe Out" climbed back up to #16 on the Billboard Hot 100, though it did not re-chart again in Vancouver (BC). And "Surfer Joe" had some chart action after 1963, peaking at #1 in Miami in July 1965, #7 in Manchester (NH) in August 1965, and #8 in Salinas, California, in July 1966.
In late 1966 the Surfaris disbanded. A final single titled "Search"/"Shake" was released on Dot Records in April 1967. Fossi went on to join the psychedelic rock band called Love. They reformed in 1973 and again in 1976, before performing with several of the original members from the 1980s (Ron Wilson died in 1989, and Jim Fuller in 2017) to the present – with Bob Berryhill the surviving member. (Pat Connolly had left the band in '65). Over the years the Surfaris have also shared the concert stage with Frankie Avalon, The Diamonds, Johnny Maestro and the Brooklyn Bridge, The Marcels, The Tokens, The Kingsmen and Herman's Hermits.
Ron Wilson and the Surfaris appeared in concert two nights in a row in Vancouver (BC) in 1987. Then Ron Wilson died after suffering a brain aneurysm in May of 1989.
In 2013 the Surfaris released an album titled The Surfaris: The Original Hit Versions! – Wipe Out and Surfer Joe: 50th Anniversary 1963-2013. And in 2015 the Surfaris released The Surfaris: Hurley Sessions, recorded at Hurley Studios in Costa Mesa, California. In 2017, Jim Fuller died at the age of 69 on Monrovia, California, just 9 miles northwest of the high school he attended in Corvina. As of 2021, Bob Berryhill's Surfaris continues to be an active concert band – although in pandemic hiatus.
January 4, 2021
Ray McGinnis
References:
"Jim Fuller, 'Wipe Out' Guitarist with Surfaris, Dies," Best Classic Bands.com, March 20, 2017.
"The Surfaris – Surfer Joe/Wipe Out 1962 Original DFS 45 Surf Garage," Popsike.com.
"Former Sacramento Radio DJ Johnny Hyde Recalls his Storied Career," Valley Community Newspaper, Sacramento, CA, November 16, 2014.
"Ron Wilson & The Surfaris," Vancouver, BC, 1987.
Gary James, "The Surfaris," Classic Bands.com.
"Our History," Surfingwalkoffame.com.
"Why is Huntington Beach called Surf City USA?," Surfertoday.com.
"Cashbox Top 100 Singles," Cashbox, October 12, 1963.
"C-FUNTASTIC FIFTY," CFUN 1410 AM, Vancouver, BC, August 17, 1963.
For more song reviews visit the Countdown.