#1320: Sweeney Todd Folder by Sweeney Todd
Peak Month: February 1976
7 weeks on Vancouver's CKLG chart
Peak Position #15
Peak Position on Billboard Hot 100 ~ did not chart
YouTube.com: "Sweeney Todd Folder"
In 1951 Nick Gilder was born in London, England. In his childhood he moved to Canada and grew up in Vancouver. In the summer of 1973, when he was 22 years old, vocalist Gilder and fellow former high school classmate and guitarist, Jim McCulloch, founded a band called Rasputin. John Booth on drums, Bud Marr on bass and Dan Gaudin on keyboards rounded our the band. Shortly afterward they took the name Sweeney Todd. Their name was inspired by the stage play of the same name by Stephen Sondheim.

The Broadway play is based on the fictional character Sweeney Todd in a serialized penny dreadful featured in 18 installments of the The People's Periodical and Family Library in London, England, between November 21, 1846, and March 20, 1847. The series was called The String of Pearls: A Romance. In the serial Sweeney Todd is a barber who dispatches his victims by pulling a lever as they sit in his barber chair. His victims fall backward down a revolving trapdoor into the basement of his shop, generally causing them to break their necks or skulls. In case they are alive, Todd goes to the basement and "polishes them off" (slitting their throats with his straight razor). In some adaptations, the murdering process is reversed, with Todd slitting his customers' throats before dispatching them into the basement through the revolving trapdoor. After Todd has robbed his dead victims of their goods, Mrs. Lovett, his partner in crime, assists him in disposing of the bodies by baking their flesh into meat pies and selling them to the unsuspecting customers of her pie shop.
In 1975 Sweeney Todd got a contract with London Records. Their self-titled debut album was released that summer. It featured the release of "Rock and Roll Story" as the first single. They followed it up with "Sweeney Todd Folder" released while the band was in the middle of a cross-Canada tour.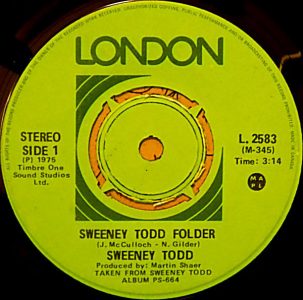 "Sweeney Todd Folder" is a song about the life of stardom as a performing artist on tour. There is a lot of money to be made as a recording artist, with the right breaks. And that instant fame and fortune can be blinding. With record sales and singles climbing the radio playlists a fan base gets established. There are photo shoots, postcards from adoring fans, a whirlwind of activity that includes concert bookings, magazine and TV interviews with the media, time in the studio, the fast life often including access to recreational drugs. Being a young pop star can be intoxicating and it takes a very grounded person to keep their head on their shoulders.
"Sweeney Todd Folder" peaked at #15 in Vancouver (BC).
However, it was the release of "Roxy Roller" that made Sweeney Todd instant household names. eventually topping the Canadian charts. The tune held the #1 spot in the Canadian RPM singles charts for three weeks in June-July 1976. The single peaked at #1 in Vancouver, Toronto, Hamilton (ON), Ottawa (ON), London (ON), Peterborough (ON), #7 in Windsor (ON) and Top 20 in Flint (MI). "Roxy Roller" went on to win a Juno Award for "Best Selling Single" for Sweeney Todd in 1977.
The band caught the attention of Chrysalis Records in the 'States. But as it turned out, were more interested in the writing talents of Gilder and McCulloch than they were in Sweeney Todd. Chrysalis lured the two out of the band, bringing them to LA. Gilder's departure led to the hiring of Clark Perry as a replacement and new guitarist Skip Prest in 1976. The band re-released "Roxy Roller" with Perry on vocals. Despite it's success in Canada, the song stalled at #90 on the Billboard Hot 100. At the same time, Perry wasn't really working out so he was replaced with a 16 year old Bryan Adams. Next, Sweeney Todd recorded a third version of the song with Adams as lead vocalist. In both cases of the remake the song was simply the new vocalist's overdubbing the same music. Adams' version identical to the original. When Sweeney Todd was awarded a Juno in 1977 for Best New Group, it was Bryan Adams who went on stage to accept the award.
Unable to secure a new deal for the band, Sweeney Todd disbanded in the spring of 1978. South of the border, Gilder's second solo album spawned the hit "Hot Child In The City". The single went to #1 both in Canada's RPM chart and the Billboard Hot 100. It also earned Gilder two more Juno Awards: "Single of the Year" and for Most Promising Male Vocalist of the Year in Canada. He also won a People's Choice Award in the US. "Hot Child in the City" stalled outside the Top 40 in the UK. Gilder had subsequent singles, but with only minimal success in Canada and none that cracked the US Top 40. Gilder has gone on to write songs recorded by Bette Midler, Joe Cocker, Pat Benetar, Herbie Hancock, Susie Quatro and others. In 1984, Gilder co-wrote "The Warrior", which became a Top Ten international hit for Scandal. Over his career Nick Gilder has released 28 singles and eight studio albums.
February 5, 2017
Ray McGinnis
References:
Nick Gilder, "Nick Gilder bio," Canadian Bands.com
Nick Gilder, "Sweeney Todd bio," Canadian Bands.com
Prest, Thomas Preckett and Rymer, Malcolm James. The String of Pearls: A Romance. The People's Periodical and Family Library, London, 1846-47.
Steve Newton, "30 years ago: Nick Gilder on his new LP and his "ironic" replacement in Sweeney Todd," Georgia Straight, Vancouver, BC, October 16, 2015
Nick Gilder, "The Warrior", Wikipedia.org.
"Vancouver's Official Music Survey," CKLG 730 AM, Vancouver, BC, February 10, 1976.
For more song reviews visit the Countdown.