#1281: Sweet Black Angel by The Rolling Stones
Peak Month: May 1972
5 weeks on Vancouver's CKVN chart
Peak Position #3
Peak Position on Billboard Hot 100 ~ did not chart
YouTube.com: "Sweet Black Angel"
Lyrics: "Sweet Black Angel"
Michael Philip Jagger was born in Dartford, Kent, England, in 1943, some 18 miles east of London. Though his father and grandfather were both teachers by profession, and he was encouraged to be a teacher, the boy had different aspirations. "I always sang as a child. I was one of those kids who just liked to sing. Some kids sing in choirs; others like to show off in front of the mirror. I was in the church choir and I also loved listening to singers on the radio–the BBC or Radio Luxembourg –or watching them on TV and in the movies." In 1950 Mick Jagger met Keith Richards while attending primary school. They became good friends until the summer of 1954 when the Jagger family moved to the village of Wilmington, a mile south of Dartford. The pair bumped into each other at a train station in 1961 and resumed their friendship.
The Rolling Stones first gig was at the Marquee Club in London on July 12, 1962. At that first show, the group was billed as the Rollin' Stones and, of what would become the band's original lineup, only Mick Jagger, Keith Richards, Brian Jones and keyboardist Ian Stewart performed. Bill Wyman and Charlie Watts would formally join in January of 1963, and Stewart officially left the band in May. Though Stewart continued on as the Stones' road manager and occasionally played with them both on stage and in the studio until his death in 1985. When the Rolling Stones began playing gigs around London in 1962, the notion that a rock & roll band would last five years, let alone fifty, was an absurdity. After all, what could possibly be more elusive than rock & roll, the latest teenage fad? Besides, other factors made it unlikely that such a momentous occasion would ever come to pass. "I didn't expect to last until fifty myself, let alone with the Stones," Keith Richards says with a laugh. "It's incredible, really. In that sense we're still living on borrowed time."


Keith Richards was also born in Dartford, Kent, England, in 1943. From the age of two Keith sang along with his mother to songs on the radio in perfect pitch. Richards maternal grandfather, Augustus Theodore "Gus" Dupree, led a jazz band named Gus Dupree and His Boys. Dupree played saxophone, fiddle and guitar. It was his maternal grandfather who gave young Keith his first guitar. He also introduced Keith to the British Music Hall genre, a cousin of American Vaudeville. Keith took an interest in music while attending Dartford Technical High School for Boys from 1955 to 1959. He was recruited to be part of a trio of boy sopranos who performed at Westminster Abbey as part of a special concert for Queen Elizabeth II. Keith became interested in rock 'n roll, skiffle and rhythm and blues. Richards remembers playing tunes by Johnny Cash and "Blue Moon Of Kentucky".
When Richards and Jagger met each other one spring morning in 1961 at the Dartford Train Station, Jagger was at the London School of Economics. Mick was studying to become a journalist or a diplomat. But Richards noticed what Jagger was carrying with him on his way to school, two record albums. One was The Best of Muddy Waters, and the other Rockin' At The Hops by Chuck Berry. Keith was impressed and invited Mick to his home for tea that afternoon. Richards and Jagger were part of a cohort of young men who were not being drafted into the British Army. In 1957 the British Government decided that men born after October 1, 1939, would not be drafted into the National Service. And by November 1960 the last men were called up for service. Dave Clark of the Dave Clark Five would comment "We were the first generation that wasn't drafted. The thing about getting drafted when you were eighteen was that's the most important time of your life for freedom of expression. For so many, that period was cut short, and you were told what to do, where to go, what to be. Then you got out of the service, got married, and worked a job in a factory. That was it. Had the government not stopped the draft there would have been no Dave Clark Five, no Beatles, no Stones."
"You have to put yourself back into that time," Mick Jagger says about those early days when he and Keith and guitarist Brian Jones roomed together and were hustling gigs wherever they could find one. "Popular music wasn't talked about on any kind of intellectual level. There was no such term as 'popular culture.' None of those things existed. But suddenly popular music became bigger than it had ever been before. It became an important, perhaps the most important, art form of the period, after not at all being regarded as an art form before."
"Sweet Black Angel" is a song by the Rolling Stones, featured on their 1972 album Exile on Main St. It was also released on a single as the B-side to "Tumbling Dice" prior to the album. Written by Mick Jagger and Keith Richards, "Sweet Black Angel" is one of the most political songs written by the Rolling Stones. For the most part the Rolling Stones shy away from overt political songs. Even on the their 1968 single "Street Fighting Man", which deals with anti-war rioting of the late '60s, Jagger sums the Stones ethos up by singing "what can a poor boy do, but sing for a rock n' roll band."
The Rolling Stones' first US tour in June 1964 was, in Bill Wyman's words, "a disaster." "When we arrived, we didn't have a hit record [in the USA] or anything going for us." Their #3 single in February '64 in the UK, "Not Fade Away," only climbed to #48 on the Billboard Hot 100 and stalled for two weeks at #13 in Vancouver in May of that year. But in November 1964 "Time Is On My Side" climbed to #6 in the USA and #1 in Vancouver for two weeks. In April 1965 "The Last Time" climbed to #2 in Vancouver and #9 on the Billboard charts. The Rolling Stones were finally establishing a following in North America. Their next two singles, "(I Can't Get No) Satisfaction" and "Get Off My Cloud", were both #1 hits here in Vancouver and in the 'States. The hits kept coming through 1966-69 with #1 songs in Vancouver including "Paint It Black", "Ruby Tuesday", "Jumping Jack Flash" and "Honky Tonk Women".
"Sweet Black Angel" is a country-blues ballad written about civil rights activist Angela Davis, who was facing murder charges during a trial in 1971-72. She was acquitted.
Steve Kurutz says in an All Music review, "Having never heard of Angela Davis, a listener could easily overlook the political lyrics and get lost in the circular acoustic plucking or the washboard rhythm that propels the song so well. Yet, by knowing the case history one realizes how deft and clever Mick's lyrics could be, even if he hides behind his best backwoods diction and garbled annunciation obscures the point."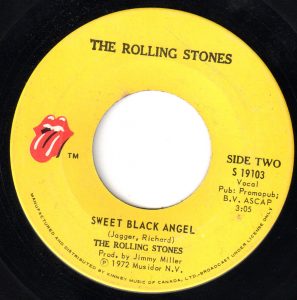 Initial recording took place at Mick Jagger's "Stargroves" home in England during the mid 1970 Sticky Fingers sessions with overdubs and final mixing being completed later at Sunset Sound Studios in Los Angeles between December 1971 and March 1972. Jagger is on lead vocals and harmonica, Richards and Mick Taylor on guitars and backing vocals, Bill Wyman on bass and Charlie Watts on drums. Richard "Didymus" Washington plays marimba while producer Jimmy Miller lends support on percussion. The song climbed the record survey on CKVN to #3 but did not chart in the USA. The A-side, "Tumbling Dice" peaked in on the Billboard Hot 100 at #7 and #3 in Vancouver, a fairly similar chart performance and therefore not a candidate for review on this website.
Angela Davis is an author, activist and scholar. Since the 1970s she's been one of the most influential activists and intellectuals in the United States. An icon of the '70s black liberation movement, Angela Davis's work has focused on issues of gender, race, class and prisons. She has influenced critical thought and social movements, especially in America, across several generations. She's a leading advocate for prison abolition, a position informed by her own experience as a fugitive on the FBI's top 10 most wanted list more than 40 years ago in the early 1970s. In 1944, Davis was born in Birmingham, Alabama. The city would become known as "Bombingham" as a result of so many Ku Klux Klan bombings. In 1963, the Klan blew up the 16th Street Baptist Church in Birmingham, killing four girls and injuring 22 others.
"Sweet Black Angel" was performed live by the Stones only once, in Fort Worth on 24 June 1972. Davis was prosecuted for conspiracy involving the 1970 armed take-over of a Marin County, California, courtroom, in which four persons were killed. She was acquitted in a federal trial. Since the Rolling Stones recorded the song Angela Davis has gone from being a most wanted person by the FBI to a sought after commentator on current issues like the Black Lives Matter movement on Amy Goodman's Democracy Now! show.
"Sweet Black Angel" peaked at #1 in San Diego, #3 in Boston, Syracuse (NY), St. Thomas (ON), and Vancouver, and #16 in Honolulu.
"Sweet Black Angel" has been covered by a number of recording artists, including the Vermont folk-rock group Phish.
November 21, 2016
Ray McGinnis
References:
Daniel Kreps, The Rolling Stones Bio, Rolling Stone Magazine, New York, NY.
Amy Goodman, "Freedom Is a Constant Struggle: Angela Davis on Ferguson, Palestine & the Foundations of a Movement," Democracy Now!, New York, NY, March 28, 2016.
Horrific Years of 'Bombingham' Captured in Vintage Photos, AL.com, June 26, 2016.
Grooms, Anthony. Bombingham. One World, 2002.
Angela Davis, Blackpast.org.
Victor Bockris, Keith Richards: The Biography, (Da Capo Press, 2003).
David Fricke, "100 Greatest Guitarists: Keith Richards #10," Rolling Stone, December 3, 2010.
Bill Wyman, Rolling With The Stones, (Dorling Kindersley, 2002) 19.
"The Top 40 Hits," CKVN 1410 AM, Vancouver, BC, May 22, 1972.
For more song reviews visit the Countdown.