#470: Sweet Mary by Argent
Peak Month: May 1971
10 weeks on Vancouver's CKVN chart
Peak Position #5
Peak Position on Billboard Hot 100 ~ #102
YouTube.com: "Sweet Mary"
Lyrics: "Sweet Mary"
Rodney Terrance "Rod" Argent was born in St. Albans, about 32 kilometers northwest of London. He sang in a children's choir at St. Alban's Cathedral. He was trained in classical music. But when he heard Elvis Presley, Little Richard and Big Mama Thornton, his musical tastes changed. In 1961 he wanted to form a rock band and wrote a song called "She's Not There". The band got a record contract with Decca and named themselves the Zombies. "She's Not There" became a #1 hit in Vancouver in October 1964, and a #2 hit on the Billboard Hot 100 in December '64. The song was the Zombies only Top 40 hit in the UK, peaking at #12. Their next release in Canada was "You'd Better Leave Me Be" ("Leave Me Be" in the UK and Australia). The song peaked at #21 in Vancouver (BC) and #1 in Saint John, New Brunswick. The Zombies had more success with their next release, "Tell Her No". It peaked at #4 in Montreal, #6 on the Billboard Hot 100 in the USA, and #10 in Vancouver (BC). But the song failed to crack the Top 40 on the weekly UK charts, stalling at #42.

The Zombies subsequent recordings between 1965 and 1967 saw them struggle for success. None of their releases made the pop charts in the UK or Australia. In Vancouver (BC) they had a Top 30 hit in 1965 with "She's Coming Home". But their next nine releases all failed to chart, though "Is This The Dream?" made the Top 30 in Vancouver (BC).
In the fall of 1967 the Zombies released a sunshine pop tune titled "Care Of Cell 44", about someone's girlfriend in prison for a short time. The lyrics anticipate her release and he tells her they can to to a place they used to enjoy "And then you can tell me 'bout your prison stay." The single was a commercial failure. This was a catalyst for some of the tension that led to the Zombies splitting up in December '67. The band originally titled the song "Care Of Cell 69", but the record label forbid them to released the song under that name. It was recorded at Abbey Road studios, using the same piano that "Penny Lane" was recorded on. Lead singer, Colin Blunstone, said "I thought that 'Care of Cell 44' was incredibly commercial. I was really disappointed when it wasn't a hit." But before they split up the band recorded a song written by Rod Argent called "Time Of The Season". That track later became a Top Ten hit in the USA in 1969, and climbed to #6 in Vancouver in March '69. Meanwhile, with the breakup of the Zombies in December '67, Rod Argent went on to other things.
James "Jim" Walter Rodford was born in 1941, also in St. Albans. He learned to play bass guitar in his youth. In the late 50s, Rodford formed a band called the Bluetones, the most popular band in the area. He later played with the Mike Cotton Sound and the Swinging Blue Jeans who had a hit called the "Hippy Hippy Shake". In 1969 he co-founded Argent with Rod Argent.
Robert John "Bob" Henrit was also born in Herefordshire in a town thirty kilometers east of St. Albans called Broxbourne. He learned to play drums at an early age. He recalls, "I wanted to have drum lesson to improve myself but unfortunately the only teacher in the area was unwilling and unable to teach me how to rock 'n' roll, he could only instruct me in strict-tempo dance music – a genre in which I had not the slightest interest. So I bought a tutor book written by a chap called Norman Burns and got on with teaching myself the basics." In the late 50s he joined Buster Meikle & the Day Breakers. In 1962 he joined the Roulettes, the backing band for UK pop idol Adam Faith. While he was with the Roulettes, he was a session drummer for Unit 4 + 2 on their hit "Concrete And Clay". He joined Unit 4 + 2 in 1968 briefly, before he was invited to join Argent. In a 1972 interview, Keith Moon of The Who identified Henrit as one of his favorite drummers.
Russell Glyn Ballard was born in 1947 in Waltham Cross, UK. He wrote a song called "The Lost City" which appeared on an album by The Shadows in 1964. He and Bob Henrit became the + 2 joining a band called Unit 4. Ballard was a guitar player with Unit 4 + 2 on the 1965 hit "Concrete And Clay". Previously, he also was a member of Buster Meikle & the Day Breakers, and along with Bob Henrit, joined the Roulettes in 1962. In 1969 he was invited to become the lead singer with Argent.
Argent was a progressive rock band, releasing a self-titled album in 1970. It featured a single called "Liar" written by Ballard. Though the single was a commercial failure, Three Dog Night covered the song and it became a Top Ten hit for them in Canada and the USA in 1971. Next, Argent released a second album in February 1971 titled Ring Of Hands. The first single released from the album was "Sweet Mary".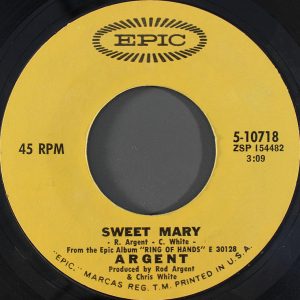 "Sweet Mary" was co-written by Rod Argent and Chris White, the latter also a former member of the Zombies. White was born in Hertfordshire in 1943 and learned to play bass guitar. In 1965 he wrote a song titled "I Love You", which was recorded by the Zombies. In 1968 it became a Top 20 hit in North America for the San Jose (CA) band People. The version by People also became a number one hit internationally in Japan (twice), Israel, Australia, Italy, South Africa, and the Philippines.
"Sweet Mary" is a song about someone called Mary. She has a man in her life who wants to touch her "fire, make me shout, take me higher." He wants Mary to please him, to reassure him and to enjoy her company. He prefers her company to being all alone. Now he is happy because he can take all his troubles to Mary. Presumably, she absorbs and releases his troubles so that she isn't feeling "heavy" from being in his company.
"Sweet Mary" peaked at #5 in Vancouver (BC), and just cracked the Top 30 in Salt Lake City and Los Angeles.
Argent had their biggest hit in 1972 with "Hold Your Head Up", co-written by Rod Argent and Chris White. Russ Ballard left the band in 1974. After releasing seven studio albums, Argent disbanded in 1976.
In 1975 Ballard wrote "New York Groove" for a UK band named Hello. The single was a Top Ten hit in the UK, Ireland, Germany and South Africa. In 1977 Hot Chocolate released a single Ballard wrote titled "So You Win Again". In 1982 his song "You Can Do Magic" became a Top Ten hit for the band America. And that same year ABBA had an international hit with his song "I Know There's Something Going On". KISS covered Ballard's song "God Gave Rock And Roll To You". Between 1974 and 2020 Russ Ballard released ten studio albums. In the 1980s he toured with Roger Daltrey. In 2020 Russ Ballard has 13 upcoming concerts in Europe.
Bob Henrit joined The Kinks in 1984 and remained with them until 1997. He has also been touring on occasion with the Kast Off Kinks since 1997. He has toured with a reformed Argent since 2010.
Jim Rodford joined the Kinks as a bass guitarist in 1978, and remained with them until their break-up in 1997. He joined the Zombies in 2004 and remained part of the core touring band until just before he died in 2018 at age 76.
Rod Argent went on to release two solo albums. He was a guest musician on The Who's Who Are You album in 1978. As a producer he worked with a number of recording artists, including on Tanita Tikarum's Ancient Heart album in 1988 and her hit European single "Twist In My Sobriety". Argent also recorded an album of classical music in 1998.
From 2004 Argent and the Zombies toured together. In 2006 Rod Argent toured with Ringo Starr & His All-Starr Band. In 2012, Argent participated in the unveiling of a Blue Plaque at The Blacksmith's Arms, a pub in St Albans where the Zombies met for their first rehearsal
March 18, 2020
Ray McGinnis
References:
"C-FUNTASTIC FIFTY," CFUN 1410 AM, Vancouver, BC, October 31, 1964.
"Care Of Cell 44", The Zombies, Columbia Records (Canada), November 1967.
"There Are No Half-Measures": An Interview With the Zombies' Rod Argent," Pop Matters, November 3, 2015.
Daniel Kreps, "Jim Rodford, Kinks and Argent Bassist, Dead at 76: "Jim was not Only a Magnificent Bass Player, but also Inextricably Bound to the Story of The Zombies," Cousin and Bandmate Rod Argent Writes," Rolling Stone, January 20, 2018.
Bob Henrit, "Bob Henrit," Mikedolbear.com, October 2017.
Russ Ballard, "Let Me Introduce Myself," Russballard.com.
"Your Average Rock and Roll Radio Survey," CKVN 1410 AM, Vancouver, BC, May 7, 1971.
For more song reviews visit the Countdown.