#1293: Sweetheart by Marianne Faithfull
Peak Month: December 1981
7 weeks on Vancouver's CFUN chart
Peak Position #15
Peak Position on Billboard Hot 100 ~ did not chart
YouTube.com: "Sweetheart"
Lyrics: "Sweetheart"
Marianne Faithfull's story has been well documented, not least in her insightful 1994 autobiography Faithfull. Born in December, 1946, in Hampstead, a borough of Greater London, Faithfull's career as the crown princess of swinging London was launched with "As Tears Go By". At the time she was 16 years old. Her 1964 hit single was the first song ever written by Mick Jagger and Keith Richards. Two folk albums, two pop albums and a singles collection followed. Marianne Faithfull also embarked on a parallel career as an actress, both on film in Girl On A Motorcycle (1968) and on stage in Chekhov's Three Sisters (1967) and Hamlet (1969) By the end of the Sixties personal problems halted Marianne's career and her drug addiction took over.
Faithfull emerged tentatively in 1976 with a country album called Dreamin' My Dreams. Though the album attracted little attention in the UK, it was a huge hit in Ireland, where the title track spent 7 weeks at number one. This led to Marianne going back on the road for the first time in a decade. However, it was her furious re-surfacing on new wave album Broken English in 1979 that definitively brought her back. The virginal pop persona created around her in the Sixties was defiantly smashed. Now she sang songs like "The Ballad Of Lucy Jordan" about the mental deterioration of a suburban housewife. Faithfull became a kind of oracle, and the artist people turned to, to lead them through dark times.
Further new wave explorations followed with Dangerous Acquaintances (1981) and A Child's Adventure (1983). Her single second single release from her album Dangerous Acquaintances was "Sweetheart".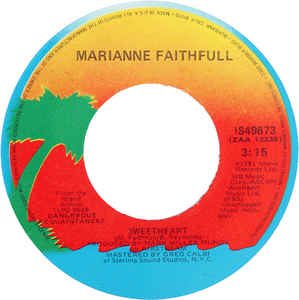 The lyrics spoke to Faithfull's fans of the survivor of drug addiction and her wisdom about what is essential in life, and the necessity of honesty in negotiating intimate relationships.
In the case of "Sweetheart" the singer let's their sweetheart know that there are some bottom lines. These include knowing that the search for their identity will continue to be a priority. And the freedom that has finally been attained is not something they're going to give up on in order to settle for a relationship. What freedom means in the song is open to a number of interpretations. It could connote a rejection of monogamy, of expectations that (now they have become a couple) will put restrictions on who the singer can socialize with. Given the changing roles in life between women and men, it could also pertain to any expectations of what the female in the relationship was assumed to fulfill in terms of domestic chores, giving birth to a certain number of children or rejection of other fixed roles society expected any heterosexual couple to fulfill. This included refusing to stifle oneself in mixed company, such as freely expressing ones own opinions.
The sweetheart in the song doesn't seem to care much about the singer's need for freedom, leaving it uncertain how enduring will be the relationship between the singer and sweetheart.
A common topic in articles in Women's magazines and psychology journals is partners in a couple trying to fix one another. When one person in a couple focuses on how they can fix the other person, it can lead to resentment and feelings of being unloved by the other person in the relationship. In "Sweetheart" the singer asserts I'm not rearranging the main things in my life. While an individual can make concessions and adjustments to please a new partner, the message in this song is the opposite of that of the American Breed in their 1968 hit "Bend Me Shape Me:" "Bend me, shape me/Anyway you want me/Long as you love me, it's all right."
The lyrical view in "Sweetheart" would take issue with the notion that bending and shaping another person is the right path to a fulfilling relationship. Infatuation with someone and falling in love can cloud awareness of what one is setting in motion. Even in "Bend Me Shape Me" by the American Breed, the singer notes, Everybody tells me I'm wrong to want you so badly. Thirteen years later Marianne Faithfull's "Sweetheart" was a call to question bending over backward, or volunteering to change oneself, in order to interest someone else in forming a new relationship. In 1981 there were some Vancouver listeners who agreed, and didn't want to rearrange the main things in their lives either.
"Sweetheart" cracked the Top 30 in Belgium. It got some airplay in France and climbed to #69 on the Australian charts. It didn't break into the Billboard Hot 100 or the Canadian RPM singles chart. However, in Vancouver it spent seven weeks on the local charts and peaked at #15. In Edmonton (AB) it climbed to #3.
November 1, 2016
Ray McGinnis
References:
Angela Neustatter, Marianne Faithfull: It Wasn't Just Mick Jagger Who Couldn't Get Satisfaction, Telegraph, September 9, 2013
Faithfull, Marianne and Dalton, David. Faithfull: An Autobiography. Cooper Square Press, 2000.
Jenny Johnston, The Life, Loves and Hell of Marianne Faithfull, Daily Mail, April 8, 2007.
Dave Simpson, I Don't Think I Had Any Choice But To Be Decadent, Guardian, January 10, 2013
For more song reviews visit the Countdown.