#1046: A Symphony For Susan by The Arbors
Peak Month: December 1966
8 weeks on Vancouver's CFUN chart
Peak Position #7
Peak Position on Billboard Hot 100 ~ #51
YouTube.com: "A Symphony For Susan"
Lyrics: "A Symphony For Susan"
Identical twins, Ed and Fred Farran, met Scott Herrick when they were part of the University of Michigan Men's Glee Club. The three successfully had auditioned to each be one of thirty members of the 'Glee Club from among over 300 applicants. They graduated from the University of Michigan in 1961 and added Scott's brother, Tom, to become a quartet. In the summer of 1961 they moved to New York City and sold their blood, for research purposes, for rent money while they followed their dream of becoming a professional recording act. In a November 1974 issue of The Michigan Alumnus (Volume 81, No. 3) the journal featured an article titled "Three Former Glee Club Members in Vocal Group Called 'The Arbors.'" The article mentioned how over their twelve year career, at the time, the quartet had appeared in TV commercials for United Airlines, Texaco, Bay Gasoline, Sears, Seven-Up, Kentucky Fried Chicken, Mcdonald's and Jolly Green Giant.
The Farran twins learned about prejudice in their childhood as their mother, a piano teacher, had been criticized for marrying a Lebanese-American tailor. Her values of acceptance of people who are from different ethnic backgrounds made an impression on the boys. After their father died when they were 13 years old, while still in grade seven, they won a singing contest in Grand Rapids. Ed and Fred Farran paid for their tuition to attend university from the earnings they received from their performances as a duet. Ed Farran graduated from U of Michigan with a degree in zoology and biology, while brother Fred got a degree in aeronautical engineering. The quartet became a specialty group known at The Friars, within the Michigan Men's Glee Club. After the graduated they chose to name themselves The Arbors because of their love for both university and the city of Ann Arbor where three of them went to university.
Their first big break came with a gig on a WBBM radio show, which brought them to Chicago in 1963. Their second single release, "A Symphony For Susan", took them onto the Billboard Hot 100 where they stalled at #51. However, in Vancouver the song climbed to #7 in the winter of 1966.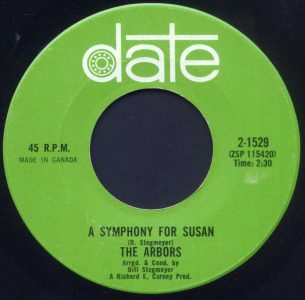 Here is a song full of sentiment. The guy in the song conjures a scenario of what he would do if he could write a symphony for his girlfriend, Susan. The rhythms of the symphony would remind her of the thrill of their kisses. The strain, which is also known as a "section" of a musical piece, repeated for the sake of instilling the melody clearly, would communicate the tenderness he feels for her leading Susan to conclude how much he loves her. The melody would be spellbinding and ring a bell for her, waking her into awareness the depths he has fallen in love with her. And the harmonies of the symphony would alert her to the endless potential of the love that could grow between them. Of course, by the end of the song there's no indication he's going to learn how to write a symphony for Susan. The song is poetry and offers the symphony as a simile to express his love for Susan.
Such sentiments, likening one thing to another, were not uncommon in the 60's. In Lulu's #1 hit in 1967, "To Sir With Love", she sang "If you wanted the sky I would write across the sky in letters/That would soar a thousand feet high 'To Sir, With Love'." And Petula Clark, in "My Love", sang "My love is warmer than the warmest sunshine/Softer than a sigh/My love is deeper than the deepest ocean/Wider than the sky/My love is brighter than the brightest star that shines every night above…" Ascribing grand comparisons to the way one felt about their heartthrob was, it seemed, an alluring way to get closer to each other.
Aspirational sentiments are not only expressed in songs. In the novel, Pride and Prejudice, Lady Catherine de Bourgh asks Elizabeth Bennett is she can play piano. Miss Bennett informs here that she can play "a little." Lady Catherine then tells Elizabeth "I never learned to play the piano, but if I had I would have been a great proficient."
The Arbors continued to release singles from 1966 to 1970. For the quartet that was so fond of their university days, "Graduation Day" was a natural topic to sing about. The tune made #59 on the Billboard Hot 100 in 1967. "I Can't Quit Her" (1969) was a Top Ten hit in Windsor, that included a riff off of Simon & Garfunkle's "For Emily Whenever I May Find Her." Their final few singles didn't break into the Billboard Hot 100. One of these was an adult/soft rock cover of The Doors "Touch Me". Unlike their cover of "The Letter" by The Box Tops, which was their biggest charting single that peaked at #20 in 1969, "Touch Me", was a commercial failure. In total they released eleven singles.
After their brief few years charting several singles onto the pop charts from the mid to late 60's, The Arbors began to do a lot of work singing at conventions, private parties and night clubs across America. They appeared on the The Tonight Show Starring Johnny Carson in July 1974 and had a singing contract at the Lake Geneva Playboy Club in Wisconsin for two weeks in October 1974. The Arbors continued to record TV commercials and perform in concert for four decades. One of these was the Virginia Slims commercial with the Arbors singing "You've come a long way baby, to get where you got to today!"Another was a commercial fro Schlitz, "When you're out of Schlitz, you're out of beer!" Both the Farran twins became vocal coaches over many decades. Ed Farran died in 2011.
July 31, 2017
Ray McGinnis
References:
The Big Geez, The Arbors Found The Path To Success, Geezer Music Club.com, December 3, 2009.
Joan Giangrasse Kates, "Fred Farran, 1937-2011: Founder of The Arbors Singing Group," Chicago Tribune, September 2, 2011.
Austen, Jane. Pride and Prejudice. T. Egerton, London, UK, 1813.
"C-FUNTASTIC FIFTY," CFUN 1410 AM, Vancouver, BC, December 10, 1966.
For more song reviews visit the Countdown.