#557: Take Off by Bob and Doug McKenzie
Peak Month: December 1981
7 weeks on CFUN's Vancouver Charts
Peak Position ~ #1
Peak Position on Billboard Hot 100 ~ #16
YouTube.com: "Take Off"
Lyrics: "Take Off"
Frederick Allan Moranis was born in 1953 in Toronto. Raised in a Jewish family, Moranis got work as a DJ in the mid-70s. In 1977 he began to appear in the CBC comedy show 90 Minutes Live. Moranis got invited to join Second City Television (SCTV) in 1980. He was teamed up with Dave Thomas. William David Thomas was born in 1949 in St. Catharines, Ontario. Out of high school, Thomas got work as a copywriter for an advertising agency. He ended up being in charge of the Coca-Cola ads by 1975. Thomas was cast in a Toronto production of Godspell alongside Eugene Levy, Victor Garber, Martin Short, Gilda Radner and Andrea Martin. The troupe formed the first wave of comedians in Second City Theatre and Second City Television. Others who Dave Thomas worked with included John Candy and Catherine O'Hara.

In 1980, after Moranis and Thomas were teamed up on SCTV, they were challenged to fill two additional minutes with "identifiable Canadian content." They came up with an improv sketch called The Great White North featuring the two brothers named Bob and Doug McKenzie. In the comedy sketches Bob and Doug drank lots of beer, wore puffy winter plaid jackets, jeans, boots, touques and earmuffs. They called each other "hosers," a slang term they invented referring to someone who is either a loser, a drunk, or both. The pair would also hold forth on their opinions about things to do with Canadian geography, culture etc. Moranis recalls "we went on stage with no preparation and did fifteen episodes. Two of them were lousy. In three of them we cracked up and fell apart. So maybe six were keepers." Dave Thomas recalls "Rick and I used to sit in the studio, by ourselves – almost like happy hour – drink real beers, cook back bacon, literally make hot snack food for ourselves while we improvised and just talked. It was all very low key and stupid, and we thought, 'Well, they get what they deserve. This is their Canadian content. I hope they like it.'"
The pair used "eh" frequently, and exclaimed "how's it goin'." In one early episode titled "The French Problem," they told viewers their topic for the day was "the problem of the French, eh, from the point of view of back bacon and beer." They pointed to four separate pieces of back bacon in a frying pan. Then they told viewers that the back bacon "represented the four parts of Canada that don't want to be together, eh. But if you eat 'em, they're all together in your stomach, eh." In another episode titled "Back Bacon and Long Underwear," they explain to viewers that unlike regular underwear that goes down to the top of your thigh, long underwear going all the way down your leg(s). Then they tell viewers they don't use margarine anymore when they fry back bacon. Instead, of margarine they use beer. Another episode titled "Mouse In A Bottle" involved a story about a guy drinking a beer who found a dead mouse in his beer bottle. They guy was given a free case of beer for his troubles. So Bob and Doug McKenzie tell viewers how to stuff a dead mouse into a bottle of beer so they can complain to the brewery and get a free case of beer.
To everyone's surprise, Bob and Doug McKenzie became a cultural phenomenon. Of course, there were lots of Canadian men and teenage boys who had gone to parties, drank beer, and had some pretty incoherent conversations in those settings. Bob and Doug McKenzie connected with a lot of people as they reminded them of either themselves, at an embarrassing low point, or other people they knew. In 1981 NBC ordered 90-minute programs for its American audience in 1981. At the time this was during the fourth season of SCTV. By then there was such a buzz from affiliates about The Great White North sketches, that NBC requested the McKenzies appear in every one of its shows.
In April 1981 Bob and Doug McKenzie were featured in The Great White North album. It was full of their comedy sketches. One titled "The Beerhunter", was a sketch concerning a beer-drinking game based on the film The Deer Hunter, involving Russian Roulette with beer cans. In this case, one beer in a half-sack of beer is shaken. The players open the beer bottles one at a time, until one of them opens the beer that was shaken and it sprays their head. The album also featured a "song" with vocals by Geddy Lee from the Canadian band Rush. Most the song consisted of spoken dialogue sandwiched in between the sung chorus. The sketch's "Coo loo coo coo, coo coo coo coo" theme was incorporated into the track. The song was titled "Take Off". The sketch's "Coo roo coo coo, coo coo coo coo" intro, according to Dave Thomas in an interview on CBC, is an exaggeration of the flute music used in 60-second Canadian television nature vignettes on Hinterland Who's Who.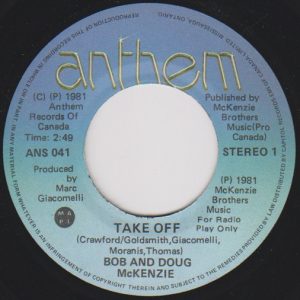 In the longer version of the song on the album the McKenzie brothers tell their audience "this is the hit single section of the album." They thank Geddy Lee from Rush for helping them with the chorus and instrumentals. They explain a photographer will soon be taking pictures of them "to prove that you were here doing, uh, the record." Next they start to argue over whose idea it was to do the record. Later they tell listeners "our topic today is music… 'cause my brother and I are now experts in the field. (Yeah, right, 'cause we're a band now). Except for him, I'm a band." They argue some more and then one tells the other to "take off."
"Take Off" peaked at #1 in Vancouver (BC), Regina, Winnipeg, Windsor (ON), Kitchener (ON), Toronto, #2 in Hamilton (ON) and Cleveland (OH), #3 in Presque Isle, Maine, #4 in Edmonton (AB) and Ottawa, #5 on WLS in Chicago and #8 in Dallas.
The Great White North led to a top-selling and 1983 Grammy-nominated Best Comedy Album. It lost to Richard Pryor's Live on the Sunset Strip. The Great White North album also won a Juno Award for Comedy Album of the Year in 1982. Between September 1980 and October 1982 there were 41 episodes of The Great White North on SCTV. Some of their final episode titles were "Beer Nog", "How to Beat the Russians" and "Twist-off Beer Caps".
In 1983 Bob and Doug McKenzie appeared in a full-length movie titled Strange Brew. The film was derived from Shakespeare's Hamlet. The plot begins with the Mckenzie brothers finding themselves unemployed and placing a live mouse in a beer bottle in an attempt to blackmail a local beer store into giving them free Elsinore beer. However, the pair are told to direct their complaint with management at the Elsinore brewery. The brothers are given jobs on the bottling line inspecting for mice in the bottles. Meanwhile, the evil Brewmeister is developing a secret plan to rule the world by introducing a mind-control drug in Elsinore beer. Once consumed, it leaves beer drinkers docile, yet makes them violent towards others when certain musical tones are played. The owner of Elsinore Beer has died under mysterious circumstances until the McKenzie brothers discover a video of his murder. Moranis's first major film role. The film was a minor box office hit with a budget of $4 million and box office sales of $8.5 million.
Bob and Doug McKenzie appeared in a series of Pizza Hut commercials between 1984 and 1986. They knuckleheads later were featured in Molson brewery commercials in 1999-2000, Mr. Lube commercials in 2002 and Red Cap Ale commercials in 2007. Also in 2007 CBC ran a one hour special looking back at the duo in Bob & Doug McKenzie's Two-Four Anniversary twenty-five years after the height of their popularity. In 2009 an animated version of the characters, titled Bob & Doug, was aired on Global TV. A second season was aired in 2011.
Rick Moranis later appeared in Ghostbusters, Little Shop of Horrors, Spaceballs, and Honey, I Shrunk the Kids. In 1994 Moranis also appeared as the animated character Barney Rubble in The Flintstones. In 2005 he released a comedy album titled The Agoraphobic Cowboy. It won a nomination at the 2006 Grammy for Best Comedy Album. Moranis released a second comedy album in 2013 titled My Mother's Brisket & Other Love Songs. Between 1983 and 2004 Rick Moranis appeared in 24 films (feature and animation).
Between 1978 and 2016 Dave Thomas has appeared in over 55 films or TV shows (feature and animation). This includes The Dave Thomas Comedy Show in 1990 on CBS. but is best known for voice-over work on The Simpsons, Family Guy, The Red-Green Show and King of the Hill.
In June 2017, Rick Moranis and Dave Thomas performed as Bob and Doug McKenzie in a live reunion show at Second City in Toronto. The reunion show was a fundraiser for Thomas' nephew who had suffered a traumatic spinal cord injury. Martin Short, and Eugene Levy and Dan Aykroyd appeared at the reunion show. The fundraiser garnered over $325,000.
September 25, 2019
Ray McGinnis
References:
"Bob & Doug McKenzie: How 'Strange Brew's Original Hosers Took Off, Eh?," groovy history.com, March 16, 2019.
Ryan Murphy, "Top Ten SCTV Sketches," Askmen.com.
Ken Plume, "Dave Thomas Interview," Fred Entertainment, January 2000.
Aliya Khan, "What Happened to Rick Moranis? Where Is Rick Moranis Now?," earnthenecklace.com, March 6, 2018.
"The McKenzie Brothers – Take Off, Eh!," The Journal, CBC, December 1981.
"C-FUN Top 30," CFUN 1410 AM, Vancouver, BC, December 26, 1981.
For more song reviews visit the Countdown.