#606: Talk It Over In The Morning by Anne Murray
Peak Month: October 1971
10 weeks on Vancouver's CKLG chart
Peak Position: #7 on CKVN
Peak Position on Billboard Hot 100 ~ #57
YouTube.com link: "Talk It Over In The Morning"
Lyrics: "Talk It Over In The Morning"
In 1945 Morna Anne Murray was born in Springhill, Nova Scotia, a coal-mining town. Her father was a doctor and her mother was a registered nurse. Growing up she took piano lessons for six years and began taking vocal lessons at age fifteen in 1960. Anne loved music. It was the age of rock 'n' roll, and growing up she sang along with all her favourites – Buddy Holly, Bobby Darin and Connie Francis. However, Anne was also inspired by a wide variety of musical styles, including the classics, country, gospel, folk, and crooners such as Patti Page, Bing Crosby and Rosemary Clooney. She loved them all. In 1962 she gave one of her first public performances singing "Ave Maria" at her high school graduation. She went on to be part of the CBC variety show Singalong Jubilee in 1967.
A document on display at the Anne Murray Centre in Springhill, Nova Scotia, dated May 30, 1966, informed her: "Your signature on four copies of this letter will serve to engage your services for the 1966 Singalong Jubilee series. It is understood that you will be required to function either as a singer for a fee of seventy-one dollars and fifty cents ($71.50) per show or as a soloist for a fee of ninety-nine dollars ($99.00)." Her first album, What About Me, was released in 1968. Her signature song, "Snowbird" went to #6 in Vancouver and #8 on the Billboard Hot 100. It established a following and 76 singles, 32 studio albums and 55 million record sales later, Anne Murray is one of the most awarded and honored recording artists in the Canadian music industry.
After "Snowbird" hit the charts, Anne Murray was in demand for television and stage appearances all over North America. She had hit the big time. The success of "Snowbird" was followed by hits on both the pop and country charts. She became a regular on The Glen Campbell Goodtime Hour, and her popularity increased even further. "Snowbird" was the first of three #1 hits in a row on the Canadian Country charts for Murray. A subsequent hit in Vancouver, "Sing High – Sing Low", climbed to #5 in January 1971. Her fourth Top Ten on the Canadian Country charts was "It Takes Time". It peaked on RPM Magazine's Canadian Country chart at #6. However, it didn't get any attention on the pop or country charts in the USA. Even on the pop charts in Canada it barely made the Top 30. However, in Vancouver the song climbed to #10. She released three more singles in 1971. The third, "Talk It Over In The Morning", was her most successful that year.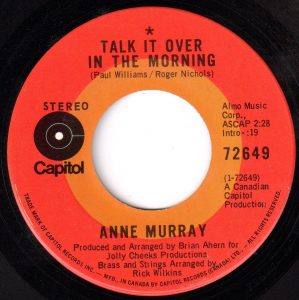 "Talk It Over In The Morning" is a song co-written by Paul Williams and Roger Nichols. Nichols was born in 1940 in Missoula, Montana. Beginning in 1967, his songs were being recorded by the Sunshine Company, the Peppermint Trolley Company, Herb Alpert & The Tijuana Brass, José Feliciano, the Sandpipers, Al Martino, Harpers Bizarre, Sammy Davis Jr., the American Breed, Jackie DeShannon and the Monkees. But it was in 1970 when he teamed up with Paul Williams that the pair took the Carpenters to the top spot on the Billboard Hot 100 with "We've Only Just Begun". The pair gave the Carpenters another Top Ten hit in 1971 with "Rainy Days And Mondays". And in 1974 they gave the Carpenters a Top 20 hit with "I Won't Last A Day Without You". Paul Nichols is nominated to be inducted into the Songwriters Hall of Fame in 2019.
Paul Hamilton Williams Jr. was born in 1940 in Omaha, Nebraska. In 1953, at the age of 13 Williams dad died in a car accident. Paul moved to live with his aunt in Long Beach, California. His first songwriting success was in 1968 when he had a song he co-wrote, titled "Fill Your Heart", selected for the B-side to Tiny Tim's "Tiptoe Through The Tulips". Williams penned "An Old Fashioned Love Song" for Three Dog Night. In 1973 Helen Reddy took Williams tune "You And Me Against The World" into the Top Ten. In 1976 his song "Evergreen" was the theme song for the film A Star Is Born featuring Barbra Streisand and Kris Kristofferson. Sung by Barbra Streisand, the song climbed to #1 in March 1977. For "Evergreen" Williams won a Grammy Award for Song of the Year and an Academy Award for Best Original Song. Since 1965 Paul Williams has scored music for 16 films, including The Muppet Movie in 1979 that featured the Academy Award nominated "Rainbow Connection". He also appeared in over thirty different TV shows. While Williams has been sober for over twenty-five years, for years he struggled with addiction to both alcohol and cocaine. In 2011 a documentary about his career highs and struggles with addictions was released with the title Paul Williams Still Alive.
"Talk It Over In The Morning" is a song about the wisdom of letting cooler heads prevail. Instead of trying to resolve something in the heat of heightened emotion, go to sleep and try to sort out what is important the next day. In the song the narrator concedes, "I disappointed you, by sayin' things I never meant to say…. I think I've seen the light, and baby I admit that I was wrong." The singer considers their partner is priceless and the world won't be the same without them. In fact, nature itself will suffer: the sun might not rise, butterflies and bees might stop flying and birds that predictably sing might start to cry.
Alex Lickerman in a Psychology Today article writes that apologizing for having diminished, slighted or harmed another is simple. Expressing sincere regret has a healing effect and brings resolution and closure. He observes, "Even when someone acts maliciously toward us, if he later comes to regret it genuinely, almost to view his earlier self as a different person from his present regretful self, that kind of contrition rarely fails to move us." Lickerman adds, "At most they cost us an admission that we were wrong, that we're imperfect, or that we need to improve in some way. If such a cost seems beyond what we're willing to pay, we need to examine the cause of our resistance as such a cause always represents an obstacle to our own happiness." Fortunately, the narrator in "Talk It Over In The Morning" has put ego aside and readily admitted they've done something wrong. This is a first essential step to moving toward intimacy and reconciliation with their partner. If Alex Lickerman is right, chances are good that the partner in the song will be moved by their loved one's apology.
"Talk It Over In The Morning" climbed to #3 in Grand Rapids (MI), #6 in Buffalo, #10 in Dallas, Greensboro (NC) and Hamilton (ON).
Murray's followup single was "Cotton Jenny" which made the Top 20 in Vancouver and numerous other Canadian radio markets. But it was her release of "Danny's Song" later in 1972 that became her biggest hit to date, peaking at #7 on the Billboard Hot 100.
Anne Murray had more Top Ten hits in Vancouver during the 70's. Her other Top Ten hits across the decade included "You Won't See Me", "You Needed Me" and "I Just Fall In Love Again". From the '70's into the '90's, Anne Murray covered many songs. These include Doris Troy's "Just One Look", the Monkees "Daydream Believer", the Beatles "Day Tripper" and "I'm Happy Just To Dance With You", Bobby Darin's 1962 hit "Things", Carly Simon's "That's Not the Way (It's S'posed To Be)", Bruce Channel's #1 hit from 1962 "Hey! Baby", Gogi Grant's #1 hit from 1956 titled "The Wayward Wind" and the Chordettes Top Ten hit from '56 called "Born To Be With You". She also released a single in 2000 covering the Louis Armstrong classic "What A Wonderful World".
Anne Murray is often cited as the woman who paved the way for other Canadian international success stories such as Alanis Morrisette, Nelly Furtado, Celine Dion, Sarah McLachlan and Shania Twain. Murray is also the first woman and the first Canadian to win "Album of the Year" at the County Music Association Awards for her 1984 album A Little Good News. Murray has received four Grammy Awards and twenty-four Juno Awards.
The Anne Murray Centre, located in Springhill, Nova Scotia, houses a collection of memorabilia from both her personal life and professional career in a series of displays. The Anne Murray Centre, which opened on July 28, 1989, is a registered Canadian charity. As a non-profit association, all the revenue generated from its operation is used to provide employment for local people and for its ongoing maintenance. The Anne Murray Centre aims to foster tourism in the area and promote awareness of the music of Nova Scotia and Canada.
May 15, 2019
Ray McGinnis
References:
Holly Hutchins, Roger Nichols Is Still Making Iconic Music, 1859 Oregon's Magazine, July 30, 2018.
Laura Rowley, 'Paul Williams: Still Alive' Profiles The Highs And Lows Of '70s Icon, Huffington Post, August 25, 2012.
Bruce Handy, Paul Williams, Writer of "Rainbow Connection," on His 1970s Neighbors: "Borrow a Cup of Sugar? Maybe a Cup of Vodka", Vanity Fair, June 8, 2012.
Paul Williams is 'Still Alive,' And Taking Every Gig, NPR, June 7, 2012.
Alex Lickerman, "How To Admit You're Wrong: The Immense Power of Apology," Psychology Today, December 26, 2010.
"West Coast Music Survey," CKVN 1410 AM, Vancouver, BC, October 1, 1971.
For more song reviews visit the Countdown.