#467: Talking In Your Sleep by Gordon Lightfoot
Peak Month: July 1971
8 weeks on Vancouver's CKLG chart
Peak Position #3
1 week Hit Bound
Peak Position on Billboard Hot 100 ~ #64
YouTube.com: "Talking In Your Sleep"
Lyrics: "Talking In Your Sleep"
Gordon Meridith Lightfoot Jr. was born in Orillia, Ontario, on November 17, 1938. His parents, Jessica and Gordon Lightfoot Sr., ran a dry cleaning business. His mother noticed young Gordon had some musical talent and the boy soprano first performed in grade four at his elementary school. He sang the Irish lullaby "Too Ra Loo Rah Loo Rah" at a parents' day. As a member of the St. Paul's United Church choir in Orillia, Lightfoot gained skill and needed confidence in his vocal abilities under the choir director, Ray Williams. Lightfoot went on to perform at Toronto's Massey Hall at the age of twelve when he won a competition for boys who were still boy sopranos. During his teen years Gordon Lightfoot learned to play piano, drums and guitar.
In the years that followed Lightfoot performed in coffee houses in Toronto. He got work as a performer on the CBC's Country Hoedown and went to England to host the BBC TV Country and Western Show in 1963-64. At that time, Lightfoot's songs were recorded by numerous recording acts. These included "Early Morning Rain" by both the Kingston Trio and Judy Collins, and "Ribbon of Darkness" by Marty Robbins. The attention Lightfoot got as a songwriter landed him a record contract with United Artists in 1965. In 1966 he was commissioned by the Canadian Broadcasting Corporation (CBC) to compose the "Canadian Railroad Trilogy" for a broadcast on New Year's Day in 1967, the nations centennial.
Spin Spin had peaked at #25 in November 1966, and Go Go Round peaked at #16 in March 1967. "Black Day in July", a song about the riots in Detroit in the summer of 1967, peaked at #6 in May 1968. "Bitter Green" was Gordon Lightfoot's fourth single to chart on Vancouver's pop radio stations and his second to crack the top ten.
Gordon Lightfoot was born in Orillia, Ontario. He studied music at McGill, the Faculty of Music at the University of Toronto and the Westlake College of Music in Hollywood, California. Lightfoot would end up as part of The Swinging Eight, a featured group on the CBC program Country Hoedown. Bitter Green was the single release from Lightfoot's fourth studio album, Back Here on Earth. It peaked at #5 in Vancouver, but only reached #44 on the national RPM Canadian singles charts. It did not chart in the USA.
Lightfoot's breakthrough in the USA was with "If You Could Read My Mind". He went on in the mid-70's to chart "Sundown" to #1 and "The Wreck Of The Edmund Fitzgerald" to #2 in the USA. (Both were #1 hits nationally in Canada). Between his initial breakthrough and later hits in the mid-70's, there were three songs that did well in Canada but less well in the USA. The first of these was "Talking In Your Sleep".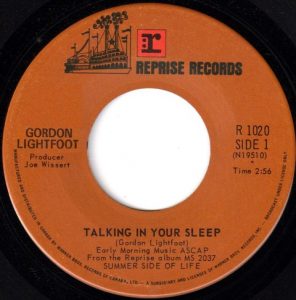 "Talking In Your Sleep" is a song written by Gordon Lightfoot. The lyrics contrast a couple who have nothing to say to each other during their waking hours. However, at night the one person in the couple talks in their sleep, saying the name of someone who is unfamiliar to their partner. While talking in their sleep, the one partner reaches out to hold the other. And as they do, they person talking in their sleep reveals a secret "I was not supposed to know."
In an article titled "How Much Do Sleep-Talkers Reveal During Sleep?," Dr. Dennis Rosen shares that there are indeed anecdotes about secrets concerning latent homosexuality, secret adulterous affairs and criminal activity. However, at least according to the courts, it is very hard to make a case that what someone says while talking in their sleep is actually related to what is happening in their waking hours. Anymore then one can prove that what one dreams at night relates to what is going on in their waking life. However, it is plausible that the person who talked in their sleep, like the one in "Talking In Your Sleep", could admits to some embarrassing or ethically compromised secret when confronted over the breakfast table.
"Talking In Your Sleep" peaked at #3 in Vancouver (BC) and Pittsburgh, #4 in Chilliwack (BC), #5 in Hamilton (ON) and #8 in Dallas.
Gordon Lightfoot also charted well in Canada with "Beautiful" and "You Are What I Am".
Gordon Lightfoot's last charting single in Vancouver was "Daylight Katy" in 1978. Between 1966 and 2004 Lightfoot released 19 studio albums and 46 singles. In 1997, Gordon Lightfoot received the Governor General's Performing Arts Award, the top honor a recording artist can receive in the performing arts in Canada. A tribute album to Gordon Lightfoot was recorded by many Canadian recording artists in a special release in 2003. In 2012 he performed the "Canadian Railroad Trilogy" at the 100th Grey Cup football championship between the Toronto Argonauts and the Calgary Stampeders.
On Gordon Lightfoot's website his tour schedule for 2020 lists all the concert dates booked for the year. Currently, his tour schedule provides details of over fifty concert dates scheduled between February 13, 2020 and November 10, 2020, across 22 states in the USA and seven provinces in Canada.
March 25, 2020
Ray McGinnis
References:
Gordon Lightfoot – The Man And His Music, Gordon Lightfoot.com
Gordon Lightfoot, Canadian Bands.com
Mike Sacks, "Gordon Lightfoot Talks Sadness, Regret, and Maritime Disasters: In a Rare Interview, the Legendary Singer-Songwriter Discusses His Life's Work, His Current Set List, and Why it No Longer Includes "For Lovin' Me.", Vanity Fair, New York, September 27, 2016.
Karen Hiffman Milson, "Interview With Gordon Lightfoot," United Church Observer, Toronto, Ontario, June 2013.
Martin Chilton, "Gordon Lightfoot: The Queen Likes My Canadian Railroad Trilogy Song," Telegraph, London, UK, May 18, 2016.
Joel Rubinoff, "Gordon Lightfoot's Harshest Critic Is Himself," Toronto Star, November 21, 2016.
Dennis Rosen, MD, "How Much Do Sleep-Talkers Reveal During Sleep?," Psychology Today, April 8, 2012.
Arthur Arkin, Sleep Talking: Psychology and Psychophysiology, Taylor & Francis, 1982.
"CKLG 'Thirty'," CKLG 730 AM, Vancouver, BC, July 23, 1971.
For more song reviews visit the Countdown.