#678: Tall Cool One by The Wailers
Peak Month: April 1964
9 weeks on CFUN's Vancouver Charts
Peak Position ~ #6
Peak Position on Billboard Hot 100 ~ #36
YouTube.com: "Tall Cool One"
In 1958, a rock band called The Nitecaps was formed in Tacoma, Washington. The band was composed of five schoolmates. John Greek played rhythm guitar and trumpet, Richard Dangel was on lead guitar, Kent Morrill played keyboards and sang vocals, Mark Marush played tenor saxophone and Mike Burr was the bands drummer. Greek and Marush were born in 1940, Morrill in 1941 and Dangel and Burk in 1942. In 1958, the group made a demo of an instrumental whose title, "Scotch On The Rocks." It was re-recorded in 1959 as "Tall Cool One," a titled suggested by Kent Morrill's mother. The recording happened after a dance where the Wailers were performing in Tacoma.

In between the time they first made the demo and had "Tall Cool One" recorded, the Nitecaps became billed as The Wailers. "Tall Cool One" climbed to #36 in June off 1959 on the Billboard Hot 100. It climbed to #41 in Vancouver, BC. At the time, the band appeared on American Bandstand with Dick Clark. They had a followup single titled "Mau-Mau" which made it to #68 on the Billboard Hot 100 in 1959 and #43 in Vancouver and #4 in Seattle. Later that fall, The Wailers had a Top Ten hit in Seattle titled "Wailin'".
In 1961, they recorded a live album titled The Fabulous Wailers at the Castle. The album featured vocals from Gail Harris. They released a series of instrumentals in the early 60's. The mosts successful of these was "We're Goin' Surfin'". The tune made it to #3 on KJR in Seattle in 1963. In 1961, The Wailers released a garage band version of Richard Berry's "Louie Louie" which featured a new vocalist Rockin' Robin Roberts. While it was not a hit, the single inspired the Kingsmen to do a toned down version of the song in 1963, which became a #2 hit in the USA nationally.
There were other lineup changes in the early sixties. John Greek left the band in 1961 and Buck Ormsby, from Little Bill and the Bluenotes, replaced Greek on bass. Marush left in 1962 and was replaced by Ron Gardner. Ormsby, Roberts and Morrill formed Etiquette Records. The label would soon feature a new Tacoma band billed as The Sonics.
In 1964, The Wailers recorded a new instrumental version of "Tall Cool One".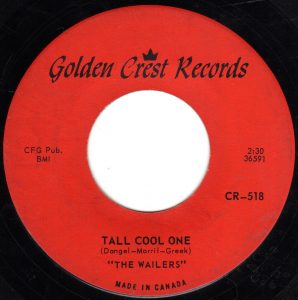 The single tied its climb from five years earlier on the Billboard Hot 100 at #36. This time the tune made it to #6 in Vancouver. It topped the charts at #1 in Sacramento and Corvallis (OR); peaked at #2 in Detroit and Windsor; climbed to #4 in Chicago, San Jose, San Diego and San Francisco; charted to #5 in Seattle and Chilliwack, and to #6 in Hartford, Oklahoma City and Toronto.
The Wailers also had several more Top 20 hits in Vancouver in the mid-60's. "Dirty Robber" made it to #13 in August 1965, and "It's You Alone" made it to #14 in June 1966. The latter had Roberts on lead vocals and Harris on backing vocals. "It's You Alone" peaked at #2 on KJR in Seattle on May 6, 1966. While both singles made the Top 20 in Vancouver, neither had a chart run that got them into the Countdown on this website.
The Wailers split up in 1969. During the 1970's, Kent Morrill, Richard Dangel and Buck Ormsby went on a number of reunion concerts. On August 19, 1979, they joined with Burk, Gardner, and Gail Harris to play a reunion show at the Aquarius Tavern in Seattle. In the mid-70's, Dangle released a solo album titled New Evidence. He died in 2002. In 1985, Buck Ormsby had a reunited Wailers release a new single of "Louie Louie" in the midst of a whimsical campaign to have "Louie Louie" be named as the official song for Washington State. In 1987, Kent Morrill released a solo album titled Hard To Rock Alone. He died of cancer in 2011. Mark Marush died in 2007 and Buck Ormsby died in 2016.
John Greek went on to do some work with Gary Paxton and session work with the Fifth Dimension. He made an album that got little notice around 1980. He mostly lived in obscurity and died at the age of 65 in 2006.
November 22, 2018
Ray McGinnis
References:
Rich Dangel (The Wailers), rockabilly.nl
Criag Sailor, "Rock 'n' Legend: Last of the 'Louie Louie' Hit Makers Dies in Mexico," News Tribune, Tacoma, WA, October 29, 2016
RIP: John Greek, Founding Member of the Wailers, 65, The Louie Report, Louie Louie.net
Peter Blecha, Etiquette Rules! The Northwest's Reigning '60s Garage-Rock Record Company, History Link.org, April 10, 2010.
"C-FUNTASTIC FIFTY," CFUN 1410 AM, Vancouver, BC, April 18, 1964.
For more song reviews visit the Countdown.