#1269: Tango by Dalbello
Peak Month: March-April 1989
9 weeks on Vancouver's CKLG chart
Peak Position #18
Peak Position on Billboard Hot 100 ~ #91
YouTube.com: "Tango"
Lyrics: "Tango"
In 1959 Lisa Dal Bello was born in Weston, Ontario, a suburb of Toronto. At age 11, she taught herself to play the guitar and started writing her own songs. And she also started to perform at the Mariposa Folk Festival and the Fiddlers' Green club in Toronto. The first song she wrote was a protest song called "Oh, Why?" In 1971 she got a summer job touring as part of a 35-member musical troupe sponsored by the Ontario Provincial Government. However, as she was only 13, she had to fib about her age to get hired for Summer Sounds '71. The following year Lisa Dal Bello met singer-songwriter Ian Thomas at an audition. This led to her recording three songs she'd written for the CBC. The other person at the audition, Jack Budgell got Lisa connected with jingle producer Tommy Ambrose. She also was introduced to numerous producers and got to be a back-up singer on studio recording sessions.
In the mid-70s she got to appear on the country-folk variety show on CBC called Sinagalong Jubilee. She joined the group Liberation and they sang on the CBC variety show Music Machine. From 1975-77 she was a regular back-up session singer on the CTVs The Bobby Vinton Show. Lisa Dal Bello also was busy backing other recording artists in the recording studio and doing commercial jingles for Molson Canadian beer and Wonder Bra. And in 1975 she signed a record deal with MCA Records in America. In 1977 she released her self-titled debut album. At the end of the year Lisa Dal Bello won the Juno Award for Most Promising Female Vocalist of the Year.
In 1978 she released her second studio album, Pretty Girls, that included the single release of the title track. In 1980 she released her third album called Drastic Measures. It included the debut single "Never Get To Heaven" which made the Top 20 on CHUM in Toronto. She co-wrote the song with Bryan Adams. The album was nominated for a Juno Award for Female Vocalist of the Year. The award went to Anne Murray. In 1983 Lisa Dal Bello was nominated for the same award and lost out again to Anne Murray, who won the honor for the fourth time in a row. She rebranded herself as Dalbello and released her fourth studio album titled whomanfoursays (pronounced "human forces"). Dalbello was nominated again in 1984 and 1985 in the same Juno category. In '84 she lost out to Carole Pope, and in 1985 the Female Vocalist of the Year went to Luba. She also was nominated in 1984 for Producer of the Year, losing out to David Foster.
In 1987 her next album, She, was released. It contained her single "Tango" which was her biggest hit in Canada.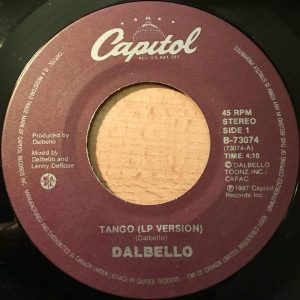 Dalbello's vocals on "Tango" are reflective of fellow 80s recording artist Carole Pope. In the song tango is a metaphor for a sexual encounter: "I… trace your figure in the darkness/Your bodyheat breathing deep in danger." The climax of the song expressed in the chorus that begins "Whisper 'til we scream…" The lyrics evoke snapshots of a couple making love that include a "sudden urge," eye contact, eyes closed, a slow rhythm, increased pulsating drama, skin to skin contact, sensation of hearts beating, darkness and moonlight, feelings "deep within," surrender… When songwriters are describing a sexual encounter between two lovers they have their own tango of evoking a sensual and erotic scene without having the lyrics become lewd or crude. For radio listeners, Dalbello painted images with words that may have evoked desire, memory, other things. But she wrote the song tastefully enough that it got passed the censors. Of course "Tango" is very cultivated, compared to some songs in the 21st Century that are infused with four-letter words leaving no ambiguity about the sexual act. "Tango" climbed to #18 in Vancouver (BC).
The word "tango" around the Río de la Plata basin in Argentina dates back to the 1780s. It was initially used to refer to musical gatherings of slaves, with written records of colonial authorities attempting to ban such gatherings as early as 1789. The first piece of music written and published in Argentina describing itself as a tango appeared in 1857.
Initially, the tango was just one of the many dances, but it soon became popular throughout society. Argentine theatre shows featured the tango and street barrel organs spread it from the suburbs to the working-class slums, which were packed with hundreds of thousands of European immigrants. Many Buenos Aires city neighbourhoods have their particular tango history.
In the early years of the 20th century, dancers and orchestras from Buenos Aires travelled to Europe, and the first European tango craze took place in Paris, soon followed by London, Berlin, and other capitals. Towards the end of 1913, it hit New York City and Finland. The Tango was controversial because of its perceived sexual overtones. By the end of 1913, the dance teachers who had introduced the dance to Paris were banished from the city. In 2009 UNESCO added the tango to its Lists of Intangible Cultural Heritage. The tango has been credited with helping people recover from depression and recommended for maintaining physical and mental health.
Tango has been the subject of numbers of films, and numerous films have featured tango in some of their scenes. These include The Four Horsemen of the Apocalypse (1921 film starring Rudolph Valentino), ¡Tango! (a 1933 Argentine musical romance film) Assassination Tango, Last Tango in Paris (starring Marlon Brando), Naked Tango, The World's Greatest Lover (starring Gene Wilder), Death on the Nile, Strictly Ballroom, Scent of a Woman (starring Al Pacino), Evita (starring Madonna), Schindler's List, Moulin Rouge!, Chicago (starring Richard Gere and Renée Zellweger), Frida (starring Salma Hayek and Alfred Molina), Shall We Dance?(starring Richard Gere, Susan Sarandon and Jennifer Lopez), Rent, Never Say Never Again and others.
Lisa Dal Bello toured in Europe and in 1990 relocated to Los Angeles. In 1993 she toured with Heart. In 1996 she released another studio album titled Whore. Nearly two decades later she released a live album in 2015.
Over the years Lisa Dal Bello (aka Dalbello) has written songs recorded by Dr. Hook, Nena, Heart, Patti LaBelle and Julian Lennon. She's written and sung jingles for Cheer detergent, Ford of Canada and The Keg. She also sang the theme song for Degrassi: The Next Generation. She also has written several songs for the late 80s film 9 1/2 Weeks. Dalbello also starred in a feature film in 1982 called Melanie. Her c0-stars in the film about a child custody battle included Burton Cummings, Paul Sorvino and Don Johnson.
November 10, 2019
Ray McGinnis
References:
"Dalbello Biography," oocities.org.
Keith Sharp, "The Many Faces Of Lisa Dal Bello," The Music Express, May 22, 2014.
Christine Denniston, "Couple Dancing and the Beginning of Tango," History of Tango.com, 2003.
Christine Denniston, The Meaning of Tango: The Story of the Argentinian Dance, (Portico, 2008).
"Vancouver's Top 40 Hot Hits," CKLG 730 AM, Vancouver, BC, April 5, 1989.
For more song reviews visit the Countdown.