#404: Taos New Mexico by R. Dean Taylor
Peak Month: May 1972
9 weeks on CKLG's Vancouver Chart
Peak Position ~ #4
Peak Position on Billboard Hot 100 ~ #83
YouTube: "Taos New Mexico"
Lyrics: "Taos New Mexico"
Richard Dean Taylor was born in Toronto in 1939. At the age of 12 in 1951, he made his debut singing performance at open-air Country & Western shows in Greater Toronto. In 1960 he recorded his first single release titled "At The High School Dance", and also formed a band. Taylor toured around south-central Ontario and into Upstate New York and Michigan. In 1962 he went to New York City, recorded and released "I'll Remember". It was a Top 30 hit on CHUM-AM in Toronto. In 1963 R. Dean Taylor auditioned to be a writer for a new record label called Motown. He was hired to work at Motown and released a Beatlemania-themed song titled "My Ladybug (Stay Away From That Beatle)". However, the label chose not to release the single.
In 1966 Taylor had a Top 40 hit in Toronto titled "Let's Go Somewhere". On his website R Dean Taylor also mentions that he was a session musician for the Four Tops recordings of "Reach Out ("I'll Be There)" and "Standing In The Shadows Of Love". In 1967 Taylor recorded "There's A Ghost In My House". He appeared on the Clay Cole Show in New York City on April 29, 1967. However, the song was a commercial flop, but was picked up in the UK in 1974 where it climbed to #3 on the pop chart.
Meanwhile, in 1967 he co-wrote a Top Ten hit for the Temptations titled "All I Need". Among his other releases in the late 60s, Taylor had a Top 20 hit in 1968 in the UK with "Gotta See Jane". That year R. Dean Taylor co-wrote a number-one hit for Diana Ross & the Supremes called "Love Child". Their followup Top Ten hit in 1969, "I'm Livin' In Shame" was also penned by him.
In 1970 R. Dean Taylor recorded "Indiana Wants Me". He appeared on American Bandstand on August 29, 1970. The song concerned a guy who is in trouble with the law in Indiana, and who is on the run. The song peaked at number-one in Vancouver (BC), #2 in the UK, Ireland, #3 in South Africa, #5 on the Billboard Hot 100, and #11 in New Zealand. But his followup release, "Ain't It A Sad Thing" was a minor hit in Canada. A re-issue of "Gotta See Jane" climbed to number-one in Toronto in 1971, and into the Top Ten in Lethbridge (AB), Hamilton and Barrie (ON). However, the single had modest success elsewhere.
In the summer of 1971, R. Dean Taylor next released "Candy Apple Red", which made the Top Ten in Toledo (OH), Top 20 in Windsor and Hamilton (ON), and the Top 30 in Vancouver (BC). Elsewhere the single was a commercial flop. His next single release was "Taos New Mexico".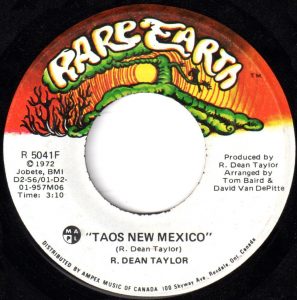 R. Dean Taylor wrote "Taos New Mexico". The song opens with a guy in jail in Taos, New Mexico, getting a letter from his Mama. She writes that his girlfriend, Maria, is getting tired of waiting for him and that she's been dating other guys. The narrator of the song in prison considers that he was buying her expensive clothes and diamond rings "and so much more." However, it might be that he did some shoplifting or armed robbery. After all, we learn from the song's lyrics that he is "ragged and poor." It's not viable for a poor person to get into the habit of buying a girlfriend one diamond ring, never mind more than one.
In a lyrical oops, R. Dean Taylor pictures his girlfriend Maria "by the fire, eating cheese and getting higher." Poetry it is not. Anyway, she's now spending time with Don José. Back in Taos, New Mexico, the former boyfriend is serving time. Though he promises "he'll never leave Maria alone" when he gets back to wherever home is, all bets are off on whether she'll go with her former partner or stick with Don José.
In 1970, R. Dean Taylor's big hit, "Indiana Wants Me", ended with spoken lyrics "this is the police, you are surrounded, give yourself up." Perhaps, "Taos, New Mexico" is a sort of sequel. Now that he's given himself up, he's ended up serving time in Taos, New Mexico, after being sentenced in Indiana. In which case, he'd be in a New Mexican jail for a long time doing time for murder. Taylor was one of a very few pop singers given to singing about being in trouble with the law. The Bobby Fuller Four did their part in 1966 with "I Fought The Law".
Taos, New Mexico, was established as part of the Spanish Empire in 1615 as Don Fernando de Taos. But previously, it was home to the Ancestral Puebloans who had built the Taos Pueblo before the 13th Century. Taos was a site of conflict between the Spanish and local Taos Indians. By 1795 it was a fortified plaza in the Spanish colony of Santa Fe de Nuevo México. The outpost and region became New Mexico in 1850 after the Mexican-American War. In the late 1890s artists began to flock to Taos and establish an art colony. Taos was incorporated in 1934 and in 1940 had a population of 965. Two years before R. Dean Taylor released his single, Taos, New Mexico had a population of around 2,500.
"Taos New Mexico" peaked at #4 in Vancouver (BC). The single got some airplay in a variety of radio markets in Texas, California, Illinois, Connecticut and a few other states. It peaked at #11 in Indianapolis (IN), and #15 in Hamilton (ON) and Regina (SK).
After "Taos, New Mexico", R Dean Taylor released just one more single with Rare Earth Records. He released nine singles with the Jane label between 1973 and 1977. One of these, "Walkin' In The Sun" peaked at #20 in Vancouver (BC) in June 1975. He traveled to England and performed in Dunstable and a few other towns.
Between 1979 and 1983 Taylor released four more singles with various record labels. But none of these were commercially successful.
R. Dean Taylor left the music business for over a decade and a half until he was featured in some northern soul oldies concerts at the end of the 1990s.
Over the years he penned songs that were recorded by Marvin Gaye, Chris Clark, Brenda Holloway, Gladys Knight & The Pips, Paul Petersen, Joe Simon and others. His website states that he lives now in Los Angeles and is writing a memoir.
October 5, 2020
Ray McGinnis
References:
"R. Dean Taylor Biography," rdeantaylor.com.
"R. Dean Taylor: guest performer," The Clay Cole Show, New York City, April 29, 1967.
"R. Dean Taylor: guest performer," American Bandstand, August 29, 1970.
"Taos, New Mexico, Timeline of Events," Taos.org.
"CKLG 'Thirty'," CKLG 730 AM, Vancouver, BC, May 12, 1972.
For more song reviews visit the Countdown.