#22: Tarzan Boy by Baltimora
Peak Month: January 1986
Peak Position on CKLG chart ~ #2
14 weeks on Vancouver's CKLG chart
Peak Position on Billboard Hot 100 ~ #13
Peak Position on Cashbox Singles Chart ~ #18
Peak Position on Belgian Singles chart ~ #1
Peak Position on Finnish Singles chart ~ #1
Peak Position on French Singles chart ~ #1
Peak Position on Dutch Singles chart ~ #1
Peak Position on Spanish Singles chart ~ #1
Peak Position on Austrian Singles chart ~ #2
Peak Position on Irish Singles chart ~ #2
Peak Position on Swedish Singles chart ~ #2
Peak Position on South African Singles chart ~ #3
Peak Position on UK Singles chart ~ #3
Peak Position on West German Singles chart ~ #3
Peak Position on Norwegian Singles chart ~ #4
Peak Position on Swiss Singles chart ~ #4
YouTube.com: "Tarzan Boy"
Lyrics: "Tarzan Boy"
James Harry McShane was born in Derry, Northern Ireland in 1957. He was raised in a conservative household and was faced with rejection when he came out as gay to his family. He was hired as a stage dancer and backing singer, touring Europe with Dee D. Jackson and her band. During a visit to Italy with the band, he was attracted to the country's underground dance scene, which inspired him to relocate to Milan in 1984. Having initially made his debut playing in small clubs in Derry without success, McShane instead went to work as an emergency medical technician for the Red Cross until meeting Italian record producer and keyboardist Maurizo Bassi, with whom he created the band Baltimora. Bassi was born in Italy in 1960.
Naimy Hackett was a third person associated with Baltimora. Little is known about either Bassi or Hackett, but they wrote the song "Tarzan Boy". This was Baltmora's debut single.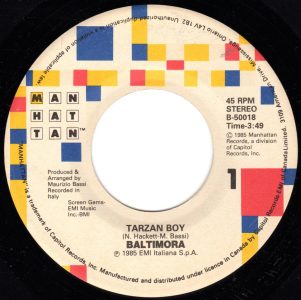 "Tarzan Boy" is a song about a guy who likens his life to that of Tarzan when the "ape man" was just a boy. The singer describes how playing hide-and-seek, "I play alone while rushing 'cross the forest, monkey business on a sunny afternoon." He makes Tarzan calls and wonders if the one he wants to connect with is getting his signals. If the signals are received, the singer invites the one he desires to come and enjoy the jungle life with him.
Edgar Rice Burroughs Tarzan (John Clayton II, Viscount Greystoke) is a fictional character. Tarzan is an archetypal feral child raised in the African jungle by the Mangani great apes; he later experiences civilization, only to reject it and return to the wild as a heroic adventurer. Tarzan is the son of a British lord and lady who were marooned on the coast of Africa by mutineers. When Tarzan was an infant, his mother died, and his father was killed by Kerchak, leader of the ape tribe by whom Tarzan was adopted. Tarzan's jungle upbringing gives him abilities far beyond those of ordinary humans. These include climbing, clinging, and leaping as well as any great ape. He uses branches, swings from vines to travel at great speed, and can use his feet like hands. He learns to wrestle rhinoceros, crocodiles, pythons, gorillas, tigers and jaguars. As an 18-year-old, Tarzan meets a young American woman named Jane Porter. She, her father, and others of their party are marooned on the same coastal jungle area where Tarzan's human parents were 20 years earlier. When Jane returns to the United States, Tarzan leaves the jungle in search of her, his one true love.
Tarzan and Jane live for awhile in England and she gives birth to a son. But Tarzan is quickly dismayed by the hypocrisy of modern civilization and the family goes back to Africa.
Tarzan of the Apes was published in 1912 as a pulp magazine series before its 1914 release as a novel. The novel was made into a silent film in 1918. The first novel spawned dozens more. There have been over sixty Tarzan films over the past century.

Miles O'Keefe played Tarzan opposite Bo Derek in The Ape Man in 1981.
In 2016, Alexander Skarsgård played Tarzan in The Legend of Tarzan. In the film Tarzan, having acclimated to life in London, is called back to his former home in the jungle to investigate the activities at a mining encampment. The film depicts Tarzan as actually concerned with socio-political realities, unlike his characterization in the "Superman's Song". The Legend of Tarzan grossed $350 million at the box office.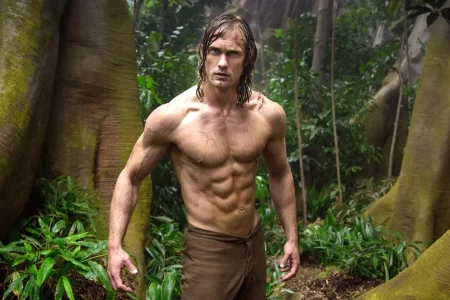 Alexander Skarsgård in The Legend of Tarzan
"Tarzan Boy" climbed to #2 in Vancouver (BC), Hamilton (ON), Atlanta, Saskatoon (SK), Edmonton (AB), Fort Lauderdale, and Toronto, #4 in San Jose (CA), Washington D.C., Dallas, and Calgary, #5 in San Francisco, and Cleveland, #6 in Montreal, and Leavenworth (KS), #7 in Ottawa (ON), Buffalo, Chicago, and New York City, #8 in Boston and Regina (SK), #9 in Arlington (VA), and #10 in San Diego, Louisville (KY), and Pittsburgh (PA).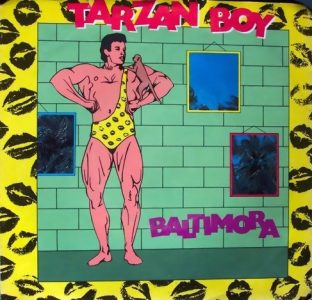 In 1985, Baltimora released a followup single titled "Woody Boogie". It climbed to #4 in Finland and Sweden, #7 in Spain, #11 in Belgium, #15 in Switzerland, #20 in West Germany, #23 in Italy and #30 in Ireland. A third single release, "Living In The Background" cracked the Top 100 charts in both Canada and the USA. Baltimora struggled to find the magic with their debut hit single. "Juke Box Boy" climbed into the Top 15 in Italy, and #33 in Belgium, but got little attention elsewhere. The next release, "Key Key Karimba", peaked at #37 in Italy.
Baltimora released a second album, Survivor in Love, including the single "Key Key Karimba". But with the lack of commercial appeal, the record label dumped Baltimora and that was the end of the recording act.
In 1995 James McShane died at the age of 37 from complications related to AIDS. When he returned home to Derry, Ireland, after he was diagnosed with AIDS, some people in the community were supportive. Others were not. His brother Damien recalls that while James was attending a house party in Carnhill he was attacked by a group of youths. Damien states, "Jim wasn't a fighter but he always stood up for himself. They beat him, broke his nose and teeth, solely because he was gay."
May 19, 2023
Ray McGinnis
References:
Tommy Marx, "Baltimora: One Hit Wonder," popmatters.com.
"Brother of Derry pop star speaks of AIDS stigma and devastation," Derry Journal, November 30, 2018.
"CKLG Top 30 Hot Hits," CKLG 730 AM, Vancouver, BC, January 16, 1986.
For more song reviews visit the Countdown.