#1094: Tattoo Man by Denise McCann
Peak Month: January 1977
9 weeks on CKLG chart
Peak Position #13
Peak Position on Billboard Hot 100 ~ did not chart
YouTube.com: "Tattoo Man"
Lyrics: "Tattoo Man"
Denise McCann was born in 1948 in Iowa. Albert Hews McCann Sr., her grandfather, was a cornet player and singer in Shreveport, Louisiana. The McCann Family Orchestra included various children of McCann Sr. and one of his brothers. He and his brother played for touring vaudeville acts that came to Shreveport between 1910 and 1930. Denise's family moved to Castro Valley, California, while she was in her youth. During the Summer of Love, Denise moved up to San Francisco's Haight-Ashbury neighborhood where she became a hippie. She got a job with the Magic Mountain Festival on Mount Tamalpais and also at the Monterey Pop Festival. At the festival she became friends with Jimi Hendrix. McCann wrote this website to add "I actually spent the entire night with Jimi Hendrix the night of his guitar-burning performance at Monterey Pop!" McCann appears in the D.A. Pennebaker documentary Monterey Pop!
McCann became songwriter and folk singer and performed around San Francisco at appearing often at The Coffee Gallery, The Drinking Gourd and The Holy City Zoo. She headed up the Pacific coast to Canada, and landed in Vancouver. She soon hung out in Vancouver's Kitsilano neighborhood, dubbed "Haight-Ashbury North," and got gigs at clubs like The Commodore Ballroom and Rohan's Rockpile. In the course of her exposure she was introduced to producer, Guy Sobell. He recorded her debut single, "It Still Hurts", a country song, with the B-side, "Tattoo Man" and helped get her a contract with Polydor Records in Montreal.
However, Polydor Records considered the B-side too rock and roll oriented for the times. They requested Sobell to add a 2-minute percussion interlude the middle of the song so it could be marketed to the disco clubs in Montreal. Sobell agreed and "Tattoo Man" soon became a five-minute extended play hit on the disco charts in Canada and the USA. "Tattoo Man" ended up being release as the A-side of a 45 RPM single with "Either Way" as the B-side. "It Still Hurts" was shelved for the time being. "Tattoo Man" climbed to #13 on the CKLG charts in Vancouver.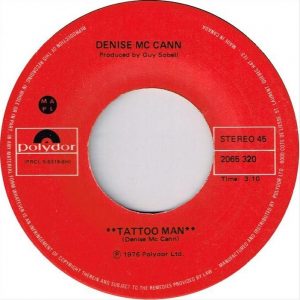 In the extended version of the song Denice McCann sings "Tattoo Man, get your needle out of my skin." In the 45 RPM single version she sings "Tattoo Man, get your tattoo out of my skin." The Tattoo Man in her song has an energy, presence or chemistry that is alluring. Despite wanting to pull away from him she asks herself "Why can't I forget you?" The most ominous verse in the song is the second. "One time a chick in his nest thought that she'd fly alone./She flew far away, changed her name, made a whole other home./She soon found out there are stains that will not wash away./His tattoo's her soul and you know she's back with him today." The story of this woman ("chick") who needed to break away from her relationship with the Tattoo Man suggests she may have felt unsafe being with him. She moved far away, changed her name and took up a new residence. It would seem she wanted to begin a new identity and make it next to impossible for the Tattoo Man to track her down. Nonetheless, she finds that the tattoo marks on her body are more than skin deep. She eventually returns to be with him.
In this song the singer, who knows the story about the chick who returned to the Tattoo Man, wants to get his tattoo out of her skin. She doesn't want a tattoo from him and wants to get away. But the Tattoo Man's history with other women is instructive. It seems since her strength is wearing thin, the Tattoo Man's claim is correct that he's called "Tattoo" for a reason. Once he's tattooed a mark on you "you can't get away." The man is just that beguiling.
A tattoo is a form of body modification, where a design is made by inserting ink, dyes and pigments, either indelible or temporary, into the dermis layer of the skin to change the pigment. Preserved tattoos on ancient mummified human remains in Egypt reveal that tattooing has been practiced throughout the world for many centuries. The Ainu, an indigenous people of Japan, traditionally had facial tattoos, as did the Austroasians.
The word "tattoo" was brought to Europe by the explorer James Cook, when he returned in 1769 from his first voyage to Tahiti and New Zealand. In his narrative of the voyage, he refers to an operation called "tattaw." The word tattoo, or tattow in the 18th century, is a loanword from the Polynesian word tatau, meaning "to write". The Oxford English Dictionary gives the etymology of tattoo as "In 18th c. tattaow, tattow. From Polynesian (Samoan, Tahitian, Tongan, etc.) tatau. In Marquesan, tatu." (The Marrquesans were from the Marquesas Islands in French Polynesia). Before the importation of the Polynesian word, the practice of tattooing had been described in Europe and colonial North America as painting, scarring, or staining. Dominican priest and German mystic Heinrich Suso (1295-1366) had the name of Christ "stained" over his heart.
As most tattoos in the U.S. were done by Polynesian and Japanese amateurs, tattoo artists were in great demand in port cities all over the world, especially by European and American sailors. The first recorded professional tattoo artist in the United States was a German immigrant, Martin Hildebrandt. He opened a shop in New York City in 1846 and quickly became popular during the American Civil War among soldiers and sailors of both Union and Confederate militaries. Soon after the Civil War, tattoos became fashionable among upper-class young adults.
The modern twin-coil electromagnetic tattoo needle was patented in 1891 by Samuel O'Riley, an Irish-American tattooist working out of a barber's shop on Chatham Square in New York. The invention of the electric tattoo machine caused popularity of tattoos among the wealthy to drop off by the outbreak of World War I in 1914. The machine made the tattooing procedure both much easier and cheaper, thus, eliminating the status symbol tattoos previously held, as they were now affordable for all socioeconomic classes. The status symbol of a tattoo shifted from a representation of wealth, to a mark typically seen on rebels and criminals. In December, 1953, Marlon Brando appeared in the film, The Wild One. Some of the bikers in the film had tattoos and wearing a tattoo became associated with biker gangs and juvenile delinquency. In 1961 there was an outbreak of hepatitis and tattooing was associated with being posing a health risk. For a number of years it was illegal in New York City in the 1960s to have a license to tattoo. Tattoo parlors closed, or they moved to Philadelphia or New Jersey where it was still legal. However, over in San Francisco, tattoo artist, Lyle Tuttle, opened at Tattoo shop in the South Market district on 7th Street. Celebrities got tattoos from Tuttle and generated an interest in getting one.
In 2010 Guardian reporter, John Henley, wrote that 20% of the British adults had a tattoo. Among 16 to 44 year-olds the figure was 29% of the population. A US study in 2008 showed 36% of Americans aged 18-25, 40% of those aged 26-40 had a tattoo. The 2010 British study revealed only 9% of those over 60 years of age had a tattoo, while the 2008 US study found only 10% of American adults between the ages of 41 and 64 had a tattoo. Consider the cohort of older adults in America in 2008 (90%) and Britain (91%) in 2010 who don't have a tattoo. Back in 1977 when "Tattoo Man" was released by Denise McCann, these adults didn't have a tattoo either. While getting a tattoo in 2008, 2010 and today in 2017 has become mainstream, back in 1977 it was definitely edgy and rebellious. Less than 8% of the population had a tattoo in the late 70s. So "Tattoo Man" was an edgy song back in 1977 with a cultural inference that a person who worked in the tattoo world was a bad boy, maybe a sailor or someone who'd been in trouble with the law. In this regard, the backing vocal line "better watch out for the Tattoo Man," comes across as a warning. Better to settle down with someone like an accountant, carpenter or a teacher.
"I Don't Wanna Forget You" was the follow-up to "Tattoo Man". It featured a four-octave vocal improvisation. The song peaked at #18 on CKLG in July 1977. McCann released a third single, "Midnight Madness" on Butterfly Records, and shortly after an album called I Have A Destiny. However, Butterfly Records went bankrupt twice in the midst of McCann trying to get her single and new album properly promoted. In addition, the disco craze was fading and McCann was tagged as a disco recording artist. Just the same, in 1979, McCann was nominated for a Juno Award for Most Promising Female Vocalist.
From the late 70s, for over a decade, McCann was a member of multiple performing acts. These include including the Basil Watson Revue, Denise McCann Band, Denise McCann and the Dead Marines, the Headpins, Mad Ivan and the Hornets and The Night Train Revue. In addition to playing in concert, McCann was a featured guest on The Alan Hamel Show and its replacement The Alan Thicke Show, The Paul Anka Show, the Rene Simard Show and the Wolfman Jack Show.
In the early 1980s Denise McCann was at a Christmas concert charity fundraiser. Also performing was Randy Bachman of the Bachman–Turner Overdrive. The two met and were married in 1983. In 1989 McCann-Bachman took the Oath of Citizenship at a ceremony, as she became a Canadian citizen. In addition to her musical talents, Denise has been a recording engineer, actor, writer, gardener, basket maker, jeweler and glass blower.
In the 1990s she formed The Black Velvet Band with Jo Lundstrom and Harry Warner. They were an Irish traditional folk music group who performed at numbers of folk festivals until they split up in 2000. Denise writes that after The Black Velvet Band broke up, she "formed a group called Jammin' Tarts and produced our one album "Well Preserved" — that was sort of the 2000-2002. We performed at the Bumbershoot Festival in Seattle, among other concert venues."
As Randy Bachman's partner, McCann was heard on his CBC Radio program Vinyl Tap, between 2005 and 2011. In a comment on this website she states "Vinyl Tap was my idea and creation. I did all the research on songs and bands, and wrote the scripts that Randy read on air." Denise also read listener mail during each broadcast. Vinyl Tap is the CBC radio show that replaced Finkelman's 45's hosted by Danny Finkelman, who retired from the CBC in 2005.
In 2011 Randy Bachman and Denise McCann-Bachman separated. She has written this website to detail "I lived in London England for two years from 2011 to 2013 and then moved to Santa Monica, CA to be near my son, Demian Gordon, who is head of the Motion Capture department for Dreamworks." In 2017 McCann-Bachman gave her support on Facebook to the #GrabYourWallet campaign boycotting U.S. President Donald Trump's products sold by U.S. retailers, including Amazon. She continues to live in Santa Monica.
May 11, 2017
Ray McGinnis
References:Vinyl Tap, CBC
Denise McCann, Denise McCann Bio, Canadian Bands.com
John Henley, The Rise And Rise of the Tattoo, Guardian, London, July 20, 2010
Denise McCann, Monterey Pop!, Monterey, California, June 13, 1967.
#GrabYourWallet, Wikipedia.org
The Wild One, Columbia Pictures, 1953.
Lyle Tuttle, Wikipedia.org
A Brief History of Tattoos, Power Verbs.com
Graham Rockingham, "Randy Bachman Still Takin' Care of Business at a Frantic Pace," Hamilton Spectator, October 14, 2014.
"Vancouver's Official Music Survey," CKLG 730 AM, Vancouver, BC, January 11, 1977.
For more song reviews visit the Countdown.