#262: Teacher Teacher by Rockpile
Peak Month: February 1981
14 weeks on Vancouver's CFUN chart
Peak Position #6
Peak Position on Billboard Hot 100 ~ #51
YouTube.com "Teacher Teacher"
"Teacher Teacher" lyrics
Dave Edmunds was born in Cardiff, Wales, in 1944. At the age of twelve, he heard a 45 RPM recording of Jerry Lee Lewis' "Whole Lotta Shakin' Goin' On". From that moment Dave Edmunds began to play the guitar, learning songs by Bo Diddley, Carl Perkins, Duane Eddy and others inspired the youngster. He formed a few bands in the late 50s and early 60s that gave him experience playing before audiences. One of the bandmates from his teen years was a drummer named Tommy Riley. By 1968, they formed a trio with John Williams named Love Sculpture. The trio had a #5 hit in the UK titled the "Sabre Dance". This was a cover of Aram Khachaturian's 1942 ballet Gayane. It was popularized in 1948 by Woody Herman who had a #3 hit in America. In 1970, Edmunds released a solo recording of the 1955 R&B classic, "I Hear You Knocking", by Smiley Lewis. In the winter of 1970-71, the song climbed to #1 in the UK, #4 in the USA and #2 in Vancouver.

In 1973, Dave Edmunds appeared in the rock 'n roll film, Stardust, starring David Essex and Adam Faith. Essex had a #1 hit in 1973 titled "Rock On", from the UK Buddy Holly tribute film That'll Be The Day. That same year, Edmunds had two Top Ten hits in the UK. Both were covers from the early rock era. The first, "Baby I Love You", was a hit in 1963 by The Ronettes. The second, "Born To Be With You", was a hit for the Chordettes in 1956.
Nicholas Drain Lowe was born in 1949 in Surrey, UK. He formed a band in 1968 named Kippington Lodge. In 1978, Lowe had a Top Ten hit single in the UK titled "I Love The Sound of Breaking Glass".
In 1976, Dave Edmunds co-founded a band named Rockpile with Nick Lowe, drummer Terry Williams and guitar player Billy Bremner. But, immediately, Rockpile ran into recording problems since Lowe and Edmunds were signed to different recording labels. Nonetheless, Rockpile went on tour in the UK in 1976. In 1979, Edmunds had the other three members of Rockpile record in the studio with him on his solo releases of "Girls Talk" and "Queen Of Hearts". Edmunds, Bremner and Williams also were session musicians for the recording of Nick Lowe's "Cruel To Be Kind".
In 1980, Rockpile made their only album, Seconds of Pleasure. "Teacher Teacher" was their one charting single with lead vocals by Nick Lowe.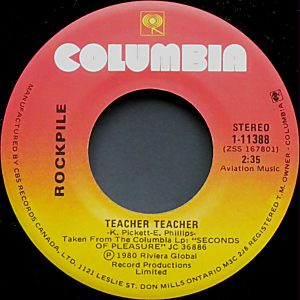 Lyrically, the song concerns a teacher's pet who desires a romantic liasion with their teacher. The student is a male and the teacher is a female. He has learned that growing up isn't much fun. A second lesson he's learned is that reading books only gets you so far. In order to learn about love he needs someone who can teach him firsthand how to love. This is where, he thinks, his teacher can help out.
While "Teacher Teacher" didn't make it into the top 50 on the Billboard Hot 100, it peaked at #8 in Vancouver. It was all part of the new wave sound that was very popular in Vancouver in the early 80's. The song also climbed to #6 in Regina and #8 in Toronto.
In practice, having a student-teacher relationship can get you in trouble with the law, depending on the laws of the land you live in. In New Britain, Connecticut, teacher trainee, Tayler Boncal, engaged in a sexual relationship with one of her Conrad High School students between December 25, 2017, and January 11, 2018. The 18-year old student was of legal age. However, New Britain police chose to lay charges due to the student-teacher relationship. The student and his family didn't want to press charges of sexual assault. However, another student found out about the relationship Boncal was having with her student. Consequently, that other student – who was disturbed to find out about the relationship – complained to the Conrad High School principal in West Hartford, Connecticut. New Britain, where Boncal lives, is a half hour drive from Conrad High School. Boncal entered a plea of "Not Guilty" in early April, 2018. A trial date has yet to be set.
Billy Bremmer was a backing guitarist for both Dave Edmunds and Nick Lowe on numbers of their albums in the '70's and '80's. Bremner later went on to play guitar on albums for The Pretenders, including Learning to Crawl. The fourth member of Rockpile, Terry Williams, was at times a member of both Meatloaf and Dire Straits. He plays drums on Dire Straits hit "Money For Nothing", "Walk Of Life", "So Far Away" and "Twisting By The Pool". Williams also was featured on several albums with Tina Turner, including Private Dancer. Other credits for Williams included playing with Dion, Tracey Ullman, Mark Knopfler, Graham Parker, Nick Lowe, Dave Edmunds and Cliff Richard.
In addition to being a solo recording artist and a member of Rockpile, Nick Lowe is known as a producer. He produced The Pretenders early hit from the late 70s, "Stop Your Sobbing". And he produced Elvis Costello's first five albums. Other recording artists Lowe produced include British punk rockers, The Damned, and Johnny Cash. As of mid-June 2018, Nick Lowe has eleven upcoming concert dates across Ontario (Canada), Illinois, Wisconsin, New York, Pennsylvania, New Jersey and Oxford (UK). In April 2018, Nick Lowe released his latest recording, an EP featuring the track "Tokyo Bay".
Dave Edmunds has released 14 studio albums, his most recent, On Guitar… in 2015.
September 3, 2021
Ray McGinnis
References:
Dire Straits bio, Rolling Stone
Dave Edmunds: Chart-topping Rock Guitarist From Cardiff, BBC, November 21, 2003.
Nick Lowe Tour Dates, Nick Lowe.com
Jim Farber, Cruel To Be Kind of Old, New York Daily News, June 17, 2007.
Nick Lowe, The Jesus of Cool, Rocks Again With 'Tokyo Bay', NPR, April 3, 2018.
High School Teacher Fell in Love With Student, Taking him Home for Sex, TV New Zealand, February 8, 2018.
Mikaela Porter, Former Conrad High School Track Coach, West Hartford Student Teacher Enters Not Guilty Plea, Hartford Courant, April 8, 2018.
For more song reviews visit the Countdown.