#51: Tears Are Not Enough by Northern Lights
Peak Month: April-May 1985
12 weeks on Vancouver's CKLG chart
Peak Position #1
Peak Position on Billboard Hot 100 ~ did not chart
YouTube.com: "Tears Are Not Enough"
Lyrics: "Tears Are Not Enough"
Northern Lights is the name given to the ensemble of Canadian pop music performers who recorded a charity single in 1985 to raise funds in response to the famine in Ethiopia. The single, "Tears Are Not Enough", featured solo vocals by Gordon Lightfoot, Burton Cummings, Anne Murray, Joni Mitchell, Dan Hill, Neil Young, Bryan Adams, Corey Hart, Bruce Cockburn, lead singer with Rush – Geddy Lee, and lead singer with Loverboy – Mike Reno. In addition, the following recording artists appeared singing on the recording in duos or trios: Mike Reno and Liberty Silver; Carroll Baker with Ronnie Hawkins and Murray McLauchlan; Francophone singers Véronique Béliveau, Robert Charlebois and Claude Dubois; Alfie Zappacosta and Lisa Dal Bello; Carol Pope and Paul Hyde, Salome Bey with Platinum Blonde lead singer Mark Holmes and the Parachute Clubs' Lorraine Segato.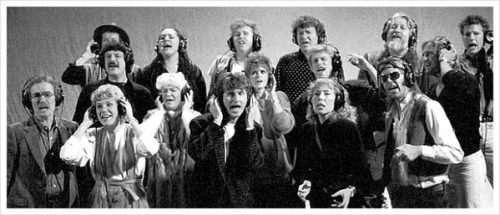 The chorus sang "We can bridge the distance. Only we can make the difference. Don't you know that tears are not enough? If we can pull together, we could change the world forever. Heaven knows that tears are not enough." The chorus included Tommy Hunter, Tom Cochrane, comedians John Candy, Eugene Levy, and Catherine O'Hara, Andy Kim, Martha Johnson (of Martha and the Muffins), Frank Mills, Kim Mitchell, Oscar Peterson, Jane Siberry, Ian Thomas, Sylvia Tyson, Aldo Nova and others. Buffy Sainte-Marie failed to appear for the studio recording.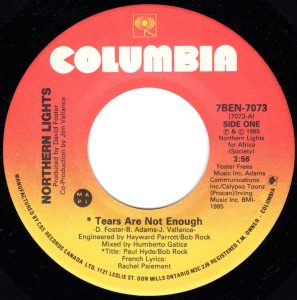 "Tears Are Not Enough" was written by David Foster, Bryan Adams and Jim Vallance.
James Douglas Vallance was born in 1952, in Chilliwack, British Columbia. He grew up in a series of small towns in his home province, including Vanderhoof (1964-1967) and Terrace (1967-1970) where he collected fond memories that would later show up in lyrics to some of his songs, like "Summer of '69". Vallance took piano lessons starting at age 7. He then took up guitar and drums at 13. In 1965 he formed a band with some classmates called The Tremelones which was later renamed The Fourmost. He later studied music at the University of British Columbia. In 1974 he joined a Vancouver band called Sunshyne. The band was renamed Prism. Vallance stayed with the band into 1977 when they released their self-titled album Prism. He continued to write more songs for the band, but also for a new recording artist named Bryan Adams.
Born in Kingston, Ontario, in November 1959, Bryan Adams parents immigrated from the UK in the 1950s. His dad, Captain Conrad J. Adams, was a diplomat in the Canadian foreign service. While growing up his family was posted to Portugal, Austria and Israel. By the age of 15 Adams was playing with the band Sweeney Todd as a frontman. By the time he turned 17, Bryan Adams had landed work as a background vocalist for the CBC. His first salary came from working for Robbie King, a keyboard musician with Motown. During his senior years in high school he began playing music with his guitarist, Keith Scott. In 1979, based in Vancouver, Adams first solo single was the disco song "Let Me Take You Dancing". Since then Bryan Adams has released fifteen studio albums. He has charted over thirty Top Ten hits internationally. These include "Cuts Like A Knife", "Straight From The Heart", "Run To You", "Somebody", "Heaven", "Summer Of '69", "Heat Of The Night", "(Everything I Do) I Do It For You", "Can't Stop This Thing We Started", "There Will Never Be Another Tonight", "Please Forgive Me", "Have You Ever Really Loved A Woman?" and many more.
Born in 1949 in Victoria, British Columbia, when he was 13-years-old, David Foster enrolled in the University of Washington music program. In 1965, he auditioned to lead the band in an Edmonton nightclub owned by jazz musician Tommy Banks. Banks mentored Foster in jazz, producing records, and the music business. After a year there, he decided to move to Toronto to play with Ronnie Hawkins. In 1966, he joined a backup band for Chuck Berry. In the late 60's, Foster was also in a backup band for Bo Diddley. In 1971 David Foster formed Skylark. The band had a modest hit in Vancouver in 1972 with "What Would I Do Without You". And in 1973, Skylark had a Top Ten hit titled "Wildflower". Foster moved to Los Angeles in 1974. He was a session musician in 1974 for Ringo Starr's number-one hit "No No Song"; for two of George Harrison's albums in the mid-70's; Rod Stewart's number-one hit in 1976 "Tonight's The Night" and "You're In My Heart", "Hot Legs" and "I Was Only Joking"; Dolly Parton's "Here You Come Again" (1977); Glen Campbell's number-one hit in 1977 "Southern Nights"; Olivia Newton-John's "Deeper Than The Night" and "A Little More Love"; Alice Cooper's "How You Gonna See Me Now"; and Earth, Wind & Fire's "Boogie Wonderland" and "After The Love Has Gone". For the latter song, Foster was co-writer and received three Grammy Award nominations. "After The Love Has Gone" won for Best R&B Vocal Performance by a Duo or Group. In 1980, David Foster was a session musician for Aretha Franklin's 26th studio album, Aretha, and her #3 R&B hit "United Together".
The lyrics to "Tears Are Not Enough" invite citizens to break away from the easy habit of closing their eyes to suffering in the wider world. Taking stock of the stark reality of hunger and famine, "our innocence is lost." When faced with a choice to do nothing or try to make a difference, the lyrics implore "We've got to help at any cost." The song contends that when we "pull together, we could change the world forever." The potential to end human suffering, if there is enough will and collective focus on alleviating suffering, is boundless. In the effort to address famine, the song invites listeners to "maybe…understand the reasons why."
The song offered those following news of the famine to buy a record where all the proceeds were going to famine relief. During the Ethiopian Famine of 1983-85 up to 1.2 million people died. There were 400,000 refugees and another 2.5 million people were displaced within the nation. The death, hunger and displacement was due to a combination of drought, famine and rule of the military junta.
"Tears Are Not Enough" appeared on the CKLG playlist in Vancouver on March 14, 1985. It spent four weeks at number-one, ending on May 2/85.
"Tears Are Not Enough" peaked at #1 in Vancouver (BC), Yellowknife (NWT), Edmonton (AB), Regina (SK), Saskatoon (SK), Medicine Hat (AB), Toronto, Ottawa, Calgary (AB), and Hamilton (ON), #2 in Montreal, and #3 in Moose Jaw (SK), and Sydney (NS).
By 1990, the project had raised $3.2 million for famine relief projects in Africa. Ten percent of the funds raised was set aside to assist Canadian food banks.
March 10, 2023
Ray McGinnis
References:
"David Foster Bio," davidfoster.com.
Matthew Stadlen, "Bryan Adams: 'My Love Life is Nobody's Business but my Own'," Telegraph, London, UK, October 2015.
Bryan Adams, Canadian Bands.com.
Gary James, "Gary James' Interview With Bryan Adams," classic bands.com, 1982.
"Jim Vallance," Wikipedia.org.
"CKLG Top Thirty," CKLG 730 AM, Vancouver, BC, May 2, 1985.
For more song reviews visit the Countdown.