#1315: Tears of Misery by Pat Hervey
Peak Month: March 1963
8 weeks on Vancouver's CFUN chart
Peak Position #12
Peak Position on Billboard Hot 100 ~ did not chart
YouTube.com: "Tears Of Misery"
Lyrics: "Tears Of Misery"
At 5'3, Pat Hervey could belt out a tune with a style similar to Brenda Lee. Hervey was one of Canada's early female singers who were successful in the early '60s. 

She grew up in Toronto and had her first public performance singing at the age of nine. She also sang in a high school choir and with a girlfriend who played guitar at social dances and parties. Toronto DJ Al Boliska heard her at an amateur Rock & Roll show and put her in touch with CBC Television. The network signed her and she appeared regularly on their Club 6, Country Hoedown, Music Hop, Parade, While We're Young, and Holiday Ranch shows.
Art Snider was musical director CBC's Club Six. He recommended Hervey make some recordings for his Chateau label. In the Summer of 1962 she had her first hit with "Mr. Heartache". Snider held the sessions in Nashville. In the studio Chet Atkins produced four tracks for her. This led to Pat Hervey being signed by RCA Victor Canada. Atkins produced her entire first LP but it didn't contain her hit songs. Hervey charted several more songs on Toronto's CHUM AM: "A Mother's Love" and "Heaven For Awhile" near the bottom of their Top 40. The latter song peaked at #23 in Vancouver. But Hervey's fourth single, "Tears Of Misery", stayed on the CHUM charts in Toronto for nearly three months, followed by "Walking In Bonnie's Footsteps".
"Tears of Misery" was a song recorded by Ral Donner during the same studio session when he released "You Don't Know What You've Got (Until You Lose It)," a hit in 1961. But Donner's "Tears of Misery" wasn't issued, and only released on a CD in 1991. Donner, who was signed with Gone Records, a subsidiary of Roulette Records, was in a dispute with Morris Levy and Roulette through 1962 for non-payment of royalties. Consequently, many of Donner's studio recordings were stuck in a legal dispute and prevented at the time from being released as singles.
Someone in RCA Victor may have known about Donner's recording, but it came to the attention of Pat Hervey who did a cover of the song.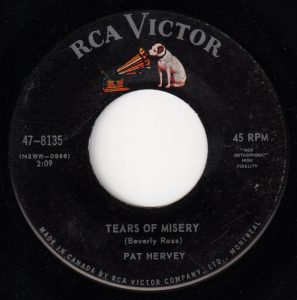 "Tears of Misery" is about someone whose date is shamelessly showing off their ability to flirt with other people of the opposite sex right in front of their sweetheart. The brazenness of their action catches them off guard, but they hold back their tears. They realize that their date is both mean and a fool. And they deserve better.
"Tears Of Misery" climbed to #2 in Calgary (AB), #7 in Toronto, #12 in Vancouver, and #14 in Saskatoon (SK). It did not chart in the USA.
In 1963 the narrative was certainly convincing as people who began going steady with someone could be real jerks, a cause for teen drama and break-ups.
Pat Hervey later became the featured singer on the Tommy Hunter Show. This was a popular country music variety show in Canada for many years. She won a Top Country Female Award in 1964 then made a move to Stan Klees' Red Leaf label.
Nothing seemed to make an impression on the new label. Hervey moved to Vancouver in 1969 and "retired" from the music business at age 22. This proved to be a short hiatus. She had her own Summer television show in 1970 and recorded another album, Peaceful, in 1971 on the Camden label. Tracks from the album featured a cover of Chuck Jackson's 1962 R&B hit, "Any Day Now (My Wild Beautiful Bird)", Rod McKuen's "If You Go Away" adapted from Jacques Brel's 1959 tune "Ne Me Quitte Pas", and "Peaceful", a hit for Helen Reddy in 1973.
Pat Hervey married renowned Canadian jazz guitarist Oliver Gannon and resided in British Columbia, where they had a 4 piece group and perform as The Oliver Gannon/Patty Hervey Quartet. She focused her career on jazz, singing and playing bass in Vancouver's best jazz venues, proving to be a vocalist & musician capable of any genre and creating a lifetime of great music.
Pat (Patty) Hervey braved a 15-month courageous fight against esophageal cancer, passing away July 31, 2016.
October 20, 2016
Ray McGinnis
References:
Oliver Gannon biography, Oliver Gannon.com
Tears Of Misery by Pat Hervey, Music Master Oldies, August 2013.
The Girls of '62, Internet Debris.blogspot.com, June 6, 2011.
Pat Hervey Has Died, Treasure Island Oldies, August 1, 2016.
"C-FUNTASTIC FIFTY," CFUN 1410 AM, Vancouver, BC, March 2, 1963.
For more song reviews visit the Countdown.