#1348: Teenager's Dream by Les Vogt
Peak Month March 1962
7 weeks on Vancouver's CFUN chart
Peak Position #12
Peak Position on Billboard Hot 100 ~ did not chart
YouTube.com: "Teenager's Dream"
Les Vogt was the lead singer for the premier local rock n' roll band in Vancouver called The Prowlers. As described in his bio, he writes "I was a tall, shy kid that became interested in music at the age of 13 when my older brother (Ed) took me to a few "live" concerts… Louis Armstrong and Wilf Carter were the most memorable. After seeing a Wilf Carter concert in 1951, I took my older brother's hand-me-down guitar and learned to play and yodel in the confines of my bedroom." At the time, Vogt was a Grade Eight student at John Oliver High School. By 1953, Vogt became part of the Fraserview Drifters, along with his friend Larry Tillyer (guitar), Laurie Bader (drums), Eric Olsen (accordion) and for awhile Wayne Dinwoodie (fiddle). As country music was the only alternate to the big band sound, the Fraserview Drifters played covers of Eddy Arnold, Hank Thompson, Marty Robbins, Guy Mitchell, Frankie Laine and others. By 1954, the set shifted to covers of "Sh-Boom" by the Crew Cuts, "Three Coins In The Fountain" by the Four Lads, and other pop tunes. By 1956, a guitar player from Nova Scotia, Fred Bennett, had moved to Vancouver. And he joined the band.
Les Vogt recalls "The band's big break came from a fluke telephone call to DJ Jack Cullen's radio program. Cullen's "Owl Prowl" was Vancouver's most popular radio program at the time and pretty much all the teenagers in the city listened to it. One of the girls attending a basement rehearsal for the band took it upon herself to phone Jack Cullen (on the air) and asked him to listen to the band over the phone. He not only listened to the band… he patched the call over the airwaves and all of Vancouver was talking about the band the next day. Cullen received so many phone calls that he brought the band into his small radio studio and recorded several songs which he proceeded to play regularly on the air. This connection resulted in the band naming themselves "The Prowlers" since their popularity came from Jack Cullen's Owl Prowl radio show." They began to appear regularly on local DJ Jack Cullen's Owl Prowl radio show on CKNW. Cullen did more for The Prowlers when he arranged for them to be the opening act for the June 27, 1956, concert featuring Bill Haley & The Comets at the Kerrisdale Arena.
But once Elvis Presley appeared on the Ed Sullivan Show on three occasions in September 1956, everything changed. The Prowlers were a sought after band. Their repertoire included covers of Presley records such as "Don't Be Cruel", "Mystery Train", and "When My Blue Moon Turns To Gold Again", Frankie Lymon's "Goody Goody", Carl Perkins' "Blue Suede Shoes", Fats Domino's "My Blue Heaven", Buddy Knox's "Hula Love", and Clyde McPhatter and the Drifter hit "Money Honey".
In 1958 The Prowlers recorded a song called "The Blamers". "The Blamers" was recorded by Allen Parker, who was a milkman. Les Vogt got to know Parker when they both worked at Dairyland. Parker made demos of a number of local groups. When Parker was at a concert of the DeCastro Sisters in 1958 he was able to interest their manager, Jack LeGras, in listening to Parker's demos. As well, there were changes in the lineup, as Laurie Bader was replaced on drums by Carl Ashley, and Carl Reis was added on saxophone.
In 1960 "The Blamers" was released on Sparton Records in Canada and became a number one charting hit in Vancouver. Les Vogt would have two more hits on the local charts, "Preacher Boy" and "Teenager's Dream".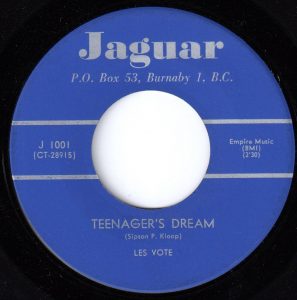 "Teenager's Dream" was a song about a check-list of things male teenagers aspired to when they grew up. According to this song these included: "to live a good life," "to live like happy people do," "to not live alone, to buy a bungalow you hope to someday own," "a car in the carport, a garden, a lawn, a doll in the kitchen with the suppertime on" and having a baby to love. The song peaked at #12 in Vancouver and spent seven weeks on the local pop charts. It was only a local hit and didn't receive airplay elsewhere in Canada or the USA.
In 1962 the cost of a teenager's dream was different in Vancouver than in 2016. In 1962 the Canadian dollar was worth 92.5 cents to the US dollar. Today the Canadian dollar is trading at about 75 to 76 cents to the US dollar. In 1962 the average salary in Canada was $6,232 and the average cost of a detached home in Vancouver was $13,500, up from $13,105 in 1960. This was the equivalent of setting aside all of ones salary for two years and almost three months to pay for a home. In 2015 the City of Vancouver reported the median household income in Vancouver was at $65,327. The average cost of a home was $1,472,000. It would now take nearly nineteen years of household income to pay for the cost of a home. Of course, in each case, income earners had to set aside other parts of their income for transportation, groceries, clothing etc. But it would seem that the cost of a "Teenager's Dream" in 2016, 54 years since Les Vogt's local hit, has become more elusive.
The song also mentions "a doll in the kitchen" as part of the dream. In 1962 the majority of households were one-income households. This meant that it only took one adult earner in the family to cover the cost of living. There was an ability to have the other adult, in a two parent family, take care of household chores. This was almost always the mother, among whose responsibilities included preparing all the meals.
In March 1962 I was a young child a year and a half away from attending Kindergarten. I grew up in a "typical" family where my dad worked and my mom stayed at home to raise my brother and me. Aside from BBQ, making fudge at Christmas and carving roasts of turkey, beef, lamb or pork, my dad did very little in the kitchen. Conversely, my dad took care of fixing things around the house and it was my dad, and not my mom, who did any repairs that could be done to the car that didn't involve taking it to the auto repair shop. It was only when my dad retired that he began to cook the majority of the meals once my brother and I had long since left the nest.
It would be interesting to ask youth today what their "Teenager's Dream" would look like.
October 6, 2016
Ray McGinnis
References:
Jack Cullen Then and Now, YouTube.com.
Les Vogt – The Story, Lesvogt.info
100 Years of Discovery: 1960-1969, University of British Columbia, Fall 2015.
Census Income Data Release, City of Vancouver, September 29, 2017.
"Vancouver Area Benchmark House Price Now $1.4M, Up 30$ in 1 Year," CBC, May 3, 2016.
"C-FUNTASTIC FIFTY," CFUN 1410 AM, Vancouver, BC, March 16, 1962.
For more song reviews visit the Countdown.