#684: Teenland by Northern Pikes
Peak Month: September-October 1987
10 weeks on CKLG's Vancouver Charts
Peak Position ~ #8
Peak Position on Billboard Hot 100 ~ did not chart
YouTube.com: "Teenland"
Lyrics: "Teenland"
In 1984, The Northern Pikes became a band. They were from Saskatoon, Saskatchewan. The band was made up of members from three existing bands in the city: Doris Daye, The Idols and 17 Envelope. John Peter "Jay" Semko was from Saskatoon and was already a gifted singer, songwriter, bass guitar player and pianist. Bryan Anthony Potvin was born in 1963 in Ottawa and his family moved to Victoria where he began playing guitar. Merl Bryck, born in Humboldt, Saskatchewan, was a backing vocalist and rhythm guitarist. There were a number of lineup changes. In 1986 The Idols drummer, Don Schmid, made The Northern Pikes a permanent quartet, playing drums and percussion. Schmid was born in Saskatoon. Initially, the band released several EPs. The first was the self-titled The Northern Pikes in 1984. The second EP was Scene In North America, released in 1985. They recorded both EPs at a studio near Pike Lake, SK.
In the mid-80s, The Northern Pikes toured extensively in the Canadian prairies. By the end of 1986 they got a record deal with Virgin Records. The following year their debut album, Big Blue Sky, was released. It featured a single titled "Teenland".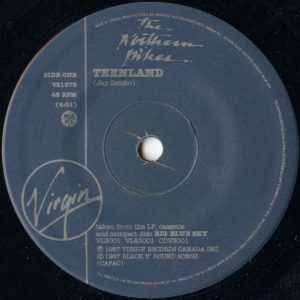 "Teenland" is about a guy who has missed out on kissing in his teen years. He wants to kiss a girl who looks like the ones in the teen magazines and posters. He's been drinking and smoking. In the world of his teenage experience he wants to do break out of the scene he's been part of. Why not try a little romance?
In an article titled "The magic of the first kiss," Reese Halter wonders if a "kiss is just a kiss" as the 1931 Broadway song, "As Time Goes By", asks. Halter writes, "When the first kiss works it's powerful – over 90 per cent of lovers, irrespective of age, can remember exactly where and when it occurred. Moreover, that first kiss is a dealmaker or breaker because over 60 per cent of first kisses, for both men and women, are a failure terminating any chance for romance." The willingness to engage in a first kiss is most often due to eye contact and facial gazing. This sends messages to the brain that increase dopamine levels and arouse the pairs' interest in kissing. Halter adds, "That first passionate kiss can cause some people to experience a sensation of weak-in-the-knees due to high levels of adrenaline, which are also spiking in the brain." For the guy in "Teenland", he has figured out that kissing is something he wants to experience firsthand. Why, it's possibly even better than drinking and cigarettes.
"Teenland" peaked at #4 in Hamilton and #8 in Vancouver. Two more singles from Big Blue Sky, "Things I Do For Money" and "Dancing In A Danceclub", were released in the winter of 1987-88. Their second album, Secrets Of The Alibi, was released in the spring of 1988. Since their were no Juno Awards in 1988, The Northern Pikes were nominated in the Most Promising Group category at the 1989 Junos. They also received a nomination for Best Video. However, they didn't come away with any awards. Blue Rodeo won Best Video for "Try". And Barney Bentall and the Legendary Hearts won for Most Promising Group. Still, Secrets Of The Alibi was certified a Gold record in 1991, becoming their second Gold album. In conjunction with the album's release, the band toured as an opening act for Robert Palmer. They were constantly on the road for two years.
In 1990, The Northern Pikes released Snow In June. This third album release earned them three nominations at the 1991 Juno Awards. They were nominated for Group of the Year, Single of the Year for "She Ain't Pretty", and Best Video for "She Ain't Pretty". Blue Rodeo won Group of the Year. Colin James won the Single of the Year for "Just Came Back". And the Best Video Juno went to Maestro Fresh Wes for "Drop The Needle". Snow In June featured the bands' most successful singles on the RPM singles chart in Canada. These were "She Ain't Pretty" peaking at #6 on the RPM charts, and "Girl With A Problem" which peaked at #8. Snow In June went Platinum in 1990.
In 1992, The Northern Pikes released Neptune, and the album was certified Gold in Canada later that year. After touring into 1993 the band retired. But they also issued a live album titled Gig.
In 1999, after a greatest hits album was released they went on tour and released a live album in 2000 titled Live. A studio album, Truest Inspiration, came out in 2001. One more studio album, It's A Good Life, was released in 2003. Semko, Potvin, Schmid and Bryck continued to tour into 2006. Them Merl Byrck quit the band and was replaced by Ross Nykiforuk. He left the band in 2011 and Semko, Potvin and Schmid continued to perform as a Northern Pikes trio. In 2017, Kevin Kane who was a member of The Grapes Of Wrath, joined the trio for their 30th Anniversary Big Blue Sky Tour that included 42 concert dates.
From 1994 to 2000, Brian Potvin was employed as an artists and repertoire (A&R) manager for Polygram Records. More recently, he has recorded music for the Discovery Channel and released a solo album in 2014 titled Heartbledwhite. In addition to tours with The Northern Pikes, Potvin and Kevin Kane have toured as a duo.
From 1994 to 1999, Jay Semko was a composer for the Canadian TV comedy-crime series, Due South. He has worked with numerous recording artists and also released nine solo albums. His latest, Never Sent, was released in 2018. In 2018, The Northern Pikes have scheduled 18 concert dates, including one at the Commodore Ballroom in Vancouver on November 10th.
November 7, 2018
Ray McGinnis
References:
Northern Pikes Tour Schedule, The Northern Pikes.com
Jay Semko bio, Jay Semko.com
Brian Potvin bio, Brian Potvin.com
Reese Halter, The Magic of the First Kiss, Science Features, ABC.
"CKLG Top Thirty," CKLG 730 AM, Vancouver, BC, October 6, 1987
For more song reviews visit the Countdown.