#1030: Tell Me What You Dream by Restless Heart
Peak Month: May 1993
7 weeks on CKLG's Vancouver Chart
Peak Position ~ #7
Peak Position on Billboard Hot 100 ~ #43
YouTube: "Tell Me What You Dream"
Lyrics: "Tell Me What You Dream"
Restless Heart was a country band from the USA that formed in 1984. There were several lineup changes and by 1992 they were comprised of John Dittrich on drums, lead and background vocals; Paul Gregg on bass guitar, lead and background vocals, Dave Innis on piano, keyboards, rhythm guitar, lead and background vocals, and Greg Jennings on lead guitar and background vocals. All four were part of the original lineup. Dittrich was born in 1951 in Syracuse, New York; Gregg was born in 1954 in Altus, Oklahoma; Innis was born in 1959 in Bartlesville, Oklahoma; and Jennings was born in 1954 in Oklahoma City, Oklahoma. In 1983 Dave Innis wrote "Dare Me" which was recorded by the Pointer Sisters in 1984, and peaked at #11 on the Billboard Hot 100 in 1985.
Restless Heart released a self-titled debut country album in 1985. It included three Top Ten Billboard Hot Country Songs chart hits: "I Want Everyone To Cry", "(Back to the) Heartbreak Kid" and "Til I Loved You". But in 1986 they released Wheels. The album took off and they had a string of six number-one singles on the Billboard Hot Country Songs chart. These were "That Rock Won't Roll", "I'll Still Be Loving You", "Why Does It Have To Be (Wrong Or Right)" and "Wheels"; Followed by "The Bluest Eyes In Texas" and "A Tender Lie" from their next album Big Dreams in a Small Town.
By 1992 Restless Heart had 15 Top Ten hits on the Hot Country Songs chart and 15 Top Ten song on the Canadian RPM Country Tracks chart. However, they had largely been off the radar on the pop charts. The one exception had been in 1992 with "When She Cries", a Top 20 hit on the Billboard Hot 100.
In 1993 they released "Tell Me What You Dream".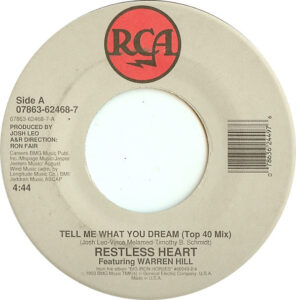 "Tell Me What You Dream" was cowritten by Timothy B. Schmitt, Josh Leo and Vince Melamed. The song concerns a couple whose love relationship has soured. The narrator asks "what went wrong?" They sleep together, but there are secrets they keep from each other. The narrator asks what his lover dreams at night when she's sleeping. She calls out a name at night while she's dreaming. But it isn't his. They lie beside each other but the narrator says "I felt so alone."
Timothy Bruce Schmitt was born in Oakland, California, in 1947. Raised in Sacramento, Schmitt was part of a folk group in 1962, that became a surf band called the Contenders in 1963. He was part of the garage band the New Breed that had a number-one single in Sacramento in November, 1965, titled "Green-Eyed Woman". Schmitt joined Poco in 1969 and stayed with them until 1977, appearing on eight studio albums and one live album. In 1977 Schmitt contributed vocals on Firefalls' Top 20 hit "Just Remember I Love You". In 1977 he joined the Eagles during their Hotel California tour. He remained with the band until their breakup in 1980. Schmitt provided lead vocals on the Eagles hit single "I Can't Tell You Why", and backing vocals on "The Long Run" and "Heartache Tonight".
After the Eagles split in 1980, Timothy Schmitt provided backing vocals on Bob Seger's "Fire Lake", Boz Scaggs "Look What You've Done to Me", Crosby, Stills & Nash's "Southern Cross" and "Wasted On The Way", Toto's "I Won't Hold You Back" and "Africa", and Don Henley's "Dirty Laundry". Later in the 80s Schmitt provided backing vocals on Richard Marx's "Don't Mean Nothing". In the early 80s Timothy B. Schmitt toured with Toto and Jimmy Buffet. And in the early 90s was with Ringo Starr & His All-Starr Band. He has also released six solo studio albums.
Josh Leo was born in 1953 in Des Moines, Iowa. He learned to play guitar and by 1979 was touring with J.D. Souther. And from 1982-83 he toured with Glenn Frey. Some of the songs he's appeared on include "Bette Davis Eyes" by Kim Carnes (guitar, backing vocals); "All Those Lies" by Glenn Frey; albums with Peter Cetera, Kenny Rogers, Rita Coolidge, the Nitty Gritty Dirt Band, Jonathan Edwards, Juice Newton, Alabama and others. He's written songs for Crystal Gayle, Reba McEntire, Alabama, Lynyrd Skynyrd, Bad Company and others.
Vincent Edward "Vince" Melamed has been a keyboardist with Bob Dylan, the Eagles, Jimmy Buffett, Dan Fogelberg, Glenn Frey and others.
On the single, saxophonist Warren Hill who was born in Toronto in 1966, appeared as a guest on "Tell Me What You Dream". Hill was a graduate of Berklee College of Music in Boston. After which he went on tour with Natalie Cole showcasing her album Unforgettable…with Love in 1991-92. Over the years Hill has released ten studio albums, each that has charted on either the Billboard Jazz Album or Billboard Contemporary Jazz Album charts. Four of these albums have charted in the Top Ten.
"Tell Me What You Dream" peaked at #7 in Vancouver (BC). The single topped the Adult Contemporary charts in both the USA and Canada.
After 1993 Dave Innis left Restless Heart. The remaining three bandmates recorded one more album in 1994 and subsequently disbanded. Jennings joined country singer Vince Gill's band, while Dittrich founded a band in 1997 called The Buffalo Club. In the following years Restless Heart had occasional reunions. The most successful was commemorating the band's 30th anniversary with its 30 Years & Still Restless Tour.
February 13, 2021
Ray McGinnis
References:
Dan MacIntosh, "Dave Innis of Restless Heart," songfests.com, February 28, 2013.
"Timothy B. Schmitt Biography," timothybschmittonline.com.
"Josh Leo," Wikipedia.org.
"John Dittrich," Famousbirthdays.com.
Gary James, "John Dittrich Interview (Restless Heart)," famous interview.ca.
"Dave Innis," restlessheartband.com.
"Paul Gregg," restlessheartband.com.
"Warren Hill Bio," warren hill.com.
For more song reviews visit the Countdown.