#1234: Tell Me When by The Applejacks
Peak Month: May 1964
9 weeks on Vancouver's CFUN chart
Peak Position #15
Peak Position on Billboard Hot 100 ~ #135
YouTube.com: "Tell Me When"
Lyrics: "Tell Me When"
Martin Thomas Baggott and Philip Peter Cash were both born in Birmingham, UK in 1947. Donald Peter Gould, also born in 1947, was born in Solihull, just 8 miles away. And Gerald Ernest "Gerry" Freeman was born in Solihull in 1943. They were all members of a the same Boy Scout troop. In 1961 Baggot, Cash and Freeman formed a skiffle band named the Crestas at the end of the skiffle craze in the UK. Baggot played lead guitar, Cash played rhythm guitar and Freeman played drums. They added Megan Davies, from Sheffield, on bass in early 1961. Davies recalls "My first guitar was as low as one can go i.e. a plastic, four string 'Skiffle' guitar from Woollies which I received on my 11th birthday. It came with a gadget which could be hooked over the neck and covered the first four frets, it was held on with a heavy duty elastic band. The device sported four buttons, which when depressed would hold down the individual notes of a complete chord."
Megan Davies adds, "The Scouting movement was a big feature of my upbringing. Dad was a Scout Master and mum, a Guide Captain. At the age of fifteen, I moved from Girl Guides to assist with Wolf Cubs and in 1960, the 1st Olton Scout Group were preparing a Gang Show and when asked "Can anyone play an instrument?" a few of us took up the challenge. Martin Baggott, Phil Cash and I possessed guitars and Gerry Freeman was the obvious choice as the drummer because he was the lead drummer in the Scout band. We all got together to perform a couple of skiffle numbers, "Hang Down Your Head, Tom Dooley" and "John Henry". Thus from a little wooden hut in Jubilee Park, Olton, Solihull emerged the "core" of The Applejacks. A local Youth Officer came to see one of the Gang Shows and asked us to play at a few Solihull venues."
Don Gould was added to the Crestas in December 1961, on organ. An instrumental band, they changed their name to the Jaguars when Birmingham lad, Al Jackson, joined the band in July 1962, adding vocals. Shortly after, they changed their name to the Applejacks. Megan Davies recalls "Martin was the first to buy a Stratocaster. The occasion was so memorable. He acquired the guitar on Thursday and was knocked off his bike on Friday. With a broken left arm, he was still determined to play for the All Saints' Hospital Social Club gig that evening. With his arm in a cast he winced his way through Apache, Kon Tiki, Frightened City – the lot. What a trooper!"
The Applejacks debut single was released in 1964 titled "Tell Me When".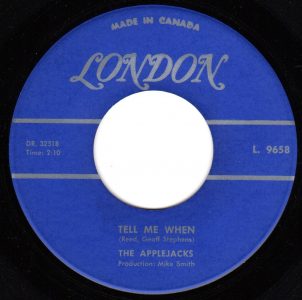 "Tell Me When" was co-written by Les Reed and Geoff Stephens. Leslie David Reed was born in Woking, Surrey, UK, in 1935. By his early teens he learned to play piano, accordion and vibraphone. He studied at the London College of Music. He later played clarinet and piano with the Royal East Kent Military Band. In 1959 he joined the John Barry Seven, a backing band for Marty Wilde and other performers. They appeared on stage frequently with Adam Faith. In 1962 Les Reed left the band. He wrote/co-wrote "It's Not Unusual", "Delilah" and "Daughter Of Darkness" for Tom Jones, "Here It Comes Again" for The Fortunes, "There's A Kind Of Hush" for Herman's Hermits (with Geoff Stephens), "The Last Waltz", "Les Bicyclettes de Belsize" and "Winter World Of Love" for Engelbert Humperdinck, and "Kiss Me Goodbye" for Petula Clark.
Geoffrey "Geoff" Stephens was born in 1934 in North London, UK. After graduating from school he began his career in amateur theatricals. The BBC accepted several of his comedy sketches for their Monday Night at Home program. The same year he co-wrote "Tell Me When" for the Applejacks, Stephens helped "discover" Donovan, producing his first hit single "Catch The Wind". He also wrote "Crying Game", a song that was a #5 UK hit in 1964 for Dave Barry. It was later covered by Brenda Lee in 1965 and Boy George in 1992. In 1966 Geoff Stephens formed The New Vaudeville Band and recorded "Winchester Cathedral". The song, with vocals by John Carter (later of Kincade) climbed to #1 in the USA and on CKLG in Vancouver (BC) in November 1966. Stephens co-wrote "There's A Kind Of Hush" by Herman's Hermits, "Daddy Don't You Walk So Fast" for Wayne Newton in 1972 and "Doctor's Orders", a pioneering disco hit recorded by Carol Douglas in 1974. In the early 1980's Geoff Stephens co-wrote two musicals that appeared on London stages. In 2015 he helped produce the Don Black musical Bonnie & Clyde. More recently, Geoff Stephens has moved to New Zealand.
"Tell Me When" concerns someone holding out hope that the person they have fallen in love with is going to tell them they're ready to "be mine." The suitor promises they'll never fall in love again once they have the assurance they can be a couple.
The Applejacks "Tell Me When" climbed to #1 in San Antonio, #2 in Miami, #9 in Atlanta and #15 in Vancouver (BC).
The Applejacks second hit was a co-written by Paul McCartney and John Lennon titled "Like Dreamers Do". The Beatles had performed it in early 1962 at an unsuccessful audition with Decca Records. The Applejacks cover of the song peaked at #32 in Vancouver and #13 in San Antonio. Late in 1964 a third Applejacks single, "I'm Gonna Send My Love", made the Top 20 in Saint John, New Brunswick. In 1965 they had a Top 30 hit in the UK with "Bye Bye Girl" and charted in Australia with a cover of an old Chuck Berry tune titled "Too Much Monkey Business". And "Three Little Words (I Love You)" made it to #23 on the UK singles chart in October 1964.
Meanwhile, Gerry Freeman and Megan Davies were married in September 1964. Martin Baggot, Phil Cash, Don Gould and Al Jackson were groomsmen at the wedding.
After 1964 The Applejacks relied on local gigs to get an income after failing to get another Top Ten hit. In 1966 they began to perform on the Cunard Line Ocean Liners RMS Queen Mary, RMS Queen Elizabeth and RMS Queen Elizabeth II. Megan Davies retired from the pop music world and became a nurse and hospital administrator for the National Health Service at the National Hospital for Neurology and Neurosurgery.
The Applejacks had been asked to reform several times over the years, but refused until the need to raise funds for a new roof for St Mary's came about. They performed this rare reunion concert in December 2010. The setting was in a church where they once did rehearsals in the '60's.
August 10, 2019
Ray McGinnis
References:
Tony Sheppard, "The Applejacks Reunion Concert DVD," splinters-the-novel.com, December 31, 2010.
Megan Davies, "Megan Davies: My Guitars… for the Love of Freda," Brumbeat.net, 2007.
"C-FUNTASTIC FIFTY," CFUN 1410 AM, Vancouver, BC, June 6, 1964.
For more song reviews visit the Countdown.