#833: Tell Me What He Said by Helen Shapiro
Peak Month: May 1962
8 weeks on CFUN chart
Peak Position ~ #8
Peak Position on Billboard Hot 100 ~ did not chart
CFUN Twin Pick April 11, 1962
YouTube.com link: "Tell Me What He Said"
Lyrics: "Tell Me What He Said"
In 1946 Helen Kate Shapiro was born in East End, London. She is the granddaughter of Russian Jewish immigrants and her parents, who were piece-workers in the garment industry, attended Lea Bridge Road Synagogue. Although too poor to own a record player, Shapiro's parents encouraged music in their home. Helen had to borrow a neighbor's record player to hear her first hit single. Shapiro played banjolele as a child and sang occasionally with her brother, Ron, in his youth club skiffle group. Helen had a deep timbre to her voice, atypical in a girl who was still a child. Her elementary school friends gave her the nickname "Foghorn." When she turned ten years old, Helen Shapiro became a member of Susie and the Hula Hoops, with her cousin, 60's pop singer, Susan Singer. Shapiro also participated in a school band which included Marc Bolan (then using his real name of Mark Feld, and later founder of glam rock group T. Rex) as guitarist.

When she turned thirteen, Shapiro took singing lessons at The Maurice Burman School of Modern Pop Singing, based in London's Baker Street. The school had earlier produced a young singing star in the 1950's named Alma Cogan, who covered traditional pop hits by Teresa Brewer, Jo Stafford, Kitty Kalen, Rosemary Clooney, Patti Page and others. "I had always wanted to be a singer. I had no desire to slavishly follow Alma's style, but chose the school merely because of Alma's success," Shapiro said in a 1962 interview in the Sunderland Echo. Burman's connections eventually led Helen Shapiro to a young Columbia Records A&R man named John Schroeder. While still age fourteen in February, 1961, Helen Shapiro released "Don't Treat Me Like A Child", which became a #3 single on the UK singles chart. This debut was followed up with two #1 hits on the UK singles chart, "You Don't Know" and "Walking Back to Happiness". Her first four single releases made the top three of the UK Singles Chart.
She had a #2 hit in the UK in 1962 with "Tell Me What He Said".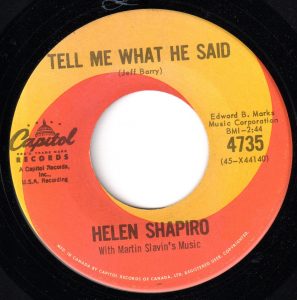 "Tell Me What He Said" concerns feelings of loss and regret after a break-up with a boyfriend. The boyfriend is going to a party on a Friday night. So she tells her friend if she sees him at the party to let him know how much his ex-girlfriend "still cares," "how much she's cried," "still loves him," is "beggin' on her knees," has "never been so blue," that she'll "wait" for him, and is sure that whatever the "trouble might be" they can "talk it over." With this list of things for the friend to tell her ex-boyfriend, she is instructed to "tell me what he said" in response. As the song ends we never learn what he said, leaving radio listeners in anticipation.
It is possible to get back together with someone you've broken up with. However, in most cases, the reason you broke up remains an obstacle to sort out. If any meaningful progress is to be made, the two former lovebirds need to hash through what led to their breakup. Otherwise, they'll just knock their heads against that wall again. Sometimes, one person decides the presenting difficulty isn't such a big deal anymore. Shifting perspectives and a reassessment of what really matters can aid the possibility of having a fresh start. In the case of "Tell Me What He Said", she is confident that "no matter what the trouble may be, we can talk it over." But it seems, he's moved on. He isn't one to let the grass grow under his feet and he's "going with another now." In most cases, when people have not only broken up, but are now dating someone else, trying to woo an ex-boyfriend (or ex-girlfriend) back is fleeting. After all, the ex is presently involved in giving their time and attention to someone else their in a new relationship with.
"Tell Me What He Said" was written by Jeff Berry. He was a collaborator with Ellie Greenwich on many hit singles in the 1960's. These include "Tell Laura I Love Her", "Da Doo Ron Ron", "Then He Kissed Me", "Hanky Panky", "Do-Wah-Diddy", "Chapel Of Love" and "Leader Of The Pack". Barry also collaborated with Andy Kim to compose "Sugar Sugar". He later co-wrote "I Honestly Love You" for Olivia Newton-John. He wrote "Tell Me What He Said" In 1960, and it was recorded as a B-side for Ginny Arnell. The Playmates tried to have a hit with the song in 1961 when they recorded "Tell Me What She Said".
In 1962, Helen Shapiro appeared as herself in the teen rock 'n roll movie, Play It Cool, featuring Billy Fury and Bobby Vee who perform in nightclub after nightclub. Shapiro also appeared in the UK film, It's Trad, Dad! along with John Leyton, Gene Vincent, Craig Douglas, Chris Barber's Jazz Band, Kenny Ball and his Jazzmen and Mr. Acker Bilk and His Paramount Jazz Band. The pop music comedy was released under a different name in North America as Ring-A-Ding Rhythm which co-starred Chubby Checker, Gene McDaniels, Gary U.S. Bonds and The Paris Sisters.
Before she was sixteen years old, Shapiro had been voted Britain's Top Female Singer. The Beatles first national tour of Britain, in the late winter/early spring of 1963, was as her supporting act. Though she barely made the Top 40 in the UK in 1963, Helen had a #1 hit in Australia titled "No Trespassing". By 1964 Helen Shapiro had her tenth and final Top 40 hit in the UK. Her career as a pop singer was on the wane. Her bee-hive and vocal sound seemed dated faced with a stable of new female pop stars making the charts like Dusty Springfield, Jackie Trent, Sandie Shaw, Cilla Black and Lulu. Shapiro continued touring until 1972.
To celebrate Queen Elizabeth II's Silver Jubilee, on December 31, 1976, Shapiro performed "Walkin' Back To Happiness" on A Jubilee Of Music on BBC1. In 1977 she played was cast in the role of Nancy in a West London production of the musical Oliver! In all, Helen Shapiro released 35 singles between 1961 and 1989, the final one being a new recording of "Walking Back To Happiness". Her autobiography, titled Walking Back To Happiness, was published in 1993. In her personal life, Shapiro converted from Judaism to Christianity in 1987, as reported in Haaretz.
April 18, 2018
Ray McGinnis
References:
Helen Shapiro, Electric Earl.com
It's Trad, Dad!, Amicus Productions, Surrey, England, 1962.
David B. Green, This Day In Jewish History: Helen Shapiro is Born, Haaretz, September 28, 2012.
Helen Shapiro Biography, Jew Age.com.
"C-FUNTASTIC FIFTY," CFUN 1410 AM, Vancouver, BC, May 19, 1962.
For more song reviews visit the Countdown.