#1080: Tell Someone You Love Them by Dino, Desi and Billy
Peak Month: September 1967
6 weeks on CKLG chart
Peak Position #9
1 week Hitbound
Peak Position on Billboard Hot 100 ~ #92
YouTube.com: "Tell Someone You Love Them"
Lyrics: "Tell Someone You Love Them"
Desiderio Alberto Arnaz IV is the son of Des Arnaz and Lucille Ball. His birth in 1953 was one of the most publicized in television history. His parents were the stars of the television sitcom I Love Lucy, and Ball's pregnancy was part of the storyline, which was considered daring then. The same day Lucy gave birth to Desi Jr., the fictional Lucy Ricardo gave birth to "Little Ricky." As a testament to how interested the American public was in Lucy's TV baby, Arnaz appeared on the cover on the very first issue of TV Guide with a title that read: "Lucy's $50,000,000 baby." The reason he was given this title was because revenue from certain tie-in commitments were expected to top that mark. In 1964 Desi became the drummer for the pop trio Dino, Desi and Billy. "Dino" was Dean Paul Martin, the son of pop singer Dean Martin "Billy" was Billy Hinsche, brother-in-law of Brian Wilson of the Beach Boys.
Hinsche was born in Manila, the Philippines, where his father, Otto "Doc" Hinsche, owned a casino. After World War II, the family moved to America, making Beverly Hills their home. Billy Hinsche attended Beverly Hills Catholic High School, where he met Desi Arnaz, Jr. and Dean Paul Martin.
Due to the family connections of Dino and Desi, the band's first audition was for Dean Martin and Desi Arnaz's friend, Frank Sinatra. Sinatra owned Reprise Records, the recording label for Dean Martin ("Everybody Loves Somebody") The Electric Prunes ("I Had Too Much To Dream"), Nancy Sinatra ("These Boots Are Made For Walking") and Tiny Tim ("Tiptoe Through The Tulips"). On most of their records, Dino, Desi & Billy didn't play their own instruments. Instead the recordings featured the cream of the crop of session players in the Los Angeles area, as well as producers and songwriters. Producers included Lee Hazelwood, Billy Strange and Jimmy Bowen, the latter who had been a pop singer in his late teens and early twenties, scoring a Top 20 hit in 1957 called "I'm Sticking With You."
In 1965 Dino, Desi and Billy toured as an opening act for the Beach Boys. The group also opened for Paul Revere & the Raiders, Tommy Roe, Sam the Sham & the Pharoahs, the Lovin' Spoonful and The Mamas & The Papas. They had a #17 hit called "I'm A Fool" on the Billboard Hot 100. But the song was not a hit in Vancouver. Their other Top 40 hit in the USA was "Not The Loving Kind" that climbed to #25 in October '65. But the tune also got little notice in Vancouver. The trio waited until September 1967 to crack the Top Ten on CKLG with "Tell Someone You Love Them", peaking at #9. Interestingly, the song only cracked the Billboard Hot 100 in August 1968, eleven months later, peaking at #92.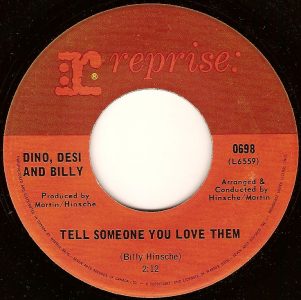 "Tell Someone You Love Them" was written by Billy Hinsche. It was a rare exception to the typical arrangement where other songwriters wrote the trio's songs. Billy's song addresses the strategy of some people who are unhappy. He counsels that hiding away and being shy is no way to meet people. Feeling blue and sitting at home by yourself only compounds the loneliness. It only keeps the person feeling blue off the radar of others who they might end up getting along with them as friends or romantic partners.
In his book, Shrinking Violets: The Secret Life of Shyness, Joe Moran notes that many famous and productive people have lived with shyness. English mathematician and scientist, Alan Turing, played a pivotal role in cracking intercepted coded messages that enabled the Allies to defeat the Nazis in many crucial engagements, including the Battle of the Atlantic, and in so doing helped win World War II. Moran notes that Turing was bashful as often as he was brash. Mystery novelist Agatha Christie was extremely shy in person, yet she was able to be tenacious and daring on the page. French President Charles de Gaulle was painfully shy when he was not exercising leadership, This is true also of the new wave electro-pop musician Morrissey when he was not on stage.
For some of us, timidity will be only an occasional visitor. Moran argues that a shy person experiencing shyness will have practically no say in the matter of feeling shy in the moment. The shy are frequently thoughtful and occasionally brilliant. They are often sensitive to the needs, and the gaze, of others. The problem is that they live in a world that, despite the commonality of shyness, has extremely little patience for it. Shyness, so emotionally adjacent to shame, is often also regarded as a cause for it. Shyness becomes even more difficult in a culture like that of America where extroversion and self-confidence is so deeply valued. Most extroverted people take for granted that social skills are external evidence of one's internal self-regard. For many extroverts shyness is regarded with suspicion. Yet, it seems that some shy people end up doing brilliant and remarkable things while they are taking time on their own as witnessed in the lives of Agatha Christie, Charles de Gaulle and Alan Turing.
Nonetheless, it helps if a shy person recognizes their lure to shy away from others. If they are unhappy and feeling blue and want to develop a romantic attachment, allowing themselves to be in public places, going to a dinner party or other social outing can be a catalyst for finding someone to care for who cares about them. It helps to confide in a close friend about the challenges shyness creates. For the shy person, it may be important to give oneself permission to leave the party early if things just seem too uncomfortable. Even the shy fall in love, even if they don't stop being habitually shy throughout most of their lives. After all, Agatha Christie was married from 1914 to 1928 and then more happily a second time from 1930 to 1976.
"Tell Someone You Love Them" was the final single to appear on the Billboard charts and the last time Dino, Desi and Billy charted in Vancouver. The song was the thirteenth of sixteen single releases between 1964 and 1970. The trio disbanded in 1969. Their final single, "Lady Love" was released in 1970. It was co-written by Billy Hinsche and the Beach Boys Brian Wilson.
In the late 1960s, Hinsche worked as a session musician for The Beach Boys and toured extensively with the band. His sister, Annie Hinsche-Wilson-Karges, was married to the group's guitarist, Carl Wilson. Hinsche graduated from UCLA in 1974 with a Bachelor of Fine Arts Degree in Motion Pictures & Television.
Billy Hinsche has provided backing vocals on recordings for Elton John's "Don't Let The Sun Go Down On Me", Joan Jett's "Good Music" and others. Hinsche has been a session musician on a dozen Beach Boys albums released between 1972 and 1996. Hinschle has also toured with the Beach Boys for many years. A film, On The Road With The Beach Boys
Dino Martin shed his nickname after the group broke up and went by his given name of Dean Paul. Perhaps the popular association of his nickname with a pet dinosaur on the cartoon, The Flintstones, was a factor. He became a successful tennis player (he competed in a junior competition at Wimbledon) and an actor. He co-starred with Ali MacGraw in the 1979 film Players, starring as a professional tennis player, for which he was nominated for a Golden Globe Award as Best New Star of the Year—Male. He later starred in the TV series Misfits of Science which aired during the 1985-1986 television season. His final film appearance came in Backfire, co-starring Karen Allen and Keith Carradine, released in 1988 after Martin's death. Martin, an avid pilot, obtained his pilot's license at age 16 and became an officer in the California Air National Guard in 1981. He rose to the rank of captain. He died in 1987 when his Air National Guard F-4 Phantom jet fighter departed March Air Force Base and crashed in California's San Bernardino Mountains during a snowstorm, killing him and his Weapons Systems Officer, Captain Ramon Ortiz.
In 1968, he and his sister Lucie played opposite their mother in Here's Lucy as her children. In 1970, Arnaz appeared on The Brady Bunch episode "The Possible Dream." In 1974 he played the title role in the Western movie, Billy Two Hats, with Gregory Peck. In a 1976 episode of Saturday Night Live hosted by both Desi Arnaz and Desi Arnaz Jr., the younger Arnaz played Ricky Ricardo and Gilda Radner played Lucy in spoofs of supposed ill-fated pilots for I Love Lucy. In 1977, he was the lead in the film Joyride. Arnaz's acting extended into the 1980s with TV productions and a leading role in Automan. He played his father in the 1992 movie The Mambo Kings, based on a Pulitzer Prize novel that treated his father with respect. The film includes a scene in which Desi Jr., playing his father's character Ricky Ricardo, acts opposite his mother as Lucy Ricardo with film from the TV series intercut with the cast. From about 2002 to 2007, he was vice-president of the board of Directors of the Lucille Ball–Desi Arnaz Center in Jamestown, New York.
Between 1998 and 2010, Arnaz Jr. and Billy Hinsche toured in a new configuration of Dino, Desi & Billy called Ricci, Desi & Billy. The third member of the reconfigured trio was Ricci Martin, the youngest son of Dean Martin.
May 30, 2017
Ray McGinnis
References:
Ricci, Desi & Billy, Billy Hinschle.com
Joe Moran, Shrinking Violets: The Secret Life of Shyness, Yale University Press, Princeton, NJ, 2018.
Michael Logan, TV Guide Magazine's 60th Anniversary: How Desi Arnaz Jr. Became Our First Cover Star, TV Guide, April 3, 2013
Peter Sblendorio, Ricci Martin, son of Dean Martin, dead at 62, NY Daily News, August 7, 2016
Ted Kotcheff, Billy Two Hats, United Artists, 1974
Arne Glimcher, Mambo Kings, Warner Bros., 1992
Anthony Harvey, Players, Paramount Pictures, 1979
Billy Hinschle/Beach Boyds: Big Noise's Al Gomes and A. Michelle Produced the East Coast Premiere of Billy Hinschle's film '1974 – On the Road with The Beach Boys.'Big Noise.com.
Joseph Ruben, Joyride, American International Pictures, 1977.
"Boss 30," CKLG 730 AM, Vancouver, BC, August 30, 1968.
For more song reviews visit the Countdown.