#651: Tempted by Squeeze
Peak Month: August 1981
11 weeks on CFUN's Vancouver Chart
Peak Position ~ #7
Peak Position on Billboard Hot 100 ~ #49
YouTube: "Tempted"
Lyrics: "Tempted"
Squeeze was a new wave-synth pop band from the UK. Christopher Henry Difford was born in South East London in 1954. Glenn Martin Tilbrook was born in London in 1957. Julian Miles "Jools" Holland was born in South East London in 1958. The trio formed Squeeze in 1974 in London. After a year Squeeze settled on Gilson Lavis as the bands drummer. David Leslie Gilson Lavis was born in 1951 and Bedford, England. Before he joined Squeeze in 1975 he toured with Chuck Berry, Jerry Lee Lewis, Skeeter Davis and Dolly Parton. In 1978 Squeeze released their debut self-titled album which included their UK Top 20 hit "Take Me I'm Yours".
In the UK Squeeze met with critical acclaim for their second studio album, Cool For Cats. The title track climbed to #2 on the UK singles chart, and was equalled by the followup single "Up the Junction". Both singles also made the Top Ten in Ireland, and "Cool For Cats" peaked at #5 in Australia.
At the beginning of 1980 John Bentley joined Squeeze on bass guitar. Bentley was born in the Yorkshire town of Kingston upon Hull in 1951. The band released Argybargy in February. In August 1980 Squeeze had it's first appearance on Top 40 radio in Vancouver (BC) with "Another Nail In My Heart" from their album Argybargy. The song stalled at #20 on the GKLG Top 20, though it climbed to #7 in Hamilton (ON) and #17 on the UK singles chart.
In 1981 Jools Holland left Squeeze to pursue a solo career. He was replaced by Paul Carrack on keyboard. Paul Melvyn Carrack was born in 1951 in Sheffield, England. In his youth he saw concerts headlined by The Beatles, Roy Orbison, Chuck Berry, Bob Dylan and the Rolling Stones. He left school at age 15. Carrack was the lead singer with Ace, a band remembered for their mid-70s hit "How Long". After Ace split up in 1977, Paul Carrack worked as a session musician for Roxy Music on three of their albums, including Avalon in 1982. In 1980 he had released a solo album, but it met with little commercial success. Carrack was approached by Glenn Tilbrook to join Squeeze.
In 1981 Paul Carrack was given the nod as lead vocalist for the single "Tempted" from Squeeze's fourth studio album East Side Story.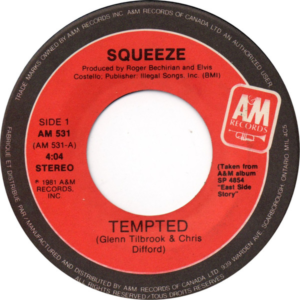 "Tempted" is a song about an affair that leads to the breakup of a relationship. The song was cowritten by Tilbrook and Difford. The one partner gets tempted and seduced. He feels like "a foot without a sock", reflecting he was "alarmed by the seduction, I wish that it would stop." But, of course, he doesn't stop the seduction. The temptation is too strong. After the seduction, he buys a toothbrush and some toothpaste to brush away the taste of the temptresses mouth on his. He also buys "a flannel for my face," in North American parlance – a washcloth to wash his face of any telltale signs like lipstick. In a vain hope of salvaging his relationship after the affair, he buys his partner "a novel, some perfume, a fortune all for you." Perhaps material things will make up for the betrayal. But, it's no use. The singer reveals "the truth is discovered." We soon learn he is now on his own, even as he pleads "there's no other." He is now left to ask to no one but himself "What's been going on now that you have gone?"
"Tempted" peaked at #6 in Kansas City (MO), #7 in Vancouver (BC), #11 in Regina (SK) and #17 in Toronto.
A second single from East Side Story, "Labelled With Love", became a Top Ten hit in the UK and Ireland. But it failed to chart in North America.
Squeeze split up in 1982, and Difford and Tilbrook released an album as a duo in 1984. In the following years Paul Carrack was a session musician for a number of Nick Lowe's albums, "Thin Line Between Love And Hate" by the Pretenders, The Smiths self-titled debut album, the Dream Academy, Paul Young, Elton John, Simply Red, Eric Clapton and Ringo Starr and his All-Starr Band. In 1985 Paul Carrack joined Mike & The Mechanics and was the lead vocalist for their hit singles "Silent Running (On Dangerous Ground)" and "The Living Years". He left Mike & The Mechanics in 2004.
Squeeze reformed in 1985 with Tilbrook, Difford and Lavis as original members, and some new bandmates. They had one notable hit single in North America titled "Hourglass" in 1987, which peaked on the Billboard Hot 100 at #15 and climbed to #18 in Vancouver (BC).
Though John Bentley didn't join Squeeze in its second iteration, he joined the band in 2007. Bentley released a solo album in 2014. His band the Buzniks released an album in 2018. Gilson Lavis has collaborated with Jules Holland, and also paints portraits. Gilson Lavis has played on stage with Stevie Winwood, Dusty Springfield and others.
Squeeze went on hiatus in 1999 and reformed for a third time in 2007. In 2017 Squeeze released their 15th album. Squeeze performed at the Commodore Ballroom in Vancouver (BC) on October 3, 2016. A concert in Vancouver (BC) on June 4, 2020, at the Center For Performing Arts was postponed indefinitely due to the pandemic.
September 9, 2020
Ray McGinnis
References:
"Andy Burrows Interviews Glenn Tilbrook," Clash Magazine, London, UK, March 8, 2010.
Damian Fanelli, "Glenn Tilbrook of Squeeze Talks Gear, Guitar Solos and Future Plans," Guitar World, May 8, 2012.
Laura B. Whitmore, "Exclusive Interview: Squeeze Celebrates 45 Years With a U.S. Tour of Hits and Deep Cuts and We're Here for It," Parade, September 3, 2019.
Chris Difford, "So How Did the Chart-topping Lyrical Genius Behind Cool For Cats Chris Difford Find Himself as Gofer and Chauffeur to Roxy Music's Bryan Ferry? With Hilarious Honesty, Squeeze's Frontman Reveals How his Pop Career went well and truly Up The Junction!," Daily Mail, August 19, 2017.
Paul Du Noyer, "Gilson Lavis of Squeeze Interview," MOJO, January 1996.
Jay Lustig, "With New Band, Former Squeeze Rocker Amplifies Old Sound," NJ.com, March 31, 2009.
"Gary James Interview with Paul Carrack of Ace," ClassicBands.com.
"CFUN Top 30," CFUN 1410 AM, Vancouver, BC, August 29, 1981.
For more song reviews visit the Countdown.