#931: Ten Little Indians by The Yardbirds
Peak Month: November 1967
6 weeks on Vancouver's CKLG chart
1 week Hitbound on CKLG
Peak Position #7
Peak Position on Billboard Hot 100 ~ #96
YouTube.com: "Ten Little Indians"
"Ten Little Indians" lyrics
The Yardbirds are an English rock band that had a string of hits in the mid-1960s, including "For Your Love," "Shapes Of Things" and "Heart Full Of Soul." The group is notable for having started the careers of three of rock's most famous guitarists: Eric Clapton, Jeff Beck, and Jimmy Page. During their brief five years, from 1963 to 1968, they set the pace for a lot of the innovations to come in rock 'n roll into the 1970's. The Yardbirds experimental explorations also provided the crucial link between British R&B, Psychedelic Rock, and Heavy Metal, while pioneering the use of innovations like fuzz tone, feedback and distortion. With this fusion, and harmonica riffs, they inspired the musical styles of contemporary American bands like The Count Five who had a #1 hit in Vancouver in 1966 called "Psychotic Reaction." When Jimmy Page left The Yardbirds to form the New Yardbirds, that band was quickly renamed Led Zeppelin.
The Yardbirds were formed by drummer and backing vocalist, Jim McCarty (1963–1968, 1982–1983, 1992–present), lead vocalist, harmonica an rhythm guitar player Keith Relf (1963–1968), rhythm guitar and bass player Chris Dreja (1963–1966, 1982–1983, 1992–2013), bass player and backing vocalist Paul Samwell-Smith (1963–1966, 1983) and lead guitarist and backing vocalist Eric Clapton (1963–1965). Clapton had replaced the short-lived involvement of Anthony "Top" Topham back in 1963. In 1965 Jeff Beck was an addition playing lead guitar, rhythm guitar and backing vocals (1965–1966) after Eric Clapton left the band. While on an American tour in 1966, Beck was fired as he kept failing to appear in concert. Consequently, Jimmy Page, who had recommended Beck to replace Eric Clapton, ended up replacing Jeff Beck. Page contributed lead guitar and bass (1966–1968).
Jim McCarty was born in Liverpool in 1943 and moved to London with his family at the age of two. He met Paul Samwell-Smith at school. Samwell-Smith, born in Greater London in 1943, was part of a band called the Metropolitan Blues Quartet with Keith Relf. Also born in London in 1943, Keith Relf wrote numbers of the Yardbirds most successful hits including "Shapes Of Things" and "Over, Under, Sideways, Down." He also wrote "Dazed And Confused," a song that was later recorded by Led Zeppelin. Eric Clapton was born in the village of Ripley in the county of Surrey in 1945. Clapton began to learn the guitar at the age of 13. Four years later he joined the Roosters, a British R&B group. While Clapton joined the Yardbirds, hoping they would be a serious blues band, when they released "For Your Love" as a pop single in 1965, he left the band.
Jeff Beck was born in Greater London in 1944. He sang in a church choir at the age of ten and began to play guitar when he was 13 years old. From the age of six he was influenced by Les Paul, the lead guitarist in Gene Vincent's band, Cliff Gallup, and the blues sensation B.B. King. Beck was part of two R&B British bands in '63-64 named Nightshift and The Tridents. Jimmy Page was born in 1944 in the village of Huston, on the edge of Greater London. He was influenced by B.B. King, Elmore James and Otis Rush. At the age of 13 Page appeared in 1957 on a children's talent show called All Your Own. Page's first session work was as a rhythm guitarist on an instrumental single titled "Diamonds" by Jet Harris and Tony Meehan. The single climbed to #1 on the UK pop chart in January 1963 and spent three weeks in the top spot. Page continued to do session work as a guitarist on "I Can't Explain" for The Who, "Tobacco Road" for the Nashville Teens, "Here Comes The Night" for Van Morrison and Them, "Downtown" for Petula Clark, "Heart Of Stone" for the Rolling Stones and others.
"Happenings Ten Years Time Ago" was the first single by the British rock band The Yardbirds to feature Jimmy Page on guitar. "Happenings Ten Years Time Ago" was also the first of three recordings pairing Page with incumbent lead guitarist Jeff Beck, before the latter was fired for no-shows while on tour in the USA. In addition to Jeff Beck and Jimmy Page in the recording studio for the song, future Led Zeppelin bassist John Paul Jones played on bass for the recording instead of regular Yardbirds bandmate Chris Dreja. The song was recorded in July and completed in September 1966. It was a #6 hit in Vancouver in December 1966.
Beck and Page also were in the recording studio for "Stroll On." That tune was included in the film Blow Up and received a lot of air play on AM radio in Vancouver over the winter of 1966-67, though the non-single track from the film which wasn't released as a single didn't chart. The Yardbirds also appeared in the film Blow Up, which they shot between dates on their 1966 UK tour with the Rolling Stones, Ike & Tina Turner and Long John Baldry. In the fall of 1966 The Yardbirds flew to America to appear at the Filmore West in San Francisco, an episode of American Bandstand and go on tour with the Dick Clark's Caravan of Stars.
On July 31, 1967, the Yardbirds appeared in concert in Vancouver (BC) at the Kerrisdale Arena.
Harry Nilsson's "Ten Little Indians" was recorded by The Yardbirds. It only reached #96 on the Billboard Hot 100. It did not chart in the UK. But it peaked at #7 in Vancouver. Yardbirds band members Chris Dreja and Jim McCarty do not appear on this track. Yardbirds guitarist and producer Jimmy Page invented the audio effect known as reverse echo while recording "Ten Little Indians."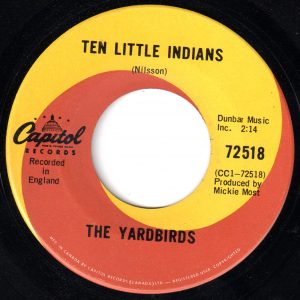 "Ten Little Indians" is a song by Harry Nilsson released on his 1967 album Pandemonium Shadow Show. Written in the style of a nursery rhyme, this song is about the Ten Commandments, found in the Hebrew scriptures in The Bible.
In the Book of Exodus 20:1-17, The Tenth Commandment states "You shall not covet your neighbor's wife, and Seventh Commandment is "You shall not commit adultery." The first couplet in "Ten Little Indians" narrates a story beginning with this commandment being broken.
Ten little Indians standing in a line.
One stood looking at another man's wife, then there were nine.
The Tenth commandment also includes these words, "You shall not covet your neighbor's male or female servants, ox, donkey, or anything that is your neighbor's." The second couplet in the song breaks this commandment as well:
Nine little Indians, their hearts were full of hate.
One took his neighbors goods, then there were eight.
In the third couplet it is the instruction of the Ninth commandment: "You shall not bear false witness against your neighbor:"
Eight little Indians, they just got down from heaven.
One told a lie about another's best friend, then there were seven.
In the fourth, this couplet relates how the Sixth Commandment's edict: "You shall not murder," has been broken:
Seven little Indians all trying to stay alive.
One took another man's life, then there were five.
The sixth couplet breaks the Fifth Commandment: "You shall honor your mother and your father. " The singer relates ominously:
Five little Indians all trying to find the door.
One pulled his mother down, then there were four…
The seventh couplet relates to the fourth commandment: "Remember the Sabbath day, to keep it holy." A ritual way of keeping the Sabbath is to attend a worship service and one key aspect of worship is devotional prayer.
Four little indians, all thinking that they gotta be free,
one little indian forgot to say his prayers, then there were three.
The eighth couplet relates to the third commandment: "You shall not take the name of the Lord your God in vain…"
Three little indians deciding what they're gonna have to do,
one took the name of God in vain, then there were two.
The ninth couplet relates to the second commandment: "You shall not make for yourself a carved image, or any likeness of anything that is in heaven above, or that is in the earth beneath, or that is in the water under the earth."
Two little indians thinking that they oughtta have fun
One took a liking to a picture of himself, then there was one.
The tenth couplet relates to the first commandment: "You shall have no other gods before me." In this case the little indian has his mind not on God but on the sun:
One little indian out looking for the sun,
at six o'clock, the moon came out, then there was none.
The origins of "Ten Little Indians" goes back to 1864 with songwriter Septimus Winner who in 1855 had written the popular "Listen To The Mockingbird." In 1864 he wrote a song called "Der Dietchers Dog" that contained an opening verse that became a popular children's nursery rhyme:
Oh where, oh where has my little dog gone?
Oh where, oh where can he be?
With his ears cut short, and his tail cut long,
Oh where, oh where is he?
Septimus Winner's original lyrics for "Ten Little Indians," also written in 1864, were as follows:
Ten little Injuns standin' in a line,
One toddled home and then there were nine.
Nine little Injuns swingin' on a gate,
One tumbled off and then there were eight.
Eight little Injuns gayest under heav'n.
One went to sleep and then there were seven.
Seven little Injuns cuttin' up their tricks,
One broke his neck and then there were six.
Six little Injuns all alive,
One kicked the bucket and then there were five.
Five little Injuns on a cellar door,
One tumbled in and then there were four.
Four little Injuns up on a spree,
One got fuddled and then there were three.
Three little Injuns out on a canoe,
One tumbled overboard and then there were two
Two little Injuns foolin' with a gun,
One shot t'other and then there was one.
One little Injun livin' all alone,
He got married and then there were none.
At that time in America the American Indian Wars, a name for nearly a hundred separate "wars," were being waged west of the Mississippi (1811-1918). One of the commanding officers of the U.S. military, General Philip Sheridan, was heard to remark, "the only good Indian is a dead Indian." After the U.S. Civil War tens of thousands of American Indians were killed as railways were built and pioneers moved west.
The song, "Ten Little Indians," was adapted for a minstrel show in 1868 and titled "Ten Little Niggers" with white performers singing in blackface. A group from Buffalo, New York, called Christy's Minstrels, traveled to Europe performing the song which was popularized in minstrel shows across Europe. British novelist Agatha Christie first heard the tune in her youth and in 1939 published a novel in the UK titled Ten Little Niggers, but titled And Then There Were None in North America. The novel concerned ten people who come to a remote island. Each one dies according to the fates that are described in a version of Ten Little Indians found in the novel, until there were none left alive.
And Then There Were None contained this version of Ten Little Indians:
Ten little Indian boys went out to dine;
One choked his little self and then there were nine.
Nine little Indian boys sat up very late;
One overslept himself and then there were eight.
Eight little Indian boys travelling in Devon;
One said he'd stay there and then there were seven.
Seven little Indian boys chopping up sticks;
One chopped himself in halves and then there were six.
Six little Indian boys playing with a hive;
A bumblebee stung one of them and then there were five.
Five little Indian boys going in for law;
One got in Chancery and then there were four.
Four little Indian boys going out to sea;
A red herring swallowed one and then there were three.
Three little Indian boys walking in the zoo;
A big bear hugged one and then there were two.
Two little Indian boys sitting in the sun;
One got all frizzled up and then there was one.
One little Indian boy left all alone;
He went and hanged himself and then there were none.
The plot fascinated readers and the novel became one of the biggest sellers of all time with over 100 million copies sold. The bandmates in The Yardbirds were all familiar with Agatha Christie's novel and were interested in Harry Nilsson's adaptation of the story to reflect explanations for the deaths of each one in the rhyming couplets as due to transgressing one of the Ten Commandments. Aside from Vancouver, the only other radio market where the song reached the Top Ten was San Bernardino, California. It also made it up to #13 in Kingston, Ontario. Otherwise, the song was a bust on the pop charts in North America.
The Yardbirds came back to Vancouver to perform at the PNE Garden Auditorium on November 10th and 11th, 1967.
The Yardbirds had one final tour to the USA in the spring of 1968 ending on June 5th. Then they split up. Jimmy Page went on to form Led Zeppelin. Jim McCarty and Keith Relf formed an acoustic group that lasted through 'til 1976 when Relf died from an electrical accident in his home recording studio. Chris Dreja mostly pursued a career as a photographer over the next decade. After he left The Yardbirds, Eric Clapton formed the rock band Cream. From there he formed Blind Faith, and then joined Delaney, Bonnie and Friends. Clapton next formed Derek & The Dominos. From these successes, Clapton went on have a successful solo career including the release of 22 studio albums. Jeff Beck went solo after The Yardbirds and to date has released 17 studio albums.
In the 1980s McCarty, Dreja and Samwell-Smith formed a short-lived but fun Yardbirds semi-reunion that included guest appearances of both Beck and Page. In 1992 McCarty and Dreja reformed The Yardbirds with some new musicians. At times Jeff Beck and Anthony "Top" Topham have played with the reformed band.
On February 22, 2009, the Yardbirds featuring Chris Dreja performed at Richards On Richards in Vancouver.
In 2017 The Yardbirds played three concerts with Vanilla Fudge around Florida. And they've played another 14 concerts across Washington State, California, Connecticut, Nevada, New York City, New Jersey and Tennessee as recently as July 9th.
December 18, 2017
Ray McGinnis
References:
Rodney Aist, Agatha Christie and the Ten Little Indians, Culture Quarks, Milano, Italy, February 27, 2013.
Michelangelo Antonioni, Blow Up, MGM, 1966 ~ Trailer
Wolfgang Meider, "The Only Good Indian Is a Dead Indian": History and Meaning of a Proverbial Stereotype, The Journal of American Folklore, Vol. 106, No. 419 (Winter, 1993), pp. 38-60.
Sadie Steyn, "The History Behind Agatha Christie's "And Then There Were None"," The Paris Review, New York, February 5, 2016
List of The Ten Commandments ~ The Ten Commandments.org
Ten Little Indians by Nilsson ~ song facts.com
Septimus Winner biography ~ Songwriters Hall of Fame
The Yardbirds biography ~ rolling stone.com
The Yardbirds biography ~ theyardbirds.com
"Boss 30," CKLG 730 AM, Vancouver, BC, November 25, 1967.
For more song reviews visit the Countdown.