#2: Ten Pound Note by Steel River
City: Antigonish, NS
Radio Station: CJFX
Peak Month: September 1970
Peak Position in Antigonish ~ #2
Peak Position in Vancouver ~ #15
Peak Position on Billboard Hot 100 ~ did not chart
YouTube: "Ten Pound Note"
Lyrics: "Ten Pound Note"
Starting in 1965 as a part-time Toronto R&B club band called The Toronto Shotgun, Steel River became a full-time band in 1969. The lineup consisted of singer John Dudgeon, keyboardist Bob Forrester, bassist Rob Cockell, guitarist Tony Dunning, and drummers Ray Angrove and Dennis Watson. Greg Hambleton signed them to his then-label Tuesday Records. The band released an album titled Weighin' Heavy. The band released a single titled "Ten Pound Note".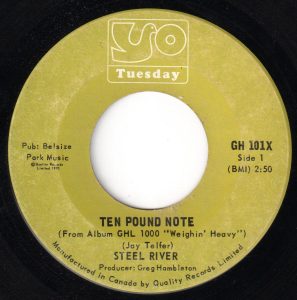 "Ten Pound Note" is a song written by Toronto's Jay Telfer who was in a band called A Passing Fancy. "Ten Pound Note" is a song about a line that has been crossed in a relationship. There have been words: "but laying in my head, I know what they said." The guy acknowledges "you look like a lady beaten by the world." However, the relationship is suffering as a result. Consequently, he makes a decision to leave the relationship. In the future he anticipates there will be times he'll smile when he thinks about her. And other times, he'll cry as he reflects on the tough decision to leave the relationship.
Ten pound notes were introduced by the Bank of England for the first time in 1759 as a consequence of gold shortages caused by the Seven Years' War. The earliest notes were handwritten, and were issued as needed to individuals. These notes were written on one side only and bore the name of the payee, the date, and the signature of the issuing cashier. Between 1797 and 1821, when the French Revolutionary Wars and the Napoleonic Wars caused a bullion shortage, ten pound notes could be exchanged in full, or in part, for an equivalent amount of gold when presented at the bank. If redeemed in part, the banknote would be signed to indicate the amount that had been redeemed. From 1853 printed notes replaced handwritten notes, with the declaration "I promise to pay the bearer on demand the sum of ten pounds" replacing the name of the payee. This declaration remains on Bank of England banknotes to this day. A printed signature of one of three cashiers appeared on the printed notes, though this was replaced by the signature of the Chief Cashier from 1870 onwards.
Like the signature solidity of a ten pound, historically, the woman the singer loved is "in my song." She has made her mark on him and that mark is solid as a ten pound note.
"Ten Pound Note" peaked at #1 in Lethbridge (AB), #2 in Antigonish, #4 in Chilliwack (BC), #12 in Hamilton (ON), #15 in Vancouver, and #17 in Regina (SK).
Their follow up single, "Walk By The River" made it into the Top 20 on CHWK in Chilliwack. In 1971, the band released a follow-up LP on Evolution Records titled A Better Road. A single, "Southbound Train", was released through Quality Records and included a toy train in the promotional package.
In 1971 the band released a follow-up LP. They continued touring internationally until they disbanded in 1974. The band members couldn't persuade Axe Records to release another album. This was a catalyst for Steel River deciding to split up in 1974.
Four out of five of the original members reunited briefly in 1980. They released a non-charting single titled "Armoured Car". Vocalist John Dudgeon went on to release a solo single record in 1983 called "Put My Arms Around You" which received extensive airplay on CKFM 99.9 and numerous other stations in Canada and U.S. In 2004, he joined Mojo Grande, a funk/blues band from Markham, Ontario.
July 22, 2023
Ray McGinnis
References:
Richard Green, Dennis Watson, Steel River bio, Canadian Bands.com
Steel River bio, Citizen Freak.com
Steel River On Tour 1971, Axe Records.ca, September 27, 2017
Steel River – Weighin' Heavy (1970 Canada, hard psych groovy rock, 2008 second harvest issue), Rockasteria.blogspot.com, December 18, 2012.


CJFX 580 AM, Antigonish, Nova Scotia, Top Ten week of September 27, 1970
"Ten Pound Note" drops from #2 to #4.
For more song reviews visit the Countdown.