#676: Terry by Leigh Bell and The Chimes
Peak Month: February 1960
8 weeks on CFUN's Vancouver Charts
Peak Position ~ #5
Peak Position on Billboard Hot 100 ~ did not chart
YouTube.com: "Terry"
Lyrics: "Terry"
Leigh Bell and the Chimes were a group from Toronto. Leigh Bell's actual name was Helen Baird. This is according to the CHUM Chart book. The Chimes consisted of Jim Clark, Myles Devine and Don Murray. Scotland born Clark and Devine were friends from the old country. They got reacquainted when they crossed paths later in Toronto. They met another high school classmate named Don Murray and formed a trio. In 1959, a local songwriter named Dick Taverner got in contact with the boys. He pitched two songs he'd co-written with Sidney Wright. After listening to the songs and they suggested they would be a better fit for a female lead singer.

Leigh Bell met Clark, Devine and Murray at a party. Soon afterward the Chimes became a quartet. Conway Twitty and his manager heard the Chimes singing "Terry" at a record hop. At once they put them in touch with Quality Records whose studio and offices were in Toronto. "Terry" was recorded after Leigh Bell left Oak Park Jr. High School.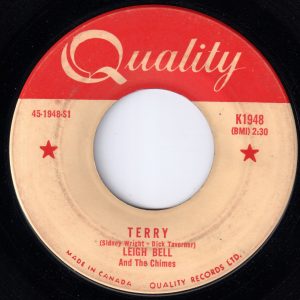 In Toronto, "Terry" began to climb the charts on November 30, 1959, on the CHUM's Hit Parade. The single reached #3 on the CHUM Hit Parade on January 4, 1960. The song debuted in mid-January on CFUN and peaked on the CFUN chart in Vancouver on February 6, 1960. "Terry" seems to be based on what Mark Sten called the minor sixth turnaround chord pattern. He sites "Angel Baby" by Rosie and the Originals as an example, and "Terry" sounds very similar. "Angel Baby" was a hit in December 1960 and January 1961. As "Terry" did not chart in the USA, it is unlikely though, that "Angel Baby" was inspired by exposure to Leigh Bell And The Chimes.
This doo-wop ballad is a straightforward appeal by a girl for Terry to love her back the way she loves him. She's determined to love him forever, endure hardships, and be faithful to him alone. When Terry is away she is sad. But when he returns her "signs of sadness are banished." It's unclear at the end of the song if "Terry" is going to return the love she imagines them sharing, forever.
In an article titled "10 Reasons You Should Never Make Him The Center of Your Life," Amy Horton cautions building our whole world around one person. Even the healthiest couples have disagreements. Sometimes these can be patched up. But for some couples an argument can sour the relationship. They never recover from the resulting friction and this leads to a break-up. If the person you are dating is your whole world, you'll have a lot of work to do once you're single again. Your world could crumble. When one person makes the other person the reason for feeling happy or sad it puts undo pressure on the partner to cheer them up. Other individuals need their partner to be near all the time. Most people need time apart, time to themselves. If your steady date is needing all your personal time, this should be a red flag. It's healthy to make your romantic partner a high priority. Still, being able to have a life independent of your partner will only enrich your own life (extended family, friends, career, hobbies etc.) and you will have more to bring to your relationship. Ideally, you can be happy doing things on your own and it is a bonus being with your partner.
When we first feel attracted to someone what we are more likely feeling is not love, but infatuation. The longing for someone new in your life can reveal either that you have a healthy sense of self, or that your self-worth is dependent on your romantic partner's approval.
"Terry" and the B-side, "Eternity", were the only songs that Dick Tavener and Sidney Wright ever got recorded by a performing act. 'Terry" also got airplay in Worcester, Massachusetts, in April 1960. It was also released in New Zealand and got some airplay, at least according to comments on several YouTube.com links for "Terry".
Leigh Bell & The Chimes were a one hit wonder. As of November 2018 there are nine YouTube.com posts for "Terry". On one of the comment threads for "Terry", someone named Pat Smith wrote "I went to school with her in East York, Ontario." What happened to Leigh Bell And The Chimes after their one hit in 1960 is for someone else to tell.
November 26, 2018
Ray McGinnis
References:
Leigh Bell & The Chimes, Doo Wop Blogg.com, March 21, 2014
Leigh Bell & The Chimes, White Doo Wop Collector, August 19, 2013.
Amy Horton, "10 Reasons You Should Never Make Him The Center of Your Life," bold.com.
"HI-FI 40," CFUN 1410 AM, Vancouver, BC, February 6, 1960.
For more song reviews visit the Countdown.