#28: That's The Way God Planned It by Billy Preston
City: Edmonton, AB
Radio Station: CHED
Peak Month: September 1969
Peak Position in Edmonton: #5
Peak position in Vancouver: #16
Peak Position on Billboard Hot 100: #62
YouTube: "That's The Way God Planned It"
Lyrics: "That's The Way God Planned It"
William Everett Preston was born in Houston, Texas, in 1946. He learned to play the organ by himself and was viewed as a child prodigy. In 1957, Billy Preston appeared on The Nat King Cole Show performing "Blueberry Hill" in a duet with Cole. In 1963, Preston played the organ as a musician in the studio for Sam Cooke's album Night Beat. That year he released his debut album titled 16 Yr. Old Soul. He was in the recording studio on keyboards for Little Richard in 1965 for "I Don't Know What You Got (But It's Got Me)". In 1967, Preston was again in the studio for Ray Charles recording of his Top 40 hit "In the Heat of the Night". Meanwhile, Billy Preston released four more studio albums between 1965 and 1967. The Most Exciting Organ Ever! and Wildest Organ in Town both cracked the Top Ten on the R&B album charts in the USA.
In 1969, Billy Preston was in the studio with the Beatles on their album, Let It Be. This included the single release "Get Back"/"Don't Let Me Down". While the Beatles single became a number-one hit in over two dozen nations, Billy Preston released "That's The Way God Planned It".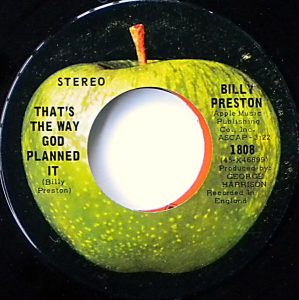 Billy Preston wrote "That's The Way God Planned It". Rooted in Biblical imagery, the song invites us to understand that "love is the way." Preston asks "Why can't we be humble like the good Lord say?" He laments greed, and those left out. The Book of Revelations 21:4 depicts a vision of a new heaven and a new earth: "And God shall wipe away all tears from their eyes; and there shall be no more death, neither sorrow, nor crying, neither shall there be any more pain: for the former things are passed away." In "That's The Way God Planned It", Preston evokes the Biblical writer, as he dreams of living in "perfect peace," and a world where "mourning, sobbing cease."
"That's The Way God Planned It" peaked at #3 in St. Thomas (ON), #5 in Edmonton (AB), Saint Charles (MO), and Memphis, #8 in Victoria (BC), and Arlington (VA), and #12 in Columbia (MO). Internationally, "That's The Way God Planned It", peaked at #11 in the UK, #12 in Ireland, #14 in the Netherlands and New Zealand, and #22 in Australia. The single stalled at #62 on the Billboard Hot 100 and #61 on the RPM Canadian singles chart.
Every once in awhile there are pop songs with references to the divine. In 1955 the McGuire Sisters had a hit single with "He". Back in 1958 Laurie London had a number-one hit with "He's Got The Whole World In His Hand". And Jackie DeShannon had a top Ten hit in 1965 with "What The World Needs Now Is Love". In 1969, Tommy James & the Shondells had hits with "Sweet Cherry Wine" and "Crystal Blue Persuasion", both referencing the holy. In 1971 Ocean had a hit with "Put Your Hand In The Hand". In 1990 Bette Midler had a Top Ten hit with "From A Distance". More cynically, Depeche Mode had a hit with "Personal Jesus" in 1990. In 1993-94 the Crash Test Dummies had a hit titled "God Shuffled His Feet" which peaked at #3 in Iceland and #7 in the Netherlands. And in 1995 Joan Osborne had a hit single with "One Of Us?". In 1995-96 George Michael had a number-one hit with "Jesus To A Child". In 2004 Pink had a #11 hit in the UK with "God Is A DJ". And in 2003 Josh Groban had a hit titled "You Raise Me Up".
In 1978, Preston appeared as Sgt. Pepper in the Sgt. Pepper's Lonely Hearts Club Band film, which was based on the Beatles' album of the same name, and sang and danced to "Get Back". In 1980, Billy Preston recorded a duet with Syretta titled "With You I'm Born Again", an international Top Ten hit.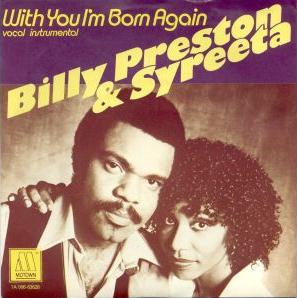 In 1981, Billy and Syreeta was Preston's last album.
But from the 1980s into the 2000s, Billy Preston was back in the recording studio working with other recording acts. He was on "Til My Baby Comes Home" by Luther Vandross (1985), and on albums recorded by George Harrison, the Rolling Stones, Little Richard, Eric Clapton, Joni Mitchell, Elton John, Johnny Cash, Ray Charles, Neil Diamond, the Red Hot Chili Peppers and others.
In the 1990s, Billy Preston made news headlines in a series of stories about arrests for cocaine possession, drunk driving, and sexually assaulting a 16-year-old boy and showing the minor pornographic material. In 1998, Preston was indicted in relation to a one-million-dollar insurance fraud scheme. He subsequently pleaded guilty to fraud in mid-December 1998. In 2006 Preston died at the age of 59 after a lengthy illness. He suffered from kidney disease, hypertension and heart issues.
November 15, 2023
Ray McGinnis
References:
"Billy Preston, Soul Musician, 59 is Dead; Renowned Keyboardist and Collaborator," New York Times, June 7, 2006.
Sam Jones, "Billy Preston, keyboard player with the Beatles, Dies at 59," Guardian, June 7, 2006.
Billy Preston and Nat "King" Cole, "The Nat King Cole Show," NBC, 1957.
Edward J. Boyer, "Singer Billy Preston Arrested in Sex Case," Los Angeles Times, August 19, 1991.
"Billy Preston Indicted in Alleged Insurance Scam," Los Angeles Times, November 10, 1998.