#207: That's What Love Can Do by Boy Krazy
Peak Month: March 1993
12 weeks on Vancouver's CKLG chart
Peak Position #1
Peak Position on Billboard Hot 100 ~ #18
YouTube: "That's What Love Can Do"
Lyrics: "That's What Love Can Do"
Johnna Lee Cummings was born in November 1971 in Philadelphia. She moved to New York City in 1989 at the age of 17. She became a dancer and a singer in the music scene in Manhattan from 1989 onward. Cummings became the lead singer of a girl group called Boy Krazy after she successfully auditioned in 1991. Boy Krazy was put together through auditions of hundreds of young women by a management company in New York. In addition to Cummings, Boy Krazy featured female singers Kimberly Blake, Josselyne Jones, Renée Veneziale, and Ruth Ann Roberts (born Ruthann DeBona in Glen Rock, NJ, in 1976). Roberts was a former Miss Junior America and was 15 when she successfully auditioned for the band. She had already been doing a lot of auditioning for commercials on TV.
Both Ruth Ann Roberts and Josselyne Jones had been on Star Search prior to auditioning for Boy Krazy. When Josselyne was four she decided she wanted to be a singer. A friend had auditioned for Boy Krazy who wasn't successful, but suggested Jones to the management company who was holding the auditions. Kimberly Blake had been involved on Broadway in a variety of productions as a singer and dancer before she was signed to Boy Krazy. When Boy Krazy did demos they were on cassette tapes, and their manager shopped them around until a record company signed them.
From that moment, Boy Krazy was flown to London, UK, and lived in a big house together. While they were living in London their debut single was recorded. Ruth Ann Roberts remembers being in the Stock, Aitken, & Waterman recording studios and seeing Jason Donovan, who was watching Boy Krazy record a music video for their debut single, "That's What Love Can Do". Shortly after the release of the single, Veneziale left the band.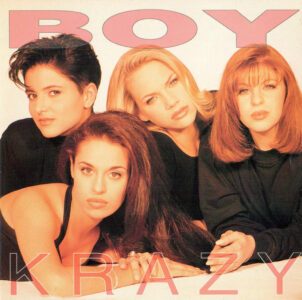 "That's What Love Can Do" is a song written by Mike Stock, Matt Aitken and Pete Waternam. It is a song about a woman who is breaking up with the man she is dating because he is seeing another woman on the side. The singer declares "Too young for this game, on the road to forever. We don't know the way." It was released in 1991, but stalled at #86 on the UK Singles pop chart.
"That's What Love Can Do" was cowritten by the songwriting trio of Mike Stock, Matt Aitken, and Pete Waterman. Matthew James Aitken was born in Coventry, England, in 1956. He learned to play guitar and teamed up initially with Mike Stock to write songs. Mike Stock was born in Margate, England, in 1951. By the age of seven he was writing songs, and had learned to play piano and guitar. By 1970 he was on track to make a living playing music. Around 1980 Stock met Aitken who had been playing on cruise ships. In 1984 Stock and Aitken met Pete Waterman and the trio produced "You Think You're A Man" by Divine, which became a Top Ten hit in Australia and Switzerland in 1984.
Pete Waterman was born in Coventry, England, in 1947. In 1962 he took work with British Railway, having left school at 15 years of age. He subsequently worked as a coal miner, and for General Electric. He started to work as a DJ in clubs at Coventry. And from there worked as an A&R man, introducing the Three Degrees to the UK. Stock, Aitken and Waterman went on to produce "Whatever I Do (Wherever I Go)" by Hazell Dean, a #4 hit in the UK in 1984. Their big breakthrough internationally was with Dead Or Alive's "You Spin Me Round (Like A Record)", a Top Ten hit internationally in a dozen nations, and #11 on the Billboard Hot 100. Then in 1986, Bananarama recorded a cover of the 1970 hit by Shocking Blue titled "Venus". The single went Top Ten in 18 nations, including number-one in Australia, Belgium, Canada, France, Italy, New Zealand, South Africa, Spain, Switzerland and the USA.
Later, Stock, Aitken & Waterman wrote and produced a #1 hit for Mel & Tim in 1987 titled "Respectable". They had much success with Rick Astley and his Top Ten hits, including "Never Gonna Give You Up", "Together Forever", "Take Me To Your Heart" and others. The trio had a number of hits for Kylie Minogue, including producing her cover of the 1962 Little Eva tune "The Loco-Motion". Another charting domino was Jason Donovan, who Stock, Aitken & Waterman wrote and produced for, including "Too Many Broken Hearts". They also wrote and produced hits for Donna Summer, "This Time I Know It's For Real" and "I Don't Want To Get Hurt".
In early 1992 Boy Krazy released "All You Have To Do". The song was not a hit for the group, only peaking at #91 in the UK singles chart.
At the end of 1992, "That's What Love Can Do" caught on North American discotheques. This resulted in radio listener requests to hear the song, starting in Denver. As DJ's added the song to their airplay lists, this prompted a remixed re-release of "That's What Love Can Do" in early 1993. That March the single climbed to number-one in Vancouver (BC), but stalled at #18 in on the Billboard Hot 100. "That's What Love Can Do" peaked at #1 in Vancouver (BC), and Sussex (NJ), #4 in Minneapolis/St. Paul, #5 in Bay City (MI), and #6 in Boston.
Covers of the song were recorded by the Giri Giri Girls in Japan and by Toutes Les Filles in France.
Boy Krazy released their debut self-titled album, Boy Krazy, in February 1993. As "That's What Love Can Do" was on its chart run, the girl groups record label released a single titled "Good Times With Bad Boys."
Johnna Cummings left the band in late 1993, and plans to release a fourth single, "Love is a Freaky Thing" – a cover of a non-charting single by the Cool Notes in 1991 – were shelved. Now a trio, Josselyne, Kimberly, and Ruth Ann attempted to make a go of it, and attempted to record a follow-up album, but before any tracks could be recorded, the band finally split up in early 1994.
Ruth Ann Roberts commented in an interview in 2020 that it would have been a dream come true for Boy Krazy to record something with Jason Donovan. Kimberly Blake has said it would have been fun to do a cover of the 1985 hit "You Spin Me Round (Like A Record)" by Dead Or Alive.
On his blog, Matthew W. Turcotte reports "Renee Veneziale, the first member of the band to leave [in 1991], reportedly joined a few other bands after Boy Krazy before descending into the world of theatre. In addition to acting, she also reportedly works as a yoga teacher." Turcotte adds that "Josselyne Jones got married, and has a daughter, and now goes under the name of Josselyne Herman-Saccio. She works as an agent and producer in New York City, and has since started up her own company, Josselyne Herman and Associates."
Josselyne Jones was an agent for Roberts, and Jones and Blake started recording together. Kimberly Blake was married in 2014, after dating her husband for four years. She was living at the time in Seattle when she met him and went out on a date at at Red Robin restaurant for a hamburger and french fries. And during that 2010 date at the restaurant "That's What Love Can Do" came on and was playing in the background. And that was a catalyst for Kimberly telling her new date her back story about being in a girl group called Boy Krazy.
After Boy Krazy disbanded, Roberts went on to become a female wrestler in the WWE in 2003. She became known by her ring name of Rue DeBona. She left the WWE in 2004 and was later married in 2006-2008 to WWE commentator Josh Marshall. Rue DeBona appeared in the 2006 film about a boxer from the streets of the Bronx titled They're Just My Friends. Her oldest son, Rue says, has a really nice voice. And she is happy that once he learned she had been in Boy Krazy, he suggested that he might want to be a performer sometime in the future. In an October 2020 interview, Ruth Ann said she had three sons aged nine, seven and four. During the pandemic she has been having a lot of family time, staying indoors, and enjoying helping her sons as they learn to cook.
Kimberly recalls that after Boy Krazy she worked in a business for awhile, and subsequently had a relatively quiet life. Then in 2014, she and her husband moved to Berlin, Germany, for work. It happened that her husband's company wanted to create an in-house band for entertainment for company employees. While there were a number of people employed who were musicians, there were no obvious contenders for vocalists. So Kimberly's husband suggested that she show up and she became the lead singer. The company band never performed in public. But for three and a half years they rented a studio every week and sing 70s-80s pop-rock tunes. A number of friends would come to listen. Kimberly recalls "that was a really fun outlet. Nothing professional for me." Kimberly Blake currently works from home and owns an apartment building that she manages. She is also a part-owner in a video game consulting business. During the pandemic, she has mostly been doing a lot of cooking at home and hanging out with her family.
Stock, Aitken & Waterman split as a songwriting-production trio later in 1993 due to a dispute over finances.
January 28, 2022
Ray McGinnis
References:
Matthew W. Turcotte, "That's What Remixing Can Do – The Boy Krazy Story," popcultureaddictlifeguide.blogspot.com, July 15, 2012.
"Johnna Lee Cummings," Wikipedia.org.
"Rue DeBona," Wikipedia.org.
Cheer Up Pop Parties, "Stock Aitken Waterman Show featuring Josselyne, Kimberly & Ruth Ann of Boy Krazy," Mixcloud, October 2020.
Tim Jonze, "I Crawled On My Knees to Kylie' – the Inside Story of Stock, Aitken and Waterman," Guardian, March 28, 2017.
For more song reviews visit the Countdown.