#478: (The Best Part of) Breakin' Up by The Ronettes
Peak Month: May 1964
9 weeks on Vancouver's CFUN chart
Peak Position #4
Peak Position on Billboard Hot 100 ~ #39
YouTube.com: "(The Best Part Of) Breakin' Up"
"(The Best Part of) Breakin' Up" lyrics
Veronica Yvette Bennett was born in Spanish Harlem in 1943, on the island of Manhattan. In the fall of 1955, at the age of 12 she began to sing with her sister Estelle Bennett, then 14. An older sister, Estelle was born in East Harlem in 1941. Veronica and Estelle sang in a trio with their cousin Nedra Talley, who was born in 1946, making her the youngest of the trio, at age nine. In 1957 Veronica, who had shortened her name to Ronnie, formed a group. It consisted of Ronnie, her sister Estelle, and their cousins Nedra, Diane, and Elaine. The five girls learned how to perfect their harmonies first at their grandmother's house, and they became proficient in songs such as the Spaniels' "Goodnight Sweetheart". They wanted to have a Frankie Lymon sound-alike, so they coaxed their cousin, Ira, to join the group. They entered a Wednesday night amateur show at the Apollo Theatre in Harlem. Their appearance was a disaster and Ira, Diane and Elaine quit the group the next day. The original trio renamed themselves Ronnie and the Relatives. In August 1961 they released a single with Colpix Records on the May label titled "I Want A Boy". They followed with another release in January 1962 titled "I'm Gonna Quit While I'm Ahead".
In January 1962, Ronnie, Estelle and Nedra dressed up to all look like adult women. They showed up at the Peppermint Lounge and the manager mistook them for the dancers who were supposed to back Joey Dee and the Starliters. During the performance one of the bandmates gave Ronnie the microphone to sing Ray Charles hit "What'd I Say". Despite the mixup, Ronnie and the Relatives were invited to become a permanent act making $10 a night to dance the Twist and sing a song. By the end of the year they were billed as the Ronettes, and sported even more make-up and permed hairstyles. They released a few singles but it was in 1963 when they signed with Phil Spector's Philles Records, that they became one of the successful "girl groups" prior to the British Invasion.
However, the first single they recorded with Phil Spector, he refused to release. Then the next four singles the Ronettes recorded were credited by Phil Spector to the Crystals. The first single release for the Ronettes on the Philles label was "Be My Baby". It became a big hit in the fall of '63, climbing to #2 on the Billboard Hot 100 and also in Vancouver (BC). "Be My Baby" is also notable for being the first recording by Cher, who performed back-up vocals with Estelle, Nedra, and her boyfriend, Sonny Bono. As the girlfriend of Bono, who was working for Phil Spector at the time, Cher was asked to join the back-up singers when one was a no-show. "'Be My Baby' was the first record I ever sang on," Cher later wrote. "… I went out and stood in front of this big speaker and sang 'be my, be my baby' with the Ronettes and all these other singers." (After "Be My Baby", Cher became a permanent back-up singer on recordings by the Ronettes, as well as other songs Phil Spector produced until "You've Lost That Lovin' Feeling".
The Ronettes followup release was "Baby I Love You", written by Jeff Barry, Ellie Greenwich and Phil Spector. It peaked at #24 on the Billboard Hot 100 in January 1964, and cracked the Top 20 here in Vancouver. In November 1963 Phil Spector released A Christmas Gift For You, featuring songs by the Ronettes, the Crystals, Darlene Love, and Bob B. Soxx & the Blue Jeans. The album was released on November 22nd, a day that was overshadowed by the assassination of President John F. Kennedy. Spector thought that the singles released from the album would become hits that winter. But many DJ's kept the sunny tunes off the radio given the nation being in mourning. Nonetheless, the Ronettes "Frosty The Snowman" and "Sleigh Ride" have been perennial Christmas favorites. "Sleigh Ride" eventually made the Billboard Hot 100, and peaked at #21 on December 31, 2019.
In January 1964 The Ronettes toured in the UK with the Rolling Stones. They appeared in concerts and on TV, sharing the stage with the Swinging Blue Jeans, Marty Wilde, Dave Barry and others. While in London they were invited to a party where they met the Beatles. Ronnie and John Lennon became good friends until his death in 1980.
The girl group managed their third Top 40 hit on the Hot 100 in May 1964 at the height of Beatlemania, with a song titled "(The Best Part Of) Break-in' Up". The song is tied for position #447 on this countdown with "Handle With Care" by the Traveling Wilburys.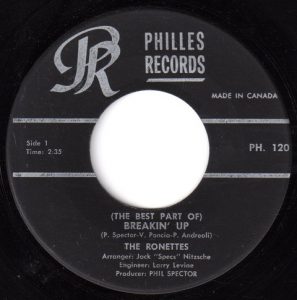 "(The Best Part Of) Breakin' Up" was co-written by Phil Spector, Pete Andreoli and Vince Poncia. Peter Andreoli was born in Providence, Rhode Island, in 1941, and Vincent Ponica Jr. was born there one year later. At the age of five Peter was given a ukulele and by the age of nine began to play guitar and sing. Perhaps a natural aptitude passed down from his guitar playing mom and an aunt who played the accordion. Peter was comfortable performing on stage, along with his sister, Caroline at community, church and social functions. At the time he focused on Italian songs. But in 1954 Peter got introduced to Rhythm & Blues and never looked back. At Mount Pleasant High School in 1956, he became the lead singer of a doo-wop group called The Videls. "Vini" Poncia also joined The Videls, whose fan base steadily increased.
The Videls became one of the top acts on the Rhode Island teen scene performing at school dances and proms, CYO (Catholic Youth Organization) gatherings, private functions and occasionally (though underaged) in nightclubs. It was around this time that Peter adopted the anglicized version of his surname as his stage name: Peter Anders. They had several local hit singles and in 1960 had a modest national hit in the USA with a song called "Mr. Lonely", climbing to #73 on the U.S. Billboard Hot 100 chart. The Videls were quickly group is whisked off directly after Vini Poncia's graduation ceremony in 1960 to join Dick Clark's Caravan Of Stars tour which includes an appearance on American Bandstand.
When The Videls folded after failing to score a follow up hit single on the national charts in the USA, Peter got a contract as a songwriter with Hill & Range Music in Manhattan. Vini Poncia joined Peter Anders and together they made $50 a week (or $25 each) at Hill & Range Music's office in the Brill Building. While they were in that locale, they met fellow songwriters Carole King, Gerry Goffin, Barry Mann, Cynthia Weil, Doc Pomus & Mort Shuman, Jeff Barry & Ellie Greenwich, Paul Simon, Neil Diamond and others. Simultaneously, the pair were performing in a reformed line-up of The Mystics, singing "Hushabye" and lesser known tunes by that doo-wop group.
While they were at the Brill Building, they got on the radar of Phil Spector. This led to work with Spector's house band, the Wrecking Crew. And they became friends with Nino Tempo, Leon Russell, Glen Campbell, Hal Blaine, Joe Osborn, Sonny Bono and others. During this time they wrote "The Best Part Of Breaking Up" for The Ronettes and a few B-sides for The Crystals. They also produced Cher's first recording, "Ringo, I Love You", released under the name "Bonnie Jo Mason."
In addition to writing songs for other recording artists, Anders and Poncia Jr. recorded some demos. One of their tunes, "New York's A Lonely Town", was influenced by the new surf sound coming out of California. They recorded the demo along with former Videls members Bobby Calitri and Norman Marzano. Their East-coast surfing tune climbed into the Billboard Top 40, and the local Top 30. The Trade Winds, so-named by Red Bird Records, appeared on Shindig. 1965 continued to bless Anders and Poncia when Elvis Presley chose their song, "Harem Holiday", as the theme song to his upcoming film, Harum Scarum.
As the Trade Winds, Anders (Andreoli) and Poncia had a minor hit with the psychedelic-tinged "Mind Excursion" in 1966. By 1968 the relationship between Anders and Poncia began to fray due to Anders dabbling in hard drugs. Anders would fail to show up for work for days leaving Poncia Jr. to write on his own to meet deadlines for their publishing house. Poncia went on to produce material for artists such as Ringo Starr, Melissa Manchester and Kiss. Meanwhile, Peter Anders entered rehab six times, but each attempt fails. By 1989, Anders found himself out of the music business and completely out of friends. A seventh trip to rehab was successful.
Phillip Harvey Spector was born in 1939 in the Bronx, into a first generation immigrant Jewish family, who changed their surname Spekter to Spector after they got permanent residency. Phil Spector's father died by suicide in 1953 and on his gravestone was the phrase "to know him is to love him." Phil wrote a song in 1958 titled "To Know Him Is To Love Him", as a tribute to his dad. The song became a number one hit for the Teddy Bears, which included young Phil. While the Teddy Bears split up in '59 after failing to have any followup hit, Phil Spector went on to co-write "Spanish Harlem" with Jerry Lieber, a hit for Ben E. King. And he played guitar on the Drifter's "On Broadway". But it was as a record producer that Phil Spector became most successful.
In 1960 he produced "Corrina, Corrina" for Ray Peterson, "Pretty Little Angel Eyes" for Curtis Lee and "I Love How You Love Me" for the Paris Sisters. Spector went on to produce many hit records in the 1960s and 1970s. These include "Da Doo Ron Ron", "Then He Kissed Me" and "He's A Rebel" for the Crystals; "Be My Baby", Baby I Love You", "(The Best Part Of) Breakin' Up" and "Walking In The Rain" for the Ronettes; "You've Lost That Lovin' Feeling", "Ebb Tide" and "Unchained Melody" for the Righteous Brothers; ""Black Pearl" for Sonny Charles; "River Deep – Mountain High" for Ike and Tina Turner; "Instant Karma", "Power To The People" and "Imagine" for John Lennon; "My Sweet Lord", "Bangla-Desh" and "What Is Life" for George Harrison; and several minor hits for the punk band the Ramones.
"(The Best Part Of) Breakin' Up" climbed to #4 in Vancouver (BC) and Detroit, #6 in Syracuse (NY), and #7 in Windsor (ON) and St. Louis.
In the summer of 1964 the Ronettes favorite hangout was Odine's, an exclusive East Side club on Fifty-Ninth Street in Manhattan. According to Ronnie, it was at Odine's where the Ronettes were first met Jimi Hendrix. At the time Hendrix, who had been discharged from the United States Army in 1962, was an unknown guitarist. At Odine's, Ronnie would join him on stage and sing along with Hendrix as he played guitar. Ronette members Ronnie and Estelle met Hendrix in 1969 at a party. He suggested that they join him in the recording studio to do backing vocals on Hendrix's "Earth Blues" song. After Hendrix died, their work on the backing vocals earned The Ronettes a credit on the posthumous album Rainbow Bridge, released in October 1971.
After "(The Best Part of) Breaking Up", The Ronettes continued to crack the Top 40 with a couple more singles into 1965. They released their first studio album titled Presenting the Fabulous Ronettes featuring Veronica. It included their final Top 30 hit "Walking In The Rain", which was a Top 20 hit for Jay and the Americans in 1969. In early 1965, the Ronettes song peaked at #3 on the Billboard R&B chart and #23 on the Hot 100. The song earned them a Grammy Award nomination in 1965.
Though they released another dozen singles, the Ronettes star was fading. One of their releases was "I Can Hear Music" which the Beach Boys successfully covered in 1969. The Ronettes toured 14 cities with the Beatles in the summer of 1966. In 1967 they split and Ronnie went on tour as a solo artist to Germany. She married Phil Spector, but he kept her a prisoner in their 23-home mansion. They divorced in 1972.
Since the Ronettes earned only $15,000 in royalties from the contract they had signed with Phil Spector in 1963, they sued. In 2002 they were awarded $1.5 million for unpaid earnings in sales from records, cassette tapes and CDs.
March 4, 2020
Ray McGinnis
References:
"The Ronettes," History-of-rock.com.
Passings: Peter Anders of the Trade Winds, Songwriter (1941 – 2016), Vintage Vinyl News, Penfield, NY, March, 2016.
Vini Poncia Interview, Cue Castanets, July 23, 2016.
Songwriters Keep Rocking and Rolling, Seniors Digest, August 30, 2013.
Mick Brown, Tearing Down the Wall of Sound: The Rise and Fall of Phil Spector, (Vintage, 2008).
Ben Sisario, "A Life Of Troubles Followed A Singers' Burst Of Fame," New York Times, February 16, 2009.
"C-FUNTASTIC FIFTY," CFUN 1410 AM, Vancouver, BC, May 2, 1964.
For more song reviews visit the Countdown.