#897: The Farmer's Song by Murray McLauchlan
Peak Month: June 1973
8 weeks on Vancouver's CKLG chart
Peak Position #9
Peak Position on Billboard Hot 100 ~ did not chart
YouTube.com: "The Farmer's Song"
Lyrics: "The Farmer's Song"
Murray Edward McLauchlan was born in Paisley, Renfrewshire, Scotland, in 1948. is a Canadian singer, songwriter, guitarist, pianist, and harmonica player. He immigrated to Canada with his family when he was five years old. Near the end of high school he picked up the guitar and began to write songs. When he turned seventeen he started to appear at coffeehouses in Toronto's Yorkville neighborhood. Out of high school he took classes in Fine Arts at Central Tech prior to choosing to give his full attention to music. One thing led to another and he found himself at The Philadelphia Folk Festival, sharing the stage with Jim Croce and John Prine. When McLaughlan appeared at the Mariposa Folk Festival in Toronto, according to his bio on True North Records, "he gave up half of his concert time so Joni Mitchell could play." Opportunities kept opening up and he played at venues like The Riverboat in Toronto, The Bitter End in New York, The Main Point in Philadelphia and the Earl of Old Town in Chicago. He spent some time living in New York City to advance his career, but there were few breaks.
In 1970 he came back to Canada and took up residence in Toronto. He got a contract with True North Records and released his first album, Songs From the Street, in 1971. His second album, self-titled, featured his most successful single release called "The Farmer's Song".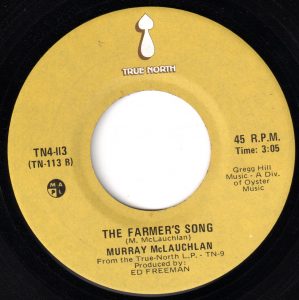 "The Farmer's Song" is about the changes in the farming in that have taken place in America (and Canada), especially since World War Two. The Canadian colonies of Upper Canada and Lower Canada began rooted in farming and fur-trading. In 1763, when the Treaty of Paris was signed and France surrendered the colonies to England, approximately 60,000 people, or 85% of the Canadian population, lived in rural communities along the lower St Lawrence. Most everyone farmed on their own long-lot farms. Over a hundred years later, as Manitoba became a province in 1870, new settlements began to dot the Canadian prairies. They replaced the former fur-trading economy and river-lot farms. Just a few years after Canadian confederation the federal government made a push for land to be used for commercial agriculture. In its first decade as a province, almost all of Manitoba had been surveyed into townships six miles square and sections one mile square. Once the surveying was done the Canadian government began granting homesteads to pioneers hopeful to make a life for themselves. The homesteader would pay a fee of $10 for entry onto the homestead and was required to occupy the land for three years in order to qualify for a patent. The homesteading frontier expanded across the Canadian prairies and by 1905 the population warranted the creation of two new provinces, Saskatchewan and Alberta. 63% of Canadians lived on family farms in the year 1900.
In the 20th century farming was dealt a series of blows that drove many off the family farm. In my own family, my father and his two brothers chose not to follow my grandfather into farming. Two of my uncles got degrees in agriculture, one working for a university Department of Agriculture at the University of Manitoba and the other began working at a research station for the Canadian government in Lethbridge, Alberta. My father switched degrees while in university from agriculture to dentistry. They'd all grown up through the Great Depression and saw how precarious farming could be as a livelihood. The price of crops fluctuated and one bad weather event could decimate a whole harvest.
In an article in 2011 on the crisis in Canadian farming for The Walrus magazine, Chris Turner gave this dire summary: "Farmers by the tens of thousands have quit the profession. The profitability crisis has hit livestock producers particularly hard, and hog farmers hardest of all. Since 2005, the cost of producing pork on the Canadian prairie has remained around $1.40 per kilogram. As huge American slaughterhouses and international meat-packing conglomerates have grown even bigger, they've squeezed that tiny margin past profitability. As of late 2010, the wholesale price of pork had fallen to $1.25 per kilogram, and many hog farmers in Alberta and beyond have given up. There were about 11,000 hog farms across Canada in April 2007; by April 2011, there were around 7,000, a contraction of more than 35 percent."
Family farming is collapsing under the weight of many external pressures. The size of a family farm in 1911 in Alberta was 116 hectares and there were 60,599 farms. A hundred years later in Alberta there are 49,431 farms with an average size of 427 hectares. The pressure is to get big of get out of the farming business. And farm machinery is very expensive as a combine costs roughly as much as it costs to buy a house. Meanwhile, the free market that keeps prices for food in grocery stores down makes it tougher and tougher for farmers to harvest a crop and make ends meet.
"The Farmer's Song" is a snapshot of the changing place of farming in the culture in North America. There are no farmer songs on the car radio, McLauchlan sings. Farming by the 1970's just wasn't very sexy. City dwellers might romanticize about being a cowboy, but not a farmer. And the unpredictability of weather being on your side made the life of a farmer less appealing, having only a prayer or a rain dance to help prevent a shortage of rain. McLauchlan reminded Canadian radio listeners in 1973 that the food on their plate was courtesy of the hard work that farmers were doing as they mopped their face like a shoe. The song tells of a next generation seeking employment elsewhere, like in big factories. And McLauchlan gives a nod to the sacrifice farmers were making. In a world of getting ahead and taking what you can get for yourself, here were farmers giving back to society. "The Farmer's Song" won Murray McLauchlan a Juno Award. Farmer's Song peaked at #9 in Vancouver and #8 in Toronto. But didn't chart in the USA.
McLauchlan had several other Top 40 hits in Canada. His followup single in 1973, "Hurricane of Change", went to #5 in Saint John, New Brunswick. His 1975 release, "Down by the Henry Moore" was a song ordinary encounters with people by a sculpture in front of Toronto's city hall and nearby Kensington Market. His 1979 single, "Whispering Rain", made the Top 5 in Kamloops, BC. And in 1981 McLauchlan had a Top Ten hit in Ottawa with "If The Wind Could Blow My Troubles Away".
In 1987, McLauchlan appeared on the children's television show, Sharon, Lois & Bram's Singing Elephant Show singing his Juno-Award-Winning Farmer's Song. Over his career McLauchlan has recorded 18 studio albums and 18 songs on the Top 40 of the Canadian RPM Country charts. He's been the recipient of eleven Juno Awards, Canada's answer to the Grammy Awards. Murray also has a pilot's license and in 1985-86 he when he flew across Canada from the Atlantic Ocean to the Pacific Ocean and up to the Arctic Ocean in a Cessna 185 floatplane. He was followed by a film crew. Highlights from his travels were aired on a CBC TV special titled Floating Over Canada. The show featured Murray with his guests Gordon Lightfoot, Buffy Sainte-Marie, Levon Helm, Edith Butler, and ordinary Canadians McLauchlan crossed paths with. The show was aired over a series of years and then was picked up by PBS in the America.
Over the years, Murray has won eleven JUNO awards, as well as RPM "Big Country" awards and Toronto music awards. In 1998 McLauchlan released his autobiography, The Ballad of Murray McLauchlan: Getting Out of Here Alive. In November 2017, Murray McLauchlan gave nine concerts in eight cities and towns in northern and southwestern Ontario.
February 1, 2018
Ray McGinnis
References:
Human Rights in Canada, A Historical Perspective January 1, 1900, Canadian Human Rights Commission.
Farming, Canadian Atlas Online
Chris Turner, "The Farms Are Not All Right: The growing gap between what they produce and what they earn is driving many farmers off the land. The crisis in Canadian farming," The Walrus, Toronto, Ontario, October 12, 2011.
"CKLG 'Thirty'," CKLG 730 AM, Vancouver, BC, June 29, 1973.
For more song reviews visit the Countdown.