#386: The Flower Children by Marcia Strassman
Peak Month: July 1967
9 weeks on CKLG's Vancouver Chart
Peak Position ~ #2
Peak Position on Billboard Hot 100 ~ #103
YouTube: "The Flower Children"
Lyrics: "The Flower Children"
Marcia Ann Strassman was born in New York City in 1948. She replaced Liza Minelli in the Off-Broadway musical reprise of Best Foot Forward in 1963, after Minelli left to rehearse for Carnival! In their September 11, 1963, issue Variety described Strassman as "a winning comedienne." At the age of 15, Strassman appeared in three episodes of The Patty Duke Show in 1964 in the role of Adeline. In the summer of '64, Strassman worked with Shelley Winters and Robert Walker in a Westport (CT) production of Days of the Dancing, described by Variety as a story of "beatniks wasting their lives in at a beach bar in Venice, Cal." When she turned 18 in 1966, Marcia Strassman moved to Los Angeles in search of new opportunities. One of the first things she did was get a recording contract with Uni Records.
Strassman's first record was a single titled "The Flower Children". The song appeared in a made-for-TV documentary about hippies in the late spring of '67.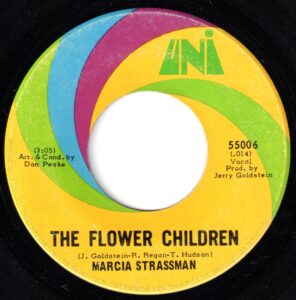 "The Flower Children" was co-written by Jerry Goldstein, Tim Hudson and Russ Regan. Gerald Goldstein was born in 1940 in Brooklyn. At the age of 19, in 1959, Goldstein was writing songs in the Brill Building credited to Jerry Goldstein. Initially, his songs were recorded by little known studio groups that Goldstein was part of – Bobbi and the Beaus, The Kittens, Morecambe & Wise, Ezra & The Ivies, among others. But he got B-sides in the early 60's with Freddy Cannon, Dion, Bobby Lee, Bobby Lewis and the Jive Five. In 1963 he co-wrote the number-one hit for The Angels "My Boyfriend's Back".
In 1964 Goldstein was part of a trio that called themselves The Strangeloves. The band had a #11 hit on the Billboard Hot 100 in 1965 titled "I Want Candy". In 1967 Jerry Goldstein co-wrote "Come On Down To My Boat", a Top Ten hit for Every Mother's Son. Jerry Goldstein later suggested to a band called Nightshift, that they team up with Eric Burdon, and they changed their name to War. Eric Burdon & War went on to have a hit in 1970 titled "Spill The Wine". And War had the best selling album of 1973, The World Is A Ghetto.
Born Harold Rustigan in Sanger, California, in 1928, Russ Regan went on to write songs in the late 50s. He recorded with ABC-Paramount as Russ Regan in 1958 and his duet with Laura Lane – "Junior, Junior, Junior" – was a Top 30 hit in Baltimore (MD). While in the fall of 1959, Regan's "Adults Only" was a Top 40 hit in San Bernardino (CA). In 1960 he got some airplay in Southern California with "The Waterboy" credited to Russ Regan and The Rowdies. He also wrote B-sides recorded by Fabian, Donnie Brooks, and a Top 30 hit in the winter of 1962-63 for the Pastel Six titled "The Cinnamon Cinder".
Russ Regan rose became an A&R man with Motown, promoting "Please Mr. Postman" by the Marvelettes in 1961. He was the person who suggested to the record label to change the credits for a song called "Surfin'" by the Pendletones to the Beach Boys. Regan went on to become President of both UNI and 20th Century Records. With Uni, Regan helped make South African Hugh Masakela have a break-out hit with "Grazing In The Grass" in 1968. As well, Russ Regan helped Frank Sinatra record his 1966 Top Ten hit "That's Life". And it was Russ Regan who signed Neil Diamond to Uni Records and helped make hits such as "Brother Love's Traveling Salvation Show", "Sweet Caroline", "Holly Holy" and "Cracklin' Rosie". He also got Elton John a record contract, including the hits "Your Song", "Rocket Man" and "Honky Cat". Regan was also the Music Supervisor for four Academy Award-winning songs from the films: The Poseidon Adventure, The Towering Inferno, Flashdance and Chariots of Fire. Russ Regan died in 2018.
Tim Hutton was born George Timothy Bramwell in 1940 in Perthshire, Scotland. His father died in a bombing raid over Belgium in 1944, and his mother remarried Henry Hudson. By the spring of 1964, he moved to Montreal and became known as "Lord Tim of Liverpool" as a DJ on CKGM. In 1965, when the Beatles went on a North American tour, Hudson briefly became a DJ at KCBQ in San Diego. By early 1967, Lord Tim Hudson became the manager for Los Angeles garage band The Seeds. He went on to become a voice actor for the animated films The Jungle Book and The Aristocats. Hudson moved back to the UK and owned cricket grounds for several decades. He returned to California and became known for his paintings. He died at age 79 in December 2019.
"The Flower Children" is a song synonymous with all things in the counter-culture of 1967: Flower Power, Flower Power, Hippies, Vietnam War protests, long hair, rejection of consumer values and questioning American government policies. In the song the flower children "are blooming everywhere," and part of a movement spreading across society. In early May 1967, countercultural figure Abby Hoffman had declared "The cry of 'Flower Power' echoes through the land. We shall not wilt. Let a thousand flowers bloom."
The song's lyrics describe how the flower children are "walking up and down the street, heading for somewhere." Their destination is free flowing, emerging. However, Marcia Strassman – singing with impassioned, almost enraged vocals – adds "the flower children don't want no sympathy, 'cause they know where they're going. Just you wait and see. They just want to be wanted. They just want to be free. Why can't we just love them, and let them be."
Strassman's record buyers would have been the younger generation, especially those identifying as hippies and wearing flowers in their hair. But, it seems Marcia Strassman was singing to the older generation – the "Silent Generation" – those born between 1928 and 1945. The Silent Generation were known as children of the Great Depression. They saw World War II through children's eyes, and understood that the new enemy after the war was communism. Many were caught up in the hysteria of McCarthyism and suspicious of people with radical views. The Silent Generation were committed to "working within the system." They did this by keeping their heads down and working hard, and earning themselves the "silent" label. Their attitudes leaned toward not being risk-takers and playing it safe. And in "The Flower Children", Marcia Strassman is trying to get this Silent Generation to understand who these young people [Baby Boomers] are that are wearing flowers in their hair, making peace signs and talking about 'flower power.'
For the Silent Generation, World War II was a just war and there were times a nation had to go to war to combat evil. But for the younger generation of Baby Boomers, trust in Mutually Assured Destruction through use of the nuclear bomb in a war with the Soviet Union was seen as madness. Many young people, who were being drafted into the U.S. Army, questioned what had really happened in the Gulf of Tonkin. Admirals and President Lyndon Johnson falsely claimed that North Vietnamese Navy torpedo boats had fired shots at the USS Maddox. According to the false report: One U.S. aircraft was damaged, and there were 6 North Vietnamese casualties. It was said that the Maddox was "unscathed except for a single bullet hole from a Vietnamese machine gun round." But in 1967 President Johnson stated "For all I know, our navy was shooting at whales out there." In 1967, former naval officer, John White, wrote a letter to the editor of the New Haven (CT) Register: "I maintain that President Johnson, Secretary McNamara and the Joint Chiefs of Staff gave false information to Congress in their report about US destroyers being attacked in the Gulf of Tonkin."
With the basis for the Vietnam War called into question, lyrics in "The Flower Children" resonated. Strassman defiantly sang: "The flower children really know what's right. And they're just trying to tell this world that there's no need to fight." And in the spirit of the song, many young college-aged men were burning their draft cards. The younger generation – the Baby Boomers – had a slogan in the Sixties: "Don't trust anyone over 30." And "The Flower Children" is one of a number of songs that starkly reflected the dissonant reality of what was being termed 'The Generation Gap.'
The song's final verse reflected what was called among those in the counterculture in 1967 as the 'Summer of Love.' "The flower children have one thing on their mind. Living in a world of love, love for all mankind." The Summer of Love was a social phenomenon that occurred from June to September 1967, when as many as 100,000 people, mostly hippies, converged in San Francisco's neighborhood of Haight-Ashbury. The phenomenon was seen as a celebration of free love, rock 'n roll, experimenting with anti-establishment ideas and drugs. The Summer of Love is viewed as beginning with the Monterey Pop Festival from June 16-18, 1967. At the music festival Scott McKenzie sang "San Francisco (Be Sure To Wear Flowers In Your Hair)", which became a number-one hit in Vancouver (BC) later in June.
Flower children were featured in a 1960 film The Time Machine that depicted flower-bestowing, communal people in a future time, in a plot infused with antiwar themes. In 1965 poet Allen Ginsberg, and political activist Abby Hoffman, advocated people wearing flowers in their hair, and handing flowers to the public as a gesture of political and anti-war protest. Ginsberg also suggested people use face paints and paint flowers on their faces.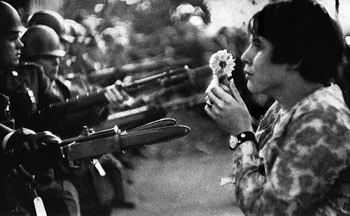 Above: 17-year-old American student, John Rose Kasmir clasps a chrysanthemum, while soldiers aim bayonets on October 21, 1967, at Pentagon. This was during the National Mobilization Committee to End the War in Vietnam March on the Pentagon, numbering over 100,000 young peace activists. Slogans at the time included "Make Love, Not War," and "Turn On, Tune In, Drop Out."
In the summer of 1967, the Top 40 airwaves in Vancouver were populated with numerous songs evoking countercultural values of the younger generation. These included "White Rabbit" by Jefferson Airplane – a song Grace Slick said was supposed to be a slap to parents who read their children novel like Lewis Carroll's Through The Looking Glass, and then wondered why their children later used drugs. Procul Harem sang about a drunken seduction in "A Whiter Shade Of Pale", which also topped the charts in Vancouver in July '67. Jonathan King in "Round, Round" sang about someone in an altered state "The prancing pied piper is not there at all. Have a gay time and get large when you're small….Bounce around happily, float in the air. Glide along skyways, paint stars with your hair….You're doing it 'cause you enjoy it." The Grassroots encouraged listeners "Let's Live For Today". And Tom Northcott described in "Sunny Goodge Street" how "a violent hash-smoker shook a chocolate machine, involved in an eating scene. Smashing into neon lights in their stonedness. Smearing their eyes on the crazy Kali goddess; Listenin' to sounds of Mingus mellow fantastic. My, my, they sigh…"
The Monkeys sang a critique of suburban culture in "Pleasant Valley Sunday"; And the Beatles – in a similar fashion to "The Flower Children" – proclaimed "All You Need Is Love". In "San Franciscan Nights", Eric Burdon & the Animals introduced their song with these spoken words: "This following program is dedicated to the city and people of San Francisco, who may not know it, but they are beautiful. And so is their city. This is a very personal song, so if the viewer cannot understand it, particularly those of you who are European residents, save up all your bread, and fly Trans-Love Airways to San Francisco, USA. Then, maybe, you'll understand the song. It will be worth it, if not for the sake of this song, but for the sake of your own peace of mind."
And there was Donovan singing the transcendental "There Is A Mountain", Jimi Hendrix's "The Wind Cries Mary", Country Joe & The Fish with the psychedelic "Not So Sweet Martha Lorraine"; The Mamas & The Papas' singing about the pilgrimage to the West Coast in "Twelve Thirty", while the Rolling Stones invited listeners to "play the game with every flower you bring" in "Dandelion". While the Doors invited everyone to make love in "Light My Fire". And the Grateful Dead managed a Top 20 hit in Vancouver with "Cream Puff War", as they sang "Your constant battles are getting to be a bore. So go somewhere else and continue your cream puff war." Listening to the airwaves on Top 40 radio in Vancouver in the summer of '67, it did seem that a new era was dawning.
New York reviewer David Munk wrote in 2013, "When you hear "The Flower Children"—sublimely, memorably, bad—you will understand why young Marcia's recording career was brief and geographically limited. Trust me, the song itself is nothing to send flowers about to begin with, but what really gets me is Marcia's incredibly hostile vocals. For a hippie singing about free love during the summer of love…Marcia sounds awfully defensive and, frankly, neurotic. The lyrics are awful, as you will see, but her delivery is downright belligerent, which makes 'The Flower Children' a bit of a paradox: an angry song about being a hippie." For David Munk, at least, the sensibilities of "The Flower Children" failed to resonate nearly five decades later.
In the early summer of 1967, "The Flower Children" peaked at #1 in San Bernardino (CA), #2 in Vancouver (BC), San Francisco, Bakersfield and Modesto (CA), #3 in Honolulu (HI), Sacramento and Monterey (CA), #4 in San Diego, #6 in Los Angeles San Jose and Salinas (CA), and #7 in Flint (MI) and Prince George (BC).
Strassman's followup single, "The Groovy World Of Jack And Jill", peaked at #4 in Salt Lake City. However, it also failed to crack the Billboard Hot 100. Meanwhile, Strassman played a leading role in an episode of Ironside on November 23, 1967. Titled "The Man Who Believed," the plot concerned Ironside investigating a folk singer's apparent suicide, and discovering that the girl had a history of drug abuse. Strassman played opposite Raymond Burr. "The Flower Children" was featured as part of the soundtrack for the episode.
In 1969 she appeared as a reporter who sleeps with a college student drop-out who is trying to find meaning in life, in a film titled Changes. In 1972-73, Marcia Strassman appeared in 6 episodes of M*A*S*H, as Nurse Maggie Cutler. Throughout the 1970s and into the 80s Strassman appeared in The Paul Lynde Show, Love Story, Marcus Welby M.D., The Love Boat, Fantasy Island, The Rockford Files, E/R, Magnum P.I., I Married Dora and other shows.
But her biggest role was as in the role of Julie Kotter in Welcome Back Kotter – in which she starred in 96 episodes between 1975 and 1979. However, the acting role she is most famous for was not one she cherished. In 1991 she told the Calgary Herald, "I did not particularly enjoy 'Kotter.' I spent much of the four years being frustrated. I didn't have much to do on the show. I was just there when Kotter came home at the end of the day."
In 1989 Strassman co-hosted the Miss Teen USA pageant. She also co-starred opposite Rick Moranis in Honey, I Shrunk The Kids. In 1989-90, Marcia Strassman appeared in 22 episodes of the TV crime drama TV show Booker, starring John Grieco Jr. In the 90s, Strassman appeared in numerous TV shows including Touched By An Angel, Rugrats, Baywatch, Phenom, Murder She Wrote and Civil Wars. She co-starred in the 1992 film sequel Honey, I Blew Up The Kid, and in the 1994 film Honey, I Shrunk The Audience.
In 2000 Marcia Strassman appeared in 13 episodes of the TV sitcom Noah Knows Best. The next year she was cast in 8 episodes of the medical drama NBC TV series Providence. She appeared in 13 episodes of the science fiction TV series Tremors in 2003, which was a spinoff from the 1990 horror-comedy Tremors. Strassman played one of the residents of Perfection Valley who try to coexist with mutants, bacteria creatures and other unpredictable events. Later that year, Strassman was cast in a thriller about an energy crisis that follows a series of earthquakes in Power Play. She also was cast in a film titled The Movie Hero about a man who believes his life is a movie watched by an audience only he can see. In 2004 she appeared in four episodes of the American crime drama TV series Third Watch, starring Michael Beach and Kim Raver.
In 2005 she starred in the horror film Reeker, about a group of young adults who are stranded in a desert oasis where they fall prey to a horrific decaying creature. In 2006-07, Strassman appeared in several episodes of the NBC sitcom Twenty Good Years, starring John Lithgow. In April 2011, Strassman appeared on Good Morning America and was interviewed by host George Stephanopolous. In 2014 Strassman played a mother whose adult daughter and novelist in pursuit of a fairytale romance.
In October 2014, Marcia Strassman died of breast cancer, which she was first diagnosed with in 2007.
November 18, 2020
Ray McGinnis
References:
David Munk, "Bad Songs I Love: Marcia Strassman's 'The Flower Children' (1967)," Stargayzing, New York City, January 23, 2013.
"Marcia Strassman Dies at 66; Actress Starred in 'Welcome Back, Kotter'," Los Angeles Times, October 27, 2014.
"Russ Regan, Music Executive Who Signed Elton John and Neil Diamond, Dies at 89," Variety, May 29, 2018.
"Jerry Goldstein (producer)," Wikipedia.org.
"Lord Tim Hudson," Wikipedia.org.
"The History of Flower Power," April 17, 1800flowers.com, 2014.
"Looking For Mr. Right," HallmarkDrama.com.
Errol Morris, Director, "Excerpt: McNamara Admits Gulf of Tonkin Didn't Happen," Sony Pictures, Fog Of War: Eleven Lessons from the Life of Robert S. McNamara, 2003.
"National Mobilization Committee to End the War in Vietnam,"Wikipedia.org.
Dan McLaughlin, "Closing The Book On The Silent Generation," National Review, February 16, 2016.
"Boss 30," CKLG 730 AM, Vancouver, BC, July 8, 1967.
"C-FUNTASTIC FIFTY," CFUN 1410 AM, Vancouver, BC, July 15, 1967.
For more song reviews, visit the Countdown.