#341: The Hippy Hippy Shake by the Swinging Blue Jeans
Peak Month: March 1964
12 weeks on Vancouver's CFUN chart
Peak Position #3
Peak Position on Billboard Hot 100 ~ #24
YouTube: "Hippy Hippy Shake"
Lyrics: "Hippy Hippy Shake"
The Swinging Blue Jeans had their origins in a band called the Bluegenes, a jazz-influenced skiffle sextet group formed by Bruce McCaskill. From the liner notes on their 1964 album Hippy Hippy Shake, there is a great description about the Swinging Blue Jeans' origins. "It was in 1959 that Ray Ennis and Norman Kuhlke met in a dance hall in Garston, a suburb of Liverpool. And it was that meeting that led to the formation of the Swinging Blue Jeans. Ray was a regular singer with the group playing at Garston's Wilson Hall. Norman used to go in, listen to the band, and request songs for Ray to sing. ("One of my biggest fans," Ray laughs). Together they formed the SBJ – washboard (which Norman played), tea-chest bass and three guitars (one of which Ray played). They appeared at clubs and dance halls in and around Liverpool for a year, and then, in a talent contest at the Empire Theatre one night, they came up against a group led by Ralph Ellis."
"Both groups were in the final – the Swinging Blue Jeans won and the Ralph Ellis Folk Singing Group came second. Ralph Ellis joined the group after the talent contest, and the other newcomer was Les Braid who joined the group a month or two in early 1960. The SBJ were without a bass player one night and asked Les, who was playing bass in another group, to sit in. "I've been sitting in ever since!" says Les. Lineup at that time was three guitars, bass and drums. The drummer was Norman Kuhlke, who had graduated from washboard."
Les Braid was an accomplished pianist in his youth, and began an apprenticeship as a cabinet maker before joining the SBJ.
The liner notes provided a snapshot about each of the four bandmates. Ralph Ellis (and the other three bandmates) was born in 1942, "Likes animals, sunbathing, plain girls…jam sandwiches." Ellis admired the work of Buddy Holly and Peggy Lee. Norman Kuhlke "Likes swimming, driving, practicing the drums and tall, elegant blondes…steak and chips." Kuhlke also liked Paul Newman and Doris Day. While Les Braid liked "collecting old musical instruments, messing around with old cars, sports, and petite brunettes with lots of personality…ice cream and peanuts…Chuck Berry." While Ray Ennis liked "theatre, films, fast cars, and girls who are well-dressed and sensible…Marlon Brando and Sammy Davis Jr."
The liner notes from Hippy Hippy Shake continue: "One important 'home' for the boys was the Mardi Gras in Liverpool. After more successful club and dance dates, the boys turned professional in 1961, and they number among their most successful engagements a season at the Star Club in Hamburg. Then in June, 1963, they made their disc debut for EMI with 'Too Late Now' which was composed by Ray Ennis." The debut single climbed to #30 on the UK singles chart in June 1963. A followup single "Do You Know" failed to chart.
However, in December 1963 the Swinging Blue Jeans finally hit their stride with the release of "Hippy Hippy Shake".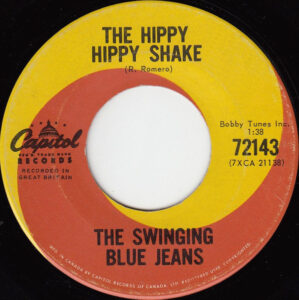 "The Hippy Hippy Shake" was written by Chan Romero. Born in Billings, Montana, in 1941, Robert Lee "Chan" Romero's mixed heritage was Apache, Cherokee, Spanish, Mexican and Irish. His nickname "Chan" was given to him by his grandfather who was born in Spain. Since Chan Romero often ran around without footwear, the nickname, from a Spanish phrase meaning "little boy with pig's feet" seemed appropriate. On July 1, 1956 Romero's life was turned upside-down when he heard Elvis Presley on The Steve Allen Show. Prior to the show Steve Allen had written to a Associated Press columnist Charles Mercer on June 22. In it Allen wrote that he intended to keep Presley's urges under control on his show.
"He thoughtlessly indulged in certain dance movements on his last TV appearance which a number of people thought objectionable … He knows he made a mistake with the Milton Berle business and I think he's smart enough not to do it again … So the thing to do, it seems to me, is to allow him to appear on television any time he wants, but to make certain that he conducts himself in a gentlemanly manner, and that is precisely my intention."
In a 1971 interview Steve Allen recalled Elvis' appearance: "I decided to put Elvis in evening clothes. We put him, in fact, in tails, and we built a very dignified set, which consisted, I think, chiefly of Greek columns and perhaps a sky in the background and billowing, gossamer curtains. It was something of that sort. It was very dignified. We might even have had a chandelier in evidence. And we put this marvelous basset hound, I think it was, on a low Greek column, and had Elvis sing to him in this very dignified kind of Carnegie Hall context, and the contrast between the somewhat inane lyric of that particular song and the wild way in which Elvis sang it, with the attire and scenery, made for a funny set up."
Though Elvis' performance was remarkably tame – as far as his legendary hip shaking went – it was enough to inspire Chan Romero to hitchhike to East Los Angeles in 1958. Another inspiration for Romero was Mexican-American teen idol Ritchie Valens. Chan Romero wrote "The Hippy Hippy Shake" in 1958 and was introduced by his uncle to an A&R representative for Specialty Records named Sonny Bono. As it happened, Romero ended up getting signed to Del-Fi Records in April 1959, two months after Valens died in a plane crash with Buddy Holly and the Big Bopper. Though Chan Romero never met Ritchie Valens, he met Ritchies's mother, Mrs. Connie Valenzuela. She invited Chan into her home in April '59 to spend a weekend with them. The weekend turned into an extended stay of several months. "It became almost a second home and they became my second family," said Chan, who has remained close friends with the Valens family over many decades.
"The Hippy Hippy Shake" was Romero's first single release. In the studio recording, Romero was backed by the same musicians who played with Ritchie Valens. "The Hippy Hippy Shake" climbed into the Top 30 on CFRA in Ottawa in late 1959, and to #6 in Melbourne, Australia, in early 1960. Paul McCartney heard the song and the Beatles began including it in their performances at the Star Club in Hamburg, Germany. A Beatles cover of "The Hippy Hippy Shake" performed in December 1962, is found on the double-album: Live! at the Star-Club in Hamburg, Germany; 1962.
"The Hippy Hippy Shake" is a song about a dance step (or an infection). When you have the hippy hippy shake, you can't sit still. Chan Romero instructs: "You shake it to the left, you shake it to the right. You do the hippy shake, shake, with all of your might." Both the original by Chan Romero and the cover by the Swinging Blue Jeans included lots of vocal shouts.
As for Chan Romero, he released one more single with Del-Fi in 1959 titled "I Don't Care Now" – a minor hit in Philadelphia. Romero went on in the mid-60s to record on the Challenge and Philips labels. But with little success. Chan Romero was inducted into the Rockabilly Hall of Fame in 2007.
The liner notes on the Hippy Hippy Shake album concluded with effusive sentences about the Swinging Blue Jeans fan club. It noted "The 2000th member of their fan club lives in Zagreb, Yugoslavia."
"The Hippy Hippy Shake" climbed to #1 in Toronto, #2 in Chilliwack (BC), #3 in Vancouver (BC), #4 in Kingston (ON), Lancaster (PA) and Cleveland (OH), #5 in Miami, #6 in Boston, #7 in Endicott (NY) and Phoenix, #8 in St. Louis, Providence (RI) and Minneapolis/St. Paul, #9 in Saint John (NB) and Akron (OH), and #10 in Cedar Rapids (IA), Jackson (MI) and San Bernardino (CA). Internationally, it climbed to #2 in the UK and #24 on the Billboard Hot 100.
A second single from the album was a cover of Little Richard's "Good Golly Miss Molly". It climbed to #11 in the UK, #17 on the C-FUNTASTIC FIFTY in Vancouver in June 1964, and #43 on the Billboard Hot 100. Subsequently, the SBJ had a #3 hit in the UK titled "You're No Good", which spent 8 weeks on the C-FUNTASTIC FIFTY in Vancouver but stalled at #36. The Swinging Blue Jeans offered up a memorable cover of a minor R&B hit in 1963. The song was later a number-one hit in February 1975 when Linda Ronstadt covered it. Next, the Swinging Blue Jeans had a Top 50 hit in September 1964 on CKLG's Silver Dollar Survey with "It's So Right". The song was a track from their debut album in the UK, but only released as a single in North America.
Their next album, Blue Jean's a Swinging, showcased many of the covers the band performed in concert. The tracks included Little Richard's "Tutti Frutti" and "Long Tall Sally", Lloyd Price's "Lady Miss Clawdy", and the Drifters' "Save The Last Dance For Me".
A third album, Don't Make Me Over, included a cover of the Burt Bacharach/Hal David song first recorded by Dionne Warwick in 1962, "Chug-A-Lug" by Roger Miller, and "Do You Believe In Magic" by the Lovin' Spoonful. The title track climbed to #24 on the C-FUNTASTIC FIFTY in April 1966. That year Ralph Ellis left the band and in 1967 Norman Kuhlke departed.
In a 2007 obituary for Les Braid, the Guardian wrote "By the end of the 1960s, Braid and singing guitarist Ray Ennis were the only members left from the 1963 line-up. The group continued on the cabaret circuit and on repackaged 1960s tours. They did make further records, and the original Hippy Hippy Shake featured on the soundtrack of the Tom Cruise vehicle Cocktail (1988). After nearly 50 years, Braid quit the Swinging Blue Jeans last spring [2004] after his terminal lung cancer was diagnosed."
The soundtrack for Cocktail included a cover of "The Hippy Hippy Shake" by the Georgia Satellites, "Tutti Frutti" by Little Richard, "Kokomo" by the Beach Boys, and "Don't Worry, Be Happy" by Bobby McFerrin. The the Georgia Satellites version spurred more airplay of the Swinging Blue Jeans version on oldies radio stations in the UK and elsewhere. All resulting in more royalty cheques for Ennis, Kuhlke, Ellis and Braid.
Over the years there have been a dozen lineup changes. The longest current member of the band is guitarist Alan Lovell who joined SBJ in 1981. Ray Ennis retired from the Swinging Blue Jeans in 2010. However, Ennis came out of retirement to make occasional appearances with another band under the name "Ray Ennis's Blue Jeans". Concurrently, the Swinging Blue Jeans continue as an act with no original members. However, given the COVID-19 pandemic there are no concert dates scheduled for the foreseeable future.
March 3, 2021
Ray McGinnis
References:
Bill Harry, "The Swinging Blue Jeans," Sixtiescity.net.
Alan Hanson, "Saturday Night, July 1, 1956…Elvis Presley on "The Steve Allen Show": The Taming of Rock 'n' Roll and Its Biggest Star," elvis-history-blog.com, June 2018.
"The Chan Romero Story," rockabillyhall.com.
Alan Clayson, "Les Braid: Founder-member of Merseybeat Group the Swinging Blue Jeans," Guardian, September 1, 2005.
Swinging Blue Jeans, "You're No Good", Capitol Records, Canada, 1964.
Chan Romero, "The Hippy Hippy Shake", Del-Fi Records, 1959.
"C-FUNTASTIC FIFTY," CFUN 1410 AM, Vancouver, BC, March 21, 1964.
For more song reviews visit the Countdown.