#1: The Hula Hoop Song by Georgia Gibbs
City: Charlottetown, PEI
Radio Station: CVER
Peak Month: October 1958
Peak Position in Charlottetown ~ #1
Peak position in Vancouver ~ #39
Peak Position on Billboard Hot 100 ~ #32
YouTube: "The Hula Hoop Song"
Lyrics: "The Hula Hoop Song"
Georgia Gibbs was a traditional pop singer who sang with the Artie Shaw, Tommy Dorsey and other big bands in the 40s. She went on to have numerous hits prior to the arrival of Elvis Presley in 1956, who with other rock n' rollers swept many traditional pop singers like Georgia Gibbs off the pop charts. Gibbs was born in 1919 as Frieda Lipschitz in a Russian-Jewish immigrant home in Worcester, Massachusetts. Her father died shortly after she was born and as an infant lived in an orphanage until she was seven years old. Before she left the orphanage her musical talents were in bloom and she got lead roles each year in the orphanage's variety show. Back at home when her mother got work as a midwife, young Frieda was often left on her own for weeks at a time with only a Philco radio for company.
When Frieda Lipschitz was fourteen she had a gig singing at the Raymor Ballroom in Boston. Speaking to a reporter for the Worcester Telegram in May, 1994, she looked back on her life in the mid-30s and said, "You don't really know loneliness unless you do a year or two with a one-night band, Gibbs said of her life on the big band circuit, "sing until about 2 a.m. Get in a bus and drive 400 miles. Stop in the night for the greasy hamburger. Arrive in a town. Try to sleep. Get up and eat."
Tired of constant one-night stands, she got employment with a number of popular radio shows including Your Hit Parade, Melody Puzzles and The Tim And Irene Show. As well she freelanced in the late 30s and through the 40s singing with the bands of Frankie Trumbauer, Hal Kemp, Tommy Dorsey and Artie Shaw. In 1942 with Artie Shaw's band she scored her first hit, "Absent Minded Moon," under the billing Fredda Gibson.
When she got a contract with the Camel Caravan radio show, hosted by Garry Moore and Jimmy Durante in 1943, her name changed. This was due to a spontaneous introduction before she sang. Garry Moore said "and here she is, Her Nibs, Miss Georgia Gibbs." As a five foot tall woman the nickname stuck. Gibbs sang on the show for four years from 1943 to 1947.
Though Georgia Gibbs got a record deal in 1946 with the Majestic label, a hit record eluded her until 1950 when she released "If I Knew You Were Comin' I'd've Baked a Cake", which climbed to #5 on the Billboard pop charts. It was a #1 hit for Eileen Barton that year. Gibbs would return to covering other original material in the years ahead. In 1951 she charted another tune into the Billboard Top Ten in the USA, "While You Danced, Danced, Danced" to #6. In the early 50s she was a guest singer touring with comedians Danny Kaye and Sid Caesar. The tours worked as Gibbs had a knack for comedy and she and Danny Kaye developed some great stand-up routines. But the success she hoped for as a singer seemed to dodge her. In a Time article, "From the Shoulder," from July 28, 1952, her predicament was described.
"Georgia", they kept telling her, "you gotta get a sound." Musical soothsayers were trying to get Songstress Georgia Gibbs into line with the latest fashion. Perhaps, they thought, she should sing mechanized duets with herself (like Patti Page), or she might try an echo chamber background (like Peggy Lee). But gimmicks were not Georgia Gibbs's cup of tea. She had a big, old-fashioned voice, a good ear, a vivacious personality, and she knew how to sing from the shoulder. She would stick with plain Georgia Gibbs.
Gibbs kept persisting, releasing a variety of records ranging from torch songs to rock-and-roll, to jazz, swing, old fashioned ballads and cha-chas. Her biggest hit was "Kiss Of Fire," which she first sang on the Milton Berle Show in the spring of 1952. Quickly, the song climbed to #1 on the Billboard pop charts that May. Adapted from the Argentinian tango El Choclo, "Kiss of Fire" possessed lyrics, arrangement and a delivery by Gibbs that conveyed passion on a Wagnerian scale. The tune became one of the iconic songs of the pre-rock 'n roll era. Her single in 1953, "Seven Lonely Days" kept her in the Top Ten in the USA, peaking at #5.
Georgia Gibbs had a sultry touch and her voice was at its finest with "The Man That Got Away", "Wrap Your Troubles In Dreams", "Autumn Leaves" and "Come Rain Or Come Shine". Yet, she was equally capable of belting out jazz tunes like "Red Hot Mama" and "A-Razz-A-Ma-Tazz" or rock n' roll tunes like "24 Hours A Day (365 Days A Year)". Her 1956 album, Swingin' With Her Nibbs, showcased her talents for improvisation on numbers like "Happiness Is A Thing Called Joe" and "I Get A Kick Out Of You".
She spent many years being best known for her cover versions of R&B hits in the mid-50s. In particular Etta James' "The Wallflower" was recorded by Gibbs with adapted lyrics for her white radio listeners under the title of "Dance With Me Henry". It was a #1 hit for Gibbs in 1955, spending three weeks on top of Billboard's Most Played In Jukeboxes chart. Gibbs also did a note-for-note cover of LaVern Baker's "Tweedle Dee". To prove a point Baker took out a life insurance policy on herself in advance of a flight to Australia and named Georgia Gibbs as beneficiary. "You need this more than I do," Baker wrote to Gibbs, "because if anything happens to me, you're out of business." Baker considered suing Georgia Gibbs, and petitioned Congress to consider Gibbs cover a copyright violation. At the time it was considered a novel suggestion. Gibbs version charted to #2 on the Billboard pop charts.
With the coming of rock 'n roll, Georgia Gibbs released several singles trying to adapt to the "rock 'n roll craze" in 1955. She released "24 Hours A Day (365 A Year)" in the winter of '55. It was co-written by Rudolph "Rudy" Toombs and Henry Glover. Toombs wrote the #1 R&B hits for Ruth Brown "Teardrops From My Eyes" and "5-10-15 Hours", the #1 R&B hit for the Clovers, "One Mint Julep", and Top Ten hit "Gum Drop" for the Crew Cuts; And Henry Glover had written Hank Ballard & The Midnighters #1 hit from 1954,"Annie Had A Baby." Though Gibbs did a fine treatment of "24 Hours A Day (365 Days A Year)", teenagers were turning more and more to the original rock 'n roll and R&B recording artists records, and her song failed to make the Top 40. She fared a little better with "Rock Right", which made it to #36 in March of 1956.
By 1957 rock 'n roll was sweeping away the competition and with it Gogi Grant, Don Cherry, Johnnie Ray, The Four Aces, The Fontane Sisters and Georgia Gibbs all fading from the pop charts. Even the popular TV show, Your Hit Parade, saw its ratings slide as Snooky Lanson, Dorothy Collins, Giselle MacKenzie and Russell Arms failed to offer convincing covers of rock 'n roll and rhythm and blues hits like The Dell-Viking's "Come Go With Me", Elvis Presley's "All Shook Up" or Chuck Berry's "School Days".
Among the singles Georgia Gibbs released in 1957 to shore up her career was "Sugar Candy", which was a #13 hit in Vancouver (BC). Gibbs recorded several rock 'n roll songs including a cover of Jerry Lee Lewis' "Great Balls Of Fire". But she couldn't repeat her cover successes she'd had in the mid-50s. Ironically, The McGuire Sisters, a traditional pop trio, had a Top Ten hit in 1958 called "Sugartime", resembling much of the sentiment and concept of "Sugar Candy" the year prior. Georgia Gibbs was simply too identified with the pre-rock 'n roll set and her name itself was not a draw for deejays making decisions about what to play on their radio shows.
Then something happened in pop culture that gave Georgia Gibbs one more chance at a Top 40 hit. In 1957, Wham-O, a company founded in 1948, took the idea of Australian bamboo "exercise hoops", manufactured them in Marlex, and called their new product the Hula Hoop. (The name had been used since the 18th century, but till then was not registered as a trademark.) It became the biggest toy fad in modern history. "Hula Hoop mania" continued through the end of 1959, and netted Wham-O $45 million (equivalent to $479 million in 2023). Wham-O was also making millions with another product it marketed in 1958 it called the Frisbee.
On its website, Wham-O details its origins. "Just think about how any boy in the 1950s could have grown up without a WHAM-O Slingshot. That was the product that gave the company, founded in 1948, its distinctive name. When the missile hit its target, it made the sound "WHAM-O"!"
In 1958 Gibbs recorded the novelty tune "The Hula Hoop Song", cashing in on the Hula-Hoop craze.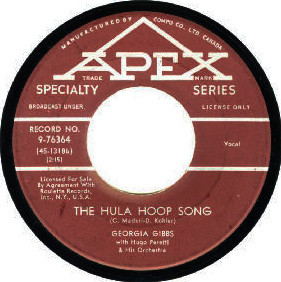 "The Hula Hoop Song" was written by Carl Maduri and Donna Kohler. Maduri was a singer and co-owner of Sweet City Records in Beachwood, Ohio. He recorded over a half dozen singles between 1957 and 1966. The song attests that anyone can learn to play with a hula hoop between the ages of three and 110. In the Hula Hoop Song listeners are told that the craze is catching on from Los Angeles to New York and the state of Georgia to Duluth, Minnesota.
Hula Hoops were a commercially successful product sold by Wham-O.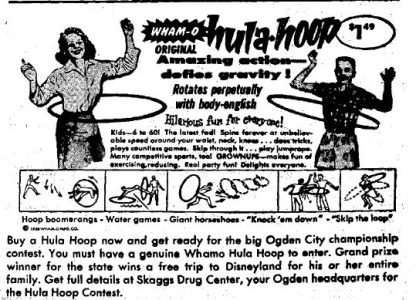 Wham-O pitched hula hoops to consumers with this ad in magazines and on TV.
Original hula-hoop. Amazing action – defies gravity!
Rotate perpetually with body-English.
Hilarious fun for everyone!
Kids – 6 to 60! The latest fad!
Spin forever at unbelievable speed around your waist, neck, knees…
does tricks, plays countless games. Slip through it…play jumprope.
Many competitive sports, too!
GROWNUPS – makes fun of exercising, reducing.
Real party fun! Delights everyone.
Wham-O had local advertisements in different cities across the United States, encouraging Hula Hoop contests everywhere.
Wham-O had this pitch to residents of Ogden City, Utah:
"Buy a Hula Hoop and get ready for the big Ogden City championship contest.
You must have a genuine Wham-O Hula Hoop to enter. Grand prize winner for the state wins a
free trip to Disneyland for his or her entire family. Get full details at Skaggs Drug Center, your
Ogden headquarters for the Hula Hoop Contest."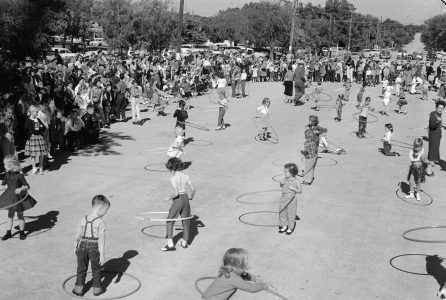 City street – Kerrville, Texas, summer 1958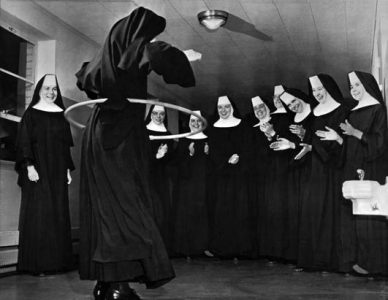 Even nuns were learning how to play with hula-hoop
During the first six months it went on the market in 1958, over 120 million hula hoops were sold.
In "The Hula Hoop Song" Georgia Gibbs sang about the different colors of Hula Hoops, including "red ones, green ones, yellow, white and blue." She also gave a nod to the Hula Hoop contests springing up everywhere: "look at them spin, trying to win!"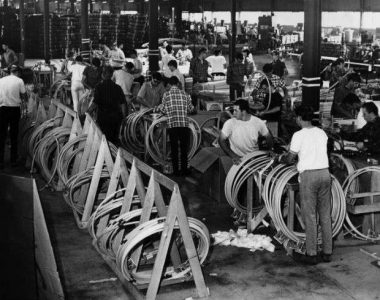 Wham-O Hula Hoop factory
"The Hula Hoop Song" was Georgia Gibbs last Top 40 hit. She would release another dozen singles through to 1967 with a hit record eluding her. Another novelty song she recorded in the late 50s is "Hamburgers, Frankfurters & Potato Chips". She even tried another cover song, this time with Chubby Checker's "The Hucklebuck".
Between 1950 and 1958 Georgia Gibbs charted over thirty songs onto the Billboard pop charts. During the 50s Gibbs was a guest on numerous TV shows including The Steve Allen Show, The Toast of the Town, The Ed Sullivan Show, Frankie Lane Time, The Ed Wynn Show, The Cavalcade of Stars and American Bandstand. She also was host of Georgia Gibbs And Her Million Record Show. She cut her final album, Call Me Georgia Gibbs, in 1966. The album showcased Gibbs adapting to a mid-60s sound similar to Vicki Carr, Liza Minelli and Petula Clark. Tracks like "Let Me Dream" and "You Can Never Get Away From Me" featured the new sound she was trying to showcase. But it likely wasn't the direction she wanted to go in as she rarely performed after 1967. Georgia Gibbs died of leukemia on December 9, 2006, aged 87 in New York City.
Hula Hoops continue to be popular six decades after the craze in the late 50s. In 2013 Vancouver had a Hula Hoop playground installed on Granville Street, near the Pacific Centre Mall.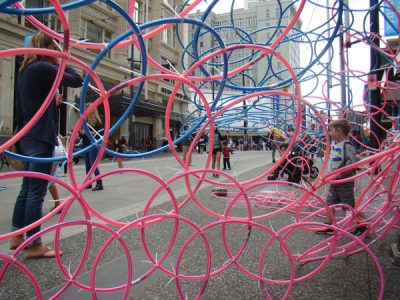 In a 2018 article an in Popsugar.com suggested "40 Ways to Kill Time With Your Kiddos This Summer." Among the suggestions was "Have a Hula Hoop Contest."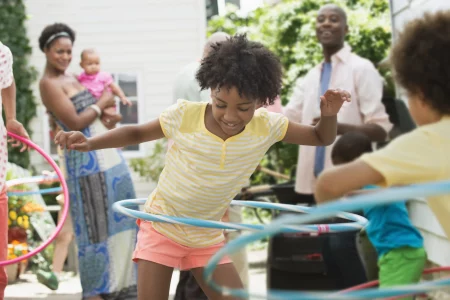 In Montreal and other cities, people can still register to attend a Hula Hoop class.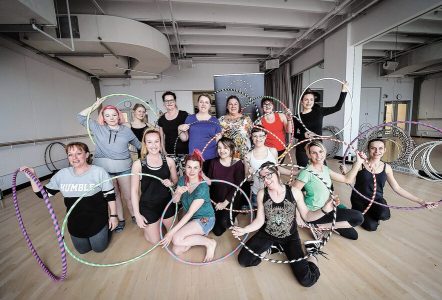 Students at a class sponsored by Hula Hoop Quebec
November 11, 2023
Ray McGinnis
References:
Artie Shaw featuring Fredda Gibson on vocals, "Absent Minded Moon," 1942
Georgia Gibbs, "While You Danced, Danced, Danced,"1951
Georgia Gibbs, "Kiss Of Fire," 1952
Georgia Gibbs, "Rock Right," 1956
Georgia Gibbs, "The Hula Hoop Song," 1958
William Gildea, "Conceived in the Fad-Crazed '50s, The Hula Hoop Makes A Comeback," Washington Post, May 15, 1977.
Georgia Gibbs, "Hamburgers, Frankfurters and Potato Chips," 1959
Steven Miller, "Georgia Gibbs, 87, Bubby Singer in 1940s and 1950s," New York Sun, December 12, 2006.
"Georgia Gibbs, 87, Top Pop Singer and Star of 'Hit Parade'," Los Angeles Times, December 12, 2006.
Valerie J. Nelson, "Richard Knerr, 82; co-founded Wham-O, maker of the Hula Hoop and Frisbee," Los Angeles Times, January 17, 2008.
"The History of Wham-O," Wham-O.com, February 12, 2013.
"Hula!: A Hula Hoop Playground," Spacing, August 7, 2013.
Lauren Turner, "40 Ways to Kill Time With Your Kiddos This Summer," Popsugar.com, June 20, 2018.
AMÉLIE DESCHÊNES, "Pour les grands, le hula-hoop!," Journal de Montreal, May 5, 2019.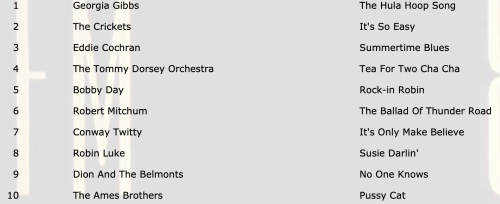 CVER-AM, Charlottetown, PEI, October 25, 1958