#1418: The Magic Touch by the Bobby Fuller Four
Peak Month: July 1966
Peak Position #19
19 weeks on Vancouver's CFUN Chart
Peak Position on Billboard Hot 100 ~ did not chart
YouTube.com: "The Magic Touch"
Lyrics: "The Magic Touch"
Robert Gaston Fuller was born in 1942 in Baytown, Texas, a suburb of Houston. In his early childhood his family moved to Salt Lake City, and in 1956 to El Paso. While Fuller was a 13-year-old Elvis Presley was shaking the foundations of the pop music world. Bobby Fuller was memorized by what was unfolding. In 1958, he formed a four-man combo in the style of fellow Texan Buddy Holly. Other members were Bobby's brother Randy (Randell) Fuller on bass and rhythm guitar, Jim Reese on guitar, Dalton Powell on piano, and Dewayne Quirico on drums. Randy Fuller was born in El Paso, Texas, in 1944. Jim Reese was born in Amarillo, Texas, on December 7, 1941. DeWayne Quirco was born in 1942 in El Paso, and Dalton Powell was born in El Paso in 1942. Powell and Quirco were drummers at different points in the life of the band. In 1961 the Bobby Fuller Four released their first single titled "You're In Love". In 1962, "Gently My Love" cracked the Top 30 on KELP-AM in El Paso. From November 1963 to March 1964, the Bobby Fuller Four single "Saturday Night" was a Top 30 hit in Sydney, Australia. In the spring of 1965, the Bobby Fuller Four had a Top Ten hit in Las Vegas with "She's My Girl". Another release, "Let Her Dance", stalled at #133 bubbling beneath the Billboard Hot 100.

By 1966, the Bobby Fuller Four had released eleven singles and failed to crack the Billboard Hot 100. But their twelfth release, "I Fought The Law", changed everything. The single written by Sonny Curtis in 1958, was recorded by the Bobby Fuller Four in 1965. The song peaked at #9 in Vancouver and on the Billboard Hot 100. The song had its best chart run where it peaked at #1 in San Bernardino (CA), Hartford (CT), Fresno (CA), #2 in Lansing (MI), Battle Creek (MI), and Detroit, and #3 in Orlando, Syracuse (NY), Springfield (MA), Green Bay (WI), and Cleveland.
The next single release, "Love's Made A Fool Of You", peaked at #20 in Vancouver, and #26 on the Billboard Hot 100. A final single release was "The Magic Touch".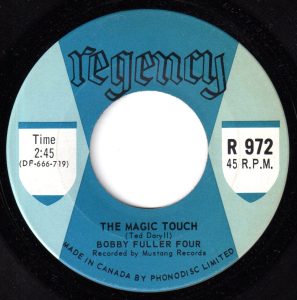 Ted Daryll wrote "The Magic Touch". He was born in Mount Vernon, New York, in 1940. He was a musician, songwriter and record producer. In 1962 he co-wrote "She Cried", a Top Five hit for Jay & The Americans. In 1970 Daryll produced Zager & Evans self-titled second album after their debut 2525.
In "The Magic Touch" a guy describes how he's captivated by a woman's smile that leaves him acting like a six-year-old. In the way a child can perceive things uncluttered from adult sophistication, the guy in the song can tell he's memorized by the spell he's in being in his romantic partner's presence.
"The Magic Touch" peaked at #7 in New Smyrna Beach (FL), #11 in Hoquiam (WA), #16 in Omaha (NE), and #19 in Vancouver (BC) and Los Angeles.
In the spring of 1966, the Bobby Fuller Four appeared in The Ghost in the Invisible Bikini, and performed two songs by the pool of a haunted house. The cast included Tommy Kirk, Boris Karloff, Basil Rathbone and Nancy Sinatra. A UK tour was planned for the Bobby Fuller Four and there was much to be excited about. At the same time, the band's manager had made a deal with Morris Levy of Roulette Records which Bobby Fuller was increasingly uncomfortable with.
While "The Magic Touch" was climbing the Boss 40 on CKLG Bobby Fuller was found dead in an automobile outside his Hollywood apartment. He was 23-years-old. Eight days after the group's last gig on July 9, 1966, he received an unexplained late night phone call that prompted him to leave in the family Oldsmobile, apparently for a meeting in the small hours of the morning. Then Bobby Fuller missed a major meeting scheduled for 9:30 a.m. between the band members and their label, Del-Fi. The meeting was subsequently rescheduled multiple times that day with no sign of the singer. Anyone who knew Bobby Fuller knew that he took his career seriously. It wasn't like him to miss appointments, especially ones related to his music. Later that day, July 18, at 5pm, Fuller was found dead by his mother Loraine in the vehicle, parked outside his Hollywood apartment.
Lorenzo Tanos of Grunge wrote "The car was full of gasoline. His body was already in an advanced state of rigor mortis despite the fact that his mother's car had only been in the parking lot for 30 minutes before she found it, hinting he might have been dead for quite a while before his body was found. There were also bruises on his arms and body, which suggested that he might have been beaten or dragged. If he did indeed die well before his body was found, where did he die, and who drove his mother's car back to the parking lot? Were there people who wanted Fuller dead, or was his passing a case of death by misadventure?"
An autopsy was performed. "The report states that Bobby's face, chest, and side were covered in 'petechial hemorrhages,' probably caused by gasoline vapors and the summer heat. He found no bruises, no broken bones, no cuts. No evidence of beating." Jerry Nelson was the medical examiner. Boxes on the autopsy form for "accident" and "suicide" were checked, but next to the boxes were question marks.
No criminal investigation was launched by the LAPD, which was in some turmoil at the time with the sudden death of its chief of police just days earlier. But rumors have persisted ever since that Fuller was murdered, perhaps by the mafia. A book co-authored by Bobby Fuller's brother Randell and Linna Miriam, was published in 2015. Titled I Fought The Law: The Life and Strange Death of Bobby Fuller, the book contends Bobby Fuller was murdered after being beaten and being doused with gasoline. The authors muse about the possibility of the now deceased Morris Levy having something to do with the death of Bobby Fuller. And as the case has been officially changed from "suicide" to "accident," the book raises questions if his death should be further revised from "accident" to "murder."
The words written by KRLA Beat soon after Fuller's death are as poignant today as they were then. "He was only 23 – a promising young singer from Texas whose friends said he 'Just liked to be around people' – when he was found dead in his car parked in front of his home. And no one knew why."
Four days after Bobby Fuller was found dead in a car in Hollywood, three armed men came to the apartment Jim Reese shared with drummer Dalton Powell. The armed men were looking for Reese. While no conclusions have been made, Reese assumed it had to do with an insurance policy taken out on his life, possibly connected to Fuller's death (whose policy was worth between $800,000 and $1 million).
Afterwards, Reese stepped out of the spotlight and settled down in Lufkin, Texas. where he would spend the rest of his life. On 26 October 1991, after playing a round of golf, Reese suffered a fatal heart attack as he was returning to his truck. Dalton Powell returned to El Paso after the Bobby Fuller Four disbanded. Powell and Jim Reese joined the band Murphy's Law. After they disbanded, both joined Rod Crosby's band, The Intruders. Powell also played with Chuck Berry. In the early 80s, Powell performed with the group the Moon Pie Daince Band.
In 1999, the Bobby Fuller Four track, "A New Shade Of Blue," was include in the soundtrack for the film Boys Don't Cry. And in 2009, "I Fought The Law" was featured in the film Fantastic Mr. Fox.

After the Bobby Fuller Four disbanded, Randy Fuller founded The Randy Fuller Four. However, the band was not commercially successful. In 1969, Randy Fuller joined the New Buffalo Springfield.
July 26, 2023
Ray McGinnis
References:
Paul Sexton, "Breaking Rocks: The Short Life and Strange Death of Bobby Fuller," udiscovermusic.com, October 22, 2022.
Randell Fuller, and Linna Miriam, I Fought The Law: The Life and Strange Death of Bobby Fuller, Kicks Books, 2015.
Lorenzo Tanos, "The Mysterious Death of Bobby Fuller," Grunge, April 19, 2021.
Christ Campion, "The Short life and mysterious death of Bobby Fuller, rock 'n roll king of Texas," Guardian, July 16, 2015.
"C-FUNTASTIC FIFTY," CFUN 1410 AM, Vancouver, BC, July 23, 1966.