#114: The Power Of Love by Jennifer Rush
Peak Month: June 1986
13 weeks on Vancouver's CKLG Chart
Peak Position #3
Peak Position on Billboard Hot 100 ~ #57
YouTube.com: "The Power Of Love"
Lyrics: "The Power Of Love"
Heidi Stern was born in 1960 in Queens, New York. Her father, Maurice Stern, was an opera tenor and teacher. Rush studied violin at the Juilliard School and also learned to play the piano. The Stern family moved to West Germany for about a half dozen years. When he father got a position at the University of Washington, they moved to Seattle. In 1979, she released a solo album titled Heidi. The album did not chart. Heidi Stern worked with Gene McDaniels – 1961 hit singer of "A Hundred Pounds of Clay" and "Tower of Strength". In 1982, following McDaniels's persistence, Rush moved to Wiesbaden, West Germany, where her father was engaged as an opera singer. She recorded a second album, Tonight, which also didn't chart. In 1984 in Munich, she provided backing vocals for synth-pop band Panarama's album Protection, but under her original name Heidi Stern.
In 1984, Heidi Stern got a contract with CBS Records in West Germany. She adopted her artist name "Jennifer" at the insistence of her first publishing/recording company, CBS Songs, the publishing unit of CBS Germany. And so Jennifer Rush was born. A self-titled album, Jennifer Rush, was released in 1984. From the album came a number of singles. "25 Lovers" and "Ring of Ice" both cracked the Top 30 in West Germany. And the latter climbed to #14 in the UK. But it was the fifth single release from her album that would change the trajectory of Jennifer Rush's musical career. That song was "The Power Of Love".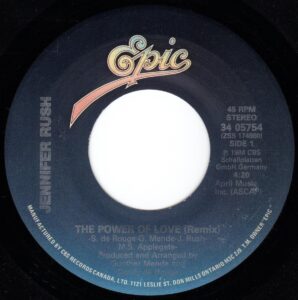 "The Power Of Love" is a song about a sexually passionate, loving relationship. The lyrics show us how enduring the relationship is showing what is not occurring: "The feeling that I can't go on is light years away." The depth of commitment is evident. This is a couple that is meant to last: "'Cause I am your lady and you are my man. Whenever you reach for me, I'll do all that I can." Together, they are unstoppable. There is novelty and sometimes, the singer confesses "I'm frightened." But she is ready to learn about the power of love. What made the song stand out was Jennifer Rush's vocals. Give it a listen.
"The Power Of Love" peaked at #1 in Ottawa (ON), Edmonton (AB), Toronto, Lethbridge (AB), Moose Jaw (SK), Saskatoon (SK), and Hamilton (ON), #2 in Buffalo, #3 in Vancouver, #4 in Calgary (AB), #7 in San Jose (CA), #11 in Regina (SK), and #14 in Philadelphia. In Vancouver, "The Power Of Love" spent four weeks at #3, kept out of the top spots variously by "Live To Tell" by Madonna and "I Wanna Be A Cowboy" by Boys Don't Cry.
Internationally, "The Power Of Love" peaked at #1 in Australia, Austria, Canada, Ireland, New Zealand, Norway, South Africa, Spain, and the UK. It climbed to #3 in Belgium, Sweden and Switzerland, #4 in the Netherlands, #7 in Finland and #9 in West Germany. Her recording of "The Power Of Love" in Spain was a Spanish-language song "Si tú eres mi hombre y yo tu mujer", translated as "If you are my man and I'm your woman".
The Power of Love album spent 97 weeks on the West German album chart, peaking at #2. It climbed to #2 in Sweden, #3 in Switzerland, #5 in Austria, #6 in Finland, #7 in the UK, #9 in Canada and #10 in Australia. A sixth release from the album in 1986, "Madonna's Eyes", climbed to #5 in France, #12 in South Africa, but stalled at #75 in the UK.
In 1985, Jennifer Rush released the album Movin'. From the album, a single titled "Destiny" peaked at #4 in West Germany, and #5 in both Austria and Switzerland. A second track from the album was released as a single, "If You're Ever Gonna Lose My Love", which made the Top 20 in Austria and Top 30 in West Germany. The album, Movin', climbed to #1 in Norway, Sweden, Switzerland and West Germany, and in the Top Ten in Austria and Finland. In 1986, a re-mix of "The Power Of Love" climbed to #9 in West Germany, matching the peak of the original recording in 1984.
In 1987, Jennifer Rush released her album Heart Over Mind. The debut single, "I Come Undone", peaked at #9 in Switzerland and #11 in West Germany. "Flames Of Paradise", the followup single duet wtith Elton John, cracked the Top Ten in both West Germany and Switzerland, and #14 in New Zealand. It also climbed to #13 in Hamilton (ON). The album, Heart Over Mind, was a chart-topper in Switzerland and West Germany, and a Top Ten album in Austria, Finland, Norway and Sweden. In 1988, Jennifer Rush recorded the theme song for the film Another Way. Her 1988 album, Passion, made the Top Ten in Sweden, Switzerland and West Germany.
And in 1989, her fifth album credited to Jennifer Rush, Wings of Desire, was a Top 20 album in Sweden, Switzerland and West Germany. It was her last album to be certified Gold in any country. In 2010 Jennifer Rush released her tenth studio album credited to her as Jennifer Rush (twelfth in total). The album, Now Is the Hour, was a Top Ten International Album chart seller in Greece.
Jennifer Rush has not performed in concert in Canada. Most of her interviews have taken place in Europe in Scandinavia, Germany, Austria, Spain and Switzerland. According to Setlist.fm, Jennifer Rush's most recent concert performance was in 2013 in Konstanz, Germany.
September 16, 2022
Ray McGinnis
References:
Tom Demalon, "Jennifer Rush bio," AllMusic.com.
Dick Clark, "Jennifer Rush interview," American Bandstand, April 12, 1986.
"Jennifer Rush – Concert Dates," setlist.fm.
"CKLG Top 30," CKLG 730 AM, June 18, 1986.
For more song reviews visit the Countdown.