#580: The Son Of Hickory Holler's Tramp by O.C. Smith
Peak Month: March 1968
6 weeks on CKLG's Vancouver Charts
Peak Position ~ #2
1 week Hit Bound
Peak Position on Billboard Hot 100 ~ #40
YouTube.com: "Son Of Hickory Holler's Tramp"
"Son Of Hickory Holler's Tramp" lyrics
Ocie Lee Smith was born in Mansfield, Louisiana, in 1932. Mansfield was the site of a battle in 1864 where Confederate troops turned away Union troops from their conquest of the state capitol of Shreveport. Smith's parents divorced in his and he decided to move to Los Angeles. According to his biography, Little Green Apples, Smith didn't want to become a farmer like his father. After finishing his senior year in college he came back home. Within days he climbed on his mule, headed toward the freight train passing by, tied the mule to a nearby tree, hopped aboard a train and left Leesville, Louisiana, where the family then resided. According to Ocie "if nobody has gone down to untie that mule, he is still standing there, tied to that tree." He joined the U.S. Air Force in July 1951 and was stationed in Europe and several bases in the USA. While stationed in Alaska for fifteen months Smith won first prize in a talent contest.
After being discharged in 1955, Ocie Smith went to New York City and began to perform in local clubs. He got a record deal with MGM and in December 1955 Ocie Smith released a cover of the Little Richard hit "Tutti Frutti". He released two more with MGM that year. After appearing on Arthur Godfrey's Talent Scouts' TV show, Ocie Smith was awarded a record contract with Cadence Records in late 1956. He released three singles with the label. One of these was "Lighthouse", with the Archie Bleyer Orchestra. The tune was a slow rocking R&B tune with Jerry Lee Lewis inspired piano, and bass punctuating the vocals.
He switched labels again in 1958 and released three singles with Citation Records. Ocie Smith's version of "Try A Little Tenderness" got some airplay in Boston, and "You've Changed" got some attention in Portland, Oregon, the latter in 1959. In 1960, this time with Bigtop Records, Ocie Smith released a cover of "You Are My Sunshine".
Arranger, Sy Oliver, heard a demo Ocie had cut after his USAF days and asked Smith to join his band as a vocalist for weekend gigs around New York City. This was a great catalyst to honing Ocie Smith's stage appearance. After Sy's band, Ocie went to work in the Catskills, a mountain resort area close to New York, where he performed in a hotel lounge six nights a week.
Ocie learned that Joe Williams, the lead singer for Count Basie, was about the leave the orchestra. Smith got to audition and was named the new singer for Basie in 1961. He retained that post for 2 1/2 years until late 1963 when he left to pursue other work.
In 1965 Smith changed his billing and recording credits to O.C. Smith. Smith recorded a song called "That's Life", first recorded in 1963 by Marion Montgomery. Though O.C. Smith's version wasn't a hit, Frank Sinatra heard Smith's version on the car radio while driving. He stopped the car, called his daughter Nancy and told her to find the publisher of the song because he wanted to record it. She found the publisher and Frank Sinatra performed the song on his television special A Man and His Music – Part II, in 1966, with an arrangement by Nelson Riddle.
Smith's next three single releases with Columbia Records failed to connect with record buyers. But in early 1968 he finally cracked the Billboard Hot 100's Top 40 with "Son Of Hickory Holler's Tramp".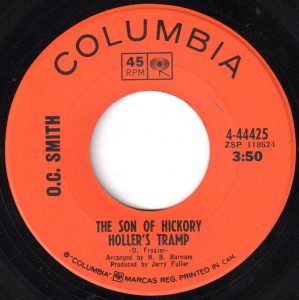 "The Son Of Hickory Holler's Tramp" is a song written by Dallas Frazier in 1963. Born in rural Oklahoma in 1939, from the age of twelve he played guitar with Ferlin Husky on the Hometown Jamboree TV variety show. Dallas Frazier wrote "Alley Oop" in 1957. The song got the attention of Gary Paxton and was recorded in 1960 by the Hollywood Argyles. It became a #1 pop hit on the Billboard Hot 100. In 1966 his song "There Goes My Everything" became a big hit on the Billboard Country chart for Jack Greene, and in 1967 a Top 20 pop hit for Engelbert Humperdinck. In 1969 he wrote "All I Have To Offer You (Is Me)", which earned the Grammy in 1970 for Best Country Song, as recorded by Charlie Pride. Frazier also wrote "Elvira" in the '60's, a song that became a huge hit for the Oakridge Boys in 1981. Dallas Frazier was inducted into the Nashville Songwriters Hall of Fame in 1976. He retired from the music business in the 1980's and became a preacher.
"The Son Of Hickory Holler's Tramp" tells the story of a woman with 14 children who is abandoned by her worthless alcoholic husband and turns to prostitution to support her large family. The song is told from the perspective of one of her sons. Her husband doesn't bother to do the weeding and runs off with a woman named Sally Walker. The son explains "the path was deep and wide from footsteps leading to our cabin." The footsteps are from the men who come to see the man's mother, as he explains "above the door their burned a scarlet lamp." But all her many children knew about was her homemade chicken dumplings and a good night kiss before bed. After she dies the siblings go to church weekly. And every Sunday they get a flower display of fourteen roses dedicated to "The Greatest Mom On Earth." Though the neighbors gossiped about the destitute woman and her 14 children, no one lended a hand.
The song got almost no airplay across 22 states in the USA. However, it peaked at #1 in Knoxville (TN) and Tulsa (OK), #2 in Vancouver (BC), Detroit, #3 in Columbus (OH), Windsor (ON) and Louisville (KY), #4 in Toledo (OH) and Oshawa (ON), #5 in Toronto, Buffalo, Boston, St. Louis, Los Angeles, #6 in San Diego, #7 in Cleveland (OH), Nashville, San Bernardino and San Francisco, and #8 in Kansas City.
In September 1968 O.C. Smith recorded "Little Green Apples". The song had been previously recorded by Roger Miller (#39 Hot 100) and Patti Page (#96 Hot 100). However, O.C. Smith's version caught on with radio listeners and record buyers. It climbed to #2 on the Billboard Hot 100.
Between the winter of 1968 and 1987, O.C. Smith released another seventeen singles. Of these, only one made the R&B Top Ten, with two more making the Billboard R&B Top 30. He fared worse on the pop charts with no only one single making the Top 40, and nine singles failing to crack the Billboard Hot 100.
In 1985 O.C. Smith became a minister at the City of Angels Church of Religious Science in Los Angeles. In November 2001 Smith presided over the Thanksgiving worship service on November 22. He died of a heart attack on November 23rd. He was 69 years of age, at least according to Wikipedia.org and several other sources. However, the New York Times ran a headline that Smith, born in 1932 and dead in 2001, was only 65 years old. For the Gray Lady this posed a math problem.
August 2, 2019
Ray McGinnis
References:
Heikki Suosalo, "OC Smith," soulexpress.net.
"O. C. Smith, 65, Singer-Minister Who Had a Grammy Award Hit," New York Times, November 27, 2001.
"That's Life (song)", Wikipedia.org.
"Boss 30," CKLG 730 AM, Vancouver, BC, March 30, 1968.
For more song reviews visit the Countdown.