#1406: There's Something I Like About That by Chilliwack
Peak Month: June 1974
6 weeks on CKLG chart
Peak Position #16
Peak Position on Billboard Hot 100 ~ did not chart
YouTube.com link: "There's Something I Like About That"
Lyrics: There's Something I Like About That"
Bill Henderson was born in Vancouver in 1944. He learned guitar and became the guitarist for the Panarama Trio that performed at the Panarama Roof dance club on the 15th Floor of the Hotel Vancouver. He formed the psychedelic pop-rock Vancouver band, The Collectors, in 1966 with Howie Vickers. After several local hits like "Fisherwoman" and "Lydia Purple" the band disbanded by 1970. Henderson (vocals, guitar), Claire Lawrence (saxophone, keyboards), Ross Turney (drums) and Glenn Miller (bass) were all Collectors bandmates. After Howie Vickers left The Collectors, they changed their name to Chilliwack. The name was a Salish First Nations name that means "going back up," and is the name of a city in the Fraser Valley in British Columbia.
Chilliwack appeared in concert at the Agrodome in Vancouver on August 6, 1971. They had their first Top Ten hit in Vancouver with "Lonesome Mary" in 1971. Riding High was their fourth album, released in April 1974. It was the band's first album with new guitarist/keyboardist Howard Froese. It featured the #10 hit on the Canadian RPM charts titled "Crazy Talk", which was co-produced by Terry Jacks of Poppy Family fame. That song peaked for the band in Vancouver at #11. Prior to the release of "Crazy Talk", their first single release from Riding High was "There's Something I Like About That".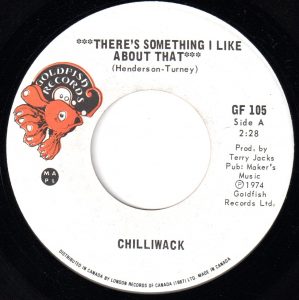 "There's Something I Like About That" is a song about a guy who doesn't seem to register just how turned on he is by the woman in his life. At least when she's around him, he tells her they're just friends. It takes a long absence from her before he figures out that, actually, he is wild about her. Unlike most other women, he feels uniquely hung up about her. She makes him sing like a bird, growl like a dog, howl like a wolf and other telltale signs of expressing an interest in her that is not exhibited in other friendships he has.
What makes us override the information we are getting about our sexual attraction to another person and tell ourselves this isn't the real thing, that we are just friends? The factors that lead to a minimizing of sexual and romantic attraction may include feelings of shame around sexual expression, such as the view that sexual arousal is a sign of sin or depravity. Another factor may be not being ready for a serious commitment. In this scenario a person feeling an attraction to someone will tell themselves that despite obvious attraction to the person standing in front of them, it's not such a big deal. Being present to what is going on in front of us can be scary. And it's easier to spend our mental energy focusing on an imagined future or a distant past, all the while not recognizing that the real thing has come along: making us scream like a witch and purr like a little pussy cat.
"There's Something I Like About That" was produced by another local recording artist, Terry Jacks, of "Seasons In The Sun" fame. In 1977 Chilliwack recorded their sixth studio album, Dreams, Dreams, Dreams. At the time the band members were all Scientologists and there was a dedication to the founder of the Church of Scientology, Ron L. Hubbard, on the back of the album. By 1977 the bands musicians consisted of Henderson, Turney, Miller and Howard Froese on guitar, vocals, solina and piano. The album included several successful single releases in the Canadian market that included "Fly At Night", "California Girl" and "Baby Blue".
In 1978 the band released Light From the Valley, and charted the single "Arms Of Mary" into the Top Ten in Vancouver that summer.
But in 1981 it was the band's ninth album release, Wanna Be A Star, that took them to the pinnacle of their success. The single "My Girl (Gone, Gone, Gone)", went Top 30 on the Billboard Hot 100, #3 nationally in Canada and #1 in Vancouver. Nonetheless, several follow-up singles and albums failed to keep the band on the radar of American listening audiences. By 1984 Chilliwack was without a recording contract.
Chilliwack had continued to perform over the decades with various line-ups. Earlier this decade Chilliwack appeared at Ambleside Park in West Vancouver as part of a summer series of concerts. At the performance Henderson's daughters sang vocals on "Baby Blue".
References:
Chilliwack bio ~ thecanadianencyclopedia.ca
Bill Henderson bio ~ gonegonegone.com
Larry Hennessey, February 25, 2017 post on Terry Jacks Facebook page.
"CKLG 'Thirty'," CKLG 730 AM, Vancouver, BC, June 14, 1974.
For more song reviews visit the Countdown.