#1421: These Are The Words by The Unforscene
Peak Month: May 1967
3 weeks on the C-FUN-TASTIC FIFTY
Peak Position: #46
13 weeks on Vancouver's CFUN ALL CANADIAN TOP TEN chart
Peak Position #1
Peak Position on Billboard Hot 100 ~ did not chart
YouTube.com link: "These Are The Words"
Terry Robotham lived in the Vancouver area. As he tells it online, "I was writing songs since i was 13 and a friend called Dan Yard was in a band called The Mods that i was giving songs to, so they could perform originals. They went down to LA to shop some demo tapes and the result was that there was interest in the songs more than in the band. So the singer, Dan Yard and myself… ended up with the contract, originally with Momentum Records that was a small independent label owned by Don Perry. Don later did quite well in movie soundtrack production. We released a few songs under that label then he handed us over to a friend of his called Mike Curb, who had started Sidewalk Records."

"We released a couple of 45s on that label but there was not a lot of promotion behind it. Both records got some minor airplay but didn't do much. By this this time I was 16." The Unforscene featured Terry Robotham on lead vocals, Des Bosa on keyboards, Dan Yard on rhythm guitar and lead vocals, and John Murray on lead guitar and vocals. One of the singles the Unforscene released was "These Are The Words".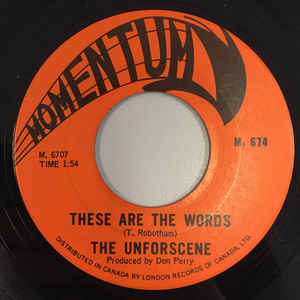 "These Are The Words" is a song about a guy who is in love with a woman. He gives her a wedding ring. But, she returns it, even though he says "stop, don't leave me. Stop, I need you". These are the words he says to her. But, after returning her ring she says "goodbye." He decides he has to "get away" and get her off his mind. Sticking around town does no good since she's still in town too. And wherever he sees her he feels sad.
With their slick guitar and British Invasion infused vocals, the Unforscene managed to crack the C-FUNASTIC FIFTY in Vancouver. And "These Are The Words" also had a 13 week run on the stations C-FUN ALL CANADIAN TOP TEN chart. However, the band got little attention elsewhere.
Robotham summarizes, "That was all there was with the Unforscene. We both played in a Vancouver band and did local recordings later. I have done more studio production work, writing and arranging, producing demos etc for a long time, but nothing in last while."
On a comment thread about the Unforscene on May 28, 2014, Dan Yard wrote "The Unforscene/original members, Dan Yard, Terry Robotham, Des Bosa & John Murray are currently in the studio recording new material for an album release, more info to come…" A website was included in the comment. However, in 2019 the website no longer seems to exist.
In 2015 Dan Yard was playing lead guitar in a Rod Stewart tribute band called the Steve Mathieson Band. He also played stand-up bass with the country/bluegrass band the Rusty Creek Boys. Yard also was a producer for an alternative band named the Jape Dealers. Yard was also hosting a weekly Wednesday night acoustic jam at the Barrel House Pub in Surrey, BC.
July 22, 2019
Ray McGinnis
References:
Colin Mason, "The Unforscene – Wait 'Til Morning," Opulent Conceptions, August 22, 2010.
"Dan Yard/The Jape Dealers," Bandmix.ca, 2015.
"ALL CANADIAN TOP TEN," CFUN 1410 AM, Vancouver, BC, May 20, 1967.
For more song reviews visit the Countdown.