#912: Thin Red Line by Glass Tiger
Peak Month: June 1986
7 weeks on Vancouver's CKLG chart
Peak Position #7
Peak Position on Billboard Hot 100 ~ did not chart
1 week Hitbound on CKLG
YouTube.com: "Thin Red Line"
Lyrics: "Thin Red Line"
Discovered in the summer of 1984 when a band from Newmarket, Ontario, Glass Tiger was initially called Tokyo. As Tokyo, they spent two evenings performing before capacity crowds at Toronto's Maple Leaf Gardens opening for Boy George and Culture Club. Their dynamic original sound captured the moment, and the race to sign them was on. Tokyo, which had become a major force in suburban high schools and the Ontario club circuit, officially became Glass Tiger early into 1985 when a record deal was finally signed with Capitol Records. The band consisted of Alan Frew on vocals and guitar, Sam Reid on keyboards, Al Connelly on guitar, Wayne Parker on bass and Michael Hanson on drums.

After being introduced to Jim Vallance, who had previously produced albums for Prism and Bryan Adams, Glass Tiger was off to the recording studio to work on their first album. The Thin Red Line set a record for being the fastest selling debut recording in Canadian history, going gold within weeks of its release. To date, this album has received four Platinum records in Canada and earned Gold status in the USA. The debut single from the album, "Don't Forget Me (When I'm Gone)", climbed all the way to #2 on the Billboard Hot 100, followed by "Someday" which peaked on the US charts at #5. Both songs were written by Jim Vallance and made Canadian history when Glass Tiger won successive Juno's a year apart for Single of the Year from the same album. In between "Don't Forget Me (When I'm Gone)" and "Someday", the title track from the album was released as a single.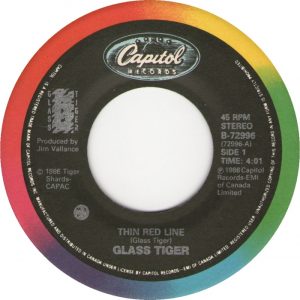 "Thin Red Line" is a song about the battle of Balaclava in the Crimean war in 1854. "Kedikoi" is also spelt Kadikoi and is a small village. On a hill northeast of the village were six companies of the 93rd Highland Regiment (the Sutherland Highlanders) comprising of 600 soldiers. In the song there is a reference to Rory's and Rory is a common Scottish name. Claidemaugh is a Gaelic spelling of the English word claymore. In either case it refers to a basket hilted sword and a metaphor for martial valor known as "the great sword of valor." The "thin red line" of only several hundred Highlanders (and allies) saw off approximately 2,500 Russian cavalry. The Battle of Balaclava was known as the Battle of Kadikoi to Russian historians and was fought on the hills and valleys to the north of Kadikoi in 1854. The towns' name in Crimean Tartar means "village of a judge."
The Thin Red Line was a description in the English and Scottish press of this incident where around 200 men of the 93rd, aided by a small force of 100 walking wounded, 40 detached Guardsmen, and supported by a substantial force of Turkish infantrymen, led by Sir Colin Campbell, routed a Russian cavalry charge. There were more Victoria Crosses presented to the Highland soldiers at that time than at any other. The event was lionized in the British press and became an icon of the qualities of the British soldier in a war that was poorly managed and increasingly unpopular. The commander, Colin Campbell, formed the line of men two deep. Convention dictated that the line should be four deep. However, Campbell, felt he had insufficient trained men to form square, and met the charge head on with the 2-deep firing line. As the Russian cavalry approached, the Turks on the flanks broke and fled. The 93rd discharged three volleys: at 600, 350 and 150 yards respectively, however they did not get a chance to discharge one at point blank range as the Russians turned away. The Times correspondent, William H. Russell, wrote about the event in his November 14, 1854, article, Heights Before Sebastopol. He described how he could see nothing between the charging Russians and the British regiment's base of operations at Balaklava but the "thin red streak tipped with a line of steel" of the 93rd. Popularly condensed into "the thin red line," the phrase became a symbol of British composure in battle.
The battle was later represented in Robert Gibb's 1881 oil painting The Thin Red Line, which is displayed in the Scottish National War Museum in Edinburgh Castle. The Thin Red Line has become an English language figure of speech for any thinly spread military unit holding firm against attack. The phrase has also taken on the metaphorical meaning of the barrier which the relatively limited armed forces of a country present to potential attackers. Over time the phrase has also been adopted for describing a brigade of firefighters. In 1962 James Jones published his novel about American infantry soldiers fighting in Guadalcanal during World War II. He titled it The Thin Red Line. The book was adapted into feature films in 1964 and in 1998. And in the 1968 British comedy, Carry On Up the Khyber, a soldier draws a thin red line on the ground with paint and brush, arguing that the enemy will not dare to cross it.
"Thin Red Line" climbed to #3 in Ypsinanti, Michigan, #6 in Ottawa, Ontario, and the Top 20 in Hamilton, Ontario, Saskatoon, Saskatchewan, and Lethbridge, Alberta. It peaked at #7 in Vancouver. While "Thin Red Line" was still charting in Vancouver, Glass Tiger performed in concert at the Expo Theatre at Expo '86 on July 25, 1986. And in January 1987 "You're What I Look For" peaked in the Top Ten on Vancouver's CKLG.
With five Juno awards and a Grammy nomination under their belt, Glass Tiger was invited as concert openers for Tina Turner's 1987 European tour. Glass Tiger's second album release Diamond Sun, established Glass Tiger's reputation as being one of Canada's better recording artists at crafting a song. Diamond Sun ended up charting four of its six single releases into the Canadian RPM Top 30 singles chart in this order: "I'm Still Searching", "Diamond Sun", "My Song" and "(Watching) Worlds Crumble". The album was awarded Double Platinum status based on its sales.
After the Diamond Sun was released drummer Michael Hansen left the band. While Glass Tiger didn't replace him with a drummer until Chris McNeill in 2000, they had studio musicians who were drummers hired for their next album and single releases.
Glass Tiger's third album, Simple Mission, sold well and went Platinum in Canada. It featured the hit singles "Animal Heart" and the band's duet with Rod Stewart on the Celtic tune in praise of Glasgow, "My Town". After the Simple Mission album Glass Tiger went dormant, but reformed and began to tour again ten years later in 2003. On January 20, 2006, Glass Tiger performed at the Commodore Ballroom in Vancouver.
Keyboard player Sam Reid founded his own production company called Willow Music. Alan Frew wrote the 2010 Olympic Broadcast theme song "I Believe". Guitarist Al Connelly has continued producing and writing new material, as well as performing. And Chris McNeil has been a drummer with Randy Bachman, Honeymoon Suite and Platinum Blonde. As well, McNeil has been a producer. On September 12, 2012, Glass Tiger appeared in concert at the Rogers Arena in Vancouver, with Roxette the opening act. Two years later Glass Tiger returned to Vancouver to appear at the PNE Summer Nights Concert series on September 1, 2014.
In 2015 Alan Frew suffered a stroke and was partially paralyzed for awhile. In 2018 Glass Tiger released their fourth studio album 31. In June 2019 they went on tour with Corey Hart, performing at the Rogers Arena in Vancouver on June 25th. They also released their fifth studio album titled 33.
January 15, 2018
Ray McGinnis
References:
glasstiger.ca band bio
Robert Gibb, The Thin Red Line, National Museums of Scotland
James Harbeck, "The Linguistic Legacy of the Crimean War," Slate.com, March 28, 2014.
Jones, James. The Thin Red Line. goodreads.com
William H. Russell, Heights Before Sebastopol, London Times, November 14, 1854.
"Top Thirty Hot Hits," CKLG 730 AM, Vancouver, BC, June 11, 2021
For more song reviews visit the Countdown.